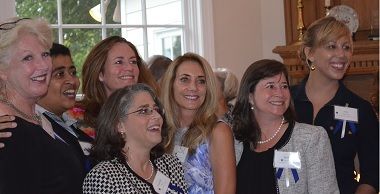 Dorothy left the Governor holding their children's backpacks on the evening before Richmond schools began classes, joining Delegate Dave Toscano (D-57th) at Linda Perriello's home and bringing attention to important initiatives and the women running for the Virginia House who support them. Chaos in the mansion?
Delegate Toscano introduced this Virginia First Lady who continues in the footsteps of her Democratic predecessors in the impressive tradition of competent leadership. The Perriello home was crammed with enthusiastic advocates of effective legislation and good government. Linda Perriello's grandchildren pitched in with the hosting even officially welcoming the First Lady with a bouquet as Linda circulated as best she could in a house almost bursting at the seams. There was also at least one caped Wonder Woman apprentice making an appearance.
Here is the thing about DMac: she takes every opportunity to pursue her personally held and informed rather than politically motivated agenda; one that includes improving the lives of every Virginian. Her rifts are not made of red meat mantras that rile and anger a constituency demanding to be pandered. She genuinely strives to guide her audience to consider solutions for 21st century challenges rather than harkening back to an era that no longer exists and trying to wish away contemporary problems that demand innovative approaches.
Toscano's introduction emphasized her efforts to ensure that every child in Virginia gets a nutritious meal each and every day. And he reminded us that Dorothy has been at the lead in the effort to make Virginia the most veteran friendly state in the Union ever since her husband's first run at elected office in 2009.
Gracious as always, DMac thanked Linda for the grand hospitality and Toscano for the kind words looking forward to the day when he would be the majority leader in the House of Delegates. But what she was there to do this evening was to help find more great partners for Toscano and the guy she left behind in Richmond organizing (hopefully) the children for school.
Then she went right to the purpose of the evening: finding commonsense, practical representatives that reflect all of Virginia and who Virginians are instead of a "narrow slice of a certain mindset that doesn't represent all Virginians." That, she told the gathering, is who these women are and why they are running. She acknowledged how very difficult it is to find the money and resources to run, to get the voters to the polls, and thanked those who contribute to those efforts. Specifically she thanked Toscano for organizing this fundraising effort:
"It is absolutely critical in this day and age. We all don't like it; it's a reality; it takes money to run." – Dorothy McAulliffe
A background in securities and finance lends credibility to Dorothy's emphasis on building the new Virginia economy. Acknowledging the new realities, she assessed that Virginia can no longer count on growth in federal spending to boost state revenues. Pointing to sequestration and the uncertainty about the budget coming out of Washington, she stated that we have to find sustainable ways to grow our economy and support out families. We have to look for innovation and creative ways at the state level to build that new Virginia economy.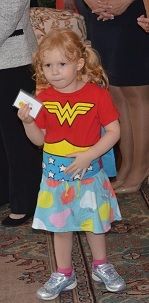 This includes putting forward resources for education. Education challenges include finding the answers to Standards of Learning reform and ensuring competitive teacher pay; feeding hungry children in the best place that they can be (school) so they may learn is important to economic growth.
"…think about meals in the same way as we think about computers and teachers and the whole child. You know, 51% of all public school children in the country are on free and reduced lunch. It's shocking…it is truly shocking." – Dorothy McAuliffe
Finding opportunity for children includes not just thinking about four year degrees. Investing in vocational skills and certifications that broaden opportunities is essential. She pointed out that a welder in Hampton Roads can make $75,000 a year with great benefits. And though it does not require a four year degree, it does take training.
The litany of violence involving guns in Virginia raised its ugly head again this past week. Addressing this she plead for sensible, practical gun regulations in our state legislature.
"I am not a hunter but my husband is a hunter, my sons are hunters; it's not about that. Again this is about what kind of Virginia economy, what kind of place we want to live, what kind of quality of life we offer to employees of corporations we hope to attract here and the businesses expanding hope to bring new employees to. We need a safe, thriving Virginia." – Dorothy McAuliffe
Beyond that, she said, we need to talk about healthcare. The battle goes on and it will continue to go on because it is important that every working Virginian has access to healthcare.
"Especially if the Federal government is going to pay for it with our tax dollars that we are paying into it!" – Dorothy McAuliffe
Asking the crowd to think about these particular women candidates and that some 50% of our current economy and that new Virginia economy is made up of women she pointed out that women, just as often as men, are heads of households. Women make economic decisions on healthcare, on business, on education. They run their own small-businesses. But in the Virginia legislature women make up only just over 17% of the membership. That does not reflect who we are and it does not allow the fresh look, creativity, or innovation that are available when considering that new Virginia economy and the policies and laws required to support who we are.
Thanking everyone for the opportunity to speak on behalf of the candidates, the First Lady reiterated the obvious: it is tiring in Virginia with elections every year but nothing is more important than focusing on these state races. Turning out the vote by talking to friends and spreading the word is key to success in these races.
Meanwhile, you wonder how Terry measured up in her absence.
(More on the candidates in a subsequent post)