 by Paul Goldman
Don't let anger at Eric Cantor, the new star of the national GOP, blind you to the this fact: the Senate Minority Leader, Mitch McConnell, isn't trying to do Democrats any favors by "saving" the country from a default. What are Democratic Congressional leaders thinking by indicating they could back this plan (fortunately the President has not joined this chorus)?
The plan, if accepted, requires the President to identify $2.5 trillion in cuts as a condition for setting in motion an automatic increase in the debt ceiling by the same aggregate amount in three steps, at three scheduled dates, through 2012. The convoluted process automatically raises the debt ceiling by this amount, whether or not the President actually makes the cuts.
It is a very clever ploy by Mr. McConnell to put every Democrat running for the Senate next year in a no-win bind. It forces Democrats to go first in proposing, as the President himself has conceded, very unpopular cuts in entitlements and other programs. Thus, in terms of the big mistake the GOP made on Medicare, the McConnell "compromise" totally takes his party off the hook and puts Democratic candidates like Tim Kaine on it.
Fact: Whoever has to go first, loses politically, as the GOP found out with the Paul Ryan plan for Medicare. That's a fact of political life.
Good for the Kaine campaign on this one. Apparently, they
read
Blue Virginia!
:)
We always expected that George Allen would go on the attack against Tim Kaine - but now Allen's campaign is attacking you.

In the past three months, we've used many tools to build our network of grassroots supporters, including using a website - ActBlue -- which makes it easy to process contributions from small donors who want to take back ownership of our political process.

Responding to the outpouring of support we've received, Allen's campaign went on the attack, calling ActBlue and our small donors "special interests."

This is absolutely absurd. The real special interests in this race are the ones funding Karl Rove's shadowy group that accepts anonymous, limitless contributions so they can run attack ads here in Virginia.

Together, let's send a message: when the Allen campaign denigrates the power of ordinary individuals to come together to change our politics, it only motivates us to fight harder to send Tim Kaine to the US Senate.

Click here to make a contribution. Together, we can fight back against the shadowy, outside groups coming into the Commonwealth and instead make this election about the people of Virginia.

Even Virginia's leading conservative blog, Bearing Drift, called the Allen campaign's attack "misguided, considering ActBlue's role is to be a medium for online giving from individual donors." Congratulations to my friend
Mike Henry
:
Former governor and Democratic National Committee Chairman Tim Kaine will hire a well known face in Virginia politics to oversee his U.S. Senate campaign next year.

Mike Henry, who ran Kaine's gubernatorial campaign in 2005 and Mark R. Warner's Senate campaign in 2008, will run Kaine's race, the former governor's campaign will announce Thursday.
I've known Mike for years, but I got to know him very well in 2009, during the gubernatorial primary (Mike managed Terry McAuliffe's campaign) and the general election campaign (Mike managed Steve Shannon's campaign for AG). Given Mike's excellent work managing Tim Kaine's campaign in 2005, and also based on conversations I've had with him the past few months, I'm not at all surprised that he's taking this position. I also think it's a great fit, as Mike knows Virginia politics - and how to win in this state - better than just about anyone. Good pick! (although the Kaine campaign's gain is the ONE Campaign's loss)
P.S. It looks like they're "getting the band back together," so to speak, as Mo Elleithee (communications) and Eli Kaplan (new media) are both involved as well.
Tim Kaine's statement on President Obama's Afghanistan speech follows. I mostly agree, although I'd tie our security more to Yemen and especially Pakistan (what a mess;
Christopher Hitchens
has a particularly harsh take) at this point than to Afghanistan, if we're talking about specific countries (as opposed to non-state actors) we need to worry about. All in all, I'm happy to see that we're finally winding down the two wars, Iraq and Afghanistan, that began in the aftermath of the 9/11/01 attacks. At this point, nearly 10 years later, we certainly need to keep Al Qaeda and other terrorist groups off balance and under constant pressure, but whether we really need to be occupying territory at such high cost, especially when we have such urgent needs here at home, is highly debatable. What do you think?
Tonight's announcement marks an important step for the United States in the global war against terrorism - a step that would not have been possible without the strategy employed by President Obama to dismantle al Qaeda's senior leadership and eliminate the organization's central command. I commend the President, our military leaders and the troops who carried out those missions, including the extraordinary Virginia Beach-based Navy SEALS responsible for capturing and killing Osama bin Laden, for a job well done.

Tonight is also a time to reflect on the sacrifice of so many American men and women who served in Afghanistan over the last decade as well as their families, many of whom are our neighbors and friends right here in the Commonwealth.

There is still more work to be done, but we are safer tonight than we were in the months following September 11th thanks to the leadership of our commanders and the bravery and dedication of our troops. As we move forward we must remember that our security is inherently linked to the situation in Afghanistan. I commend the President for his announcement and pray for a safe return of our troops still serving in the region. The Kaine campaign rips George Allen's godawful, disastrous, straight-out-of-the-Bush-years
"Blueprint for America's Comeback Demise"
. Whether or not we're enthused about Tim Kaine, we really need to beat "Felix"; what a nightmare.
Voters have already seen George Allen's "blueprint" for America during his six years in the U.S. Senate and don't need to see anymore. As Senator, Allen mortgaged the nation's financial health to give tax breaks to millionaires and corporations already reaping billions in profits. He voted to explode the national debt, privatize social security and build an economy so unstable that it nearly collapsed. Now on the campaign trail, Allen threatens to use this country's credit rating as "leverage," praises a plan that would effectively end Medicare as we know it and promises fiscal conservatism despite a record that shows anything but.

The only "blueprint" Virginia voters are interested in reduces spending while still creating jobs and economic opportunities. And, Tim Kaine is only candidate in this race with that record.
By the way, I had a chance to sit down with Tim Kaine's new press secretary the other day and was very impressed -- she's definitely a sharp cookie. Not to put any pressure on Brandi or anything, but I expect good things coming out of the Kaine press shop over the next 1 1/2 years! :)
P.S. As I've mentioned many times before, I really hope we don't hear Democrats talking about "cutting spending" throughout this entire campaign cycle. The fact is that - as I've stated, ad nauseum, on this blog - the Bush tax cuts alone cost $4 TRILLION a decade. Get rid of them, then we'll talk. It's not that stories about labor issues at the Ikea plant remind readers
Tim Kaine supported Virginia's right to work laws
while in office that caught my attention. It is that there are issues at the plant concerning overtime. Overtime is the last drop of squeezable turnip blood in production.
There is something amiss with plant management that cannot avoid unplanned overtime. There is something wrong with management that can't find the new labor currency of part-timers; particularly in this economy, particularly in the Danville area. There is something deficient with management that cannot make the issues plaguing this plant go away.
Those are some of the better reasons for a union at that plant. Swedwood Danville management can use a helping hand. Instead of OSHA finding the safety violations, and handing out citations, a more professional workforce with a vested interest in worker safety would find, correct, and prevent them. Maybe the union could provide its records of injured temporary workers when management forgets to record them. And maybe the trade skills of the Building and Wood Workers' International could be brought to bear, solving the safety issues and bringing productivity to levels that reduce overtime requirements.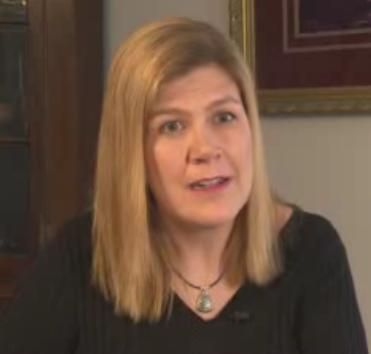 Only if you take Donald Trump as legitimate does Courtney Lynch deserve any attention. Out of left field, a potential challenger to Governor Kaine appeared and the media, like a beagle, picked up the scent. But yesterday she took on a personality that Allen, Kaine, and Senator Webb avoid.
Tony Macrini gave Lynch her own lead until a caller provided the catalyst that sent this episode into a spiral. It might have gone there eventually. It was a welcome relief from the pablum delivered by the print media. Responding to a question about Libya, she looked back at a strategy abandoned by the Bush administration. Under the old construct, national strategic planning recognized the constraints of military resources (aka, reality). America always planned for two major contingencies with the approach of "Win-Hold-Win." That meant that if there were simultaneous threats, resources would be dedicated to win one while holding the other at stasis. Then, upon the winning the one, turn our focus to the other. The idea was to avoid two stalemates, or worse, two simultaneous losses. It was a strategy employed for six decades. Lynch went on to comment that we have to look strong and hard at where we involve ourselves. For a glimmering nanosecond, one thought she was going somewhere with this line of discussion. Then she opined that:
Lynch: "...to protect the liberty and rights of innocent civilians as we are doing in Libya is consistent use of American armed forces. But I do believe we have to be careful..."
Macrini: "Ms Lynch, do you know for a fact that these people we are protecting in Libya are not al Qaida, they're not terrorists, these rebels? Do you know for a fact that they're innocent civilians we are protecting?"
Lynch: "I don't know for a fact anything. I am not on the ground in Libya."
Macrini: "All right. That's what you said. That's what you said. You didn't know it for a fact; why'd you say it? You said we're protecting the people in Libya."
In recent weeks, we've heard talk by Rep. Bobby Scott (D-3rd) - and also by his ally (?) Doug Wilder - that Scott is seriously thinking about running for the U.S. Senate in 2012. That leaves Scott as the only Democrat even suggesting that he might challenge Tim Kaine for the nomination. Note that Tom Perriello - and everyone else, basically - has indicated strongly that he would defer to Tim Kaine. But not Bobby Scott. In addition, Scott has said that he's going to take his sweet time making up his mind - he says he'll
decide by July
- knowing full well that Tim Kaine probably can't wait that long. What's Bobby Scott's game here? I've been thinking about it and talking to some astute Virginia Democrats. This is what I've concluded.
First, from Bobby Scott's perspective, running for U.S. Senate - or at least floating his name to run for U.S. Senate - makes perfect sense. Here he is, a senior Congressman in the Virginia delegation, having been first elected to the House of Representatives in 1993. Yet, following Jim Webb's announcement that he'd be retiring after a single term, nobody was talking about Scott as a potential U.S. Senate candidate. That's got to rankle. At the minimum, he doesn't want to be Rodney Dangerfield - he wants to be shown some respect!
Then there's the issue that, following the Democrats' "shellacking" in 2010, Bobby Scott is now in the minority in the House of Representatives, with no certainty that he'll return to the majority in 2012 or beyond. At this point, about to turn 64 years old, perhaps Rep. Scott is interested in doing something else prior to his well-earned retirement? It would certainly be understandable!
But hold on, you say, could Bobby Scott really defeat Tim Kaine in a Democratic primary? The answer to that question is almost certainly "yes." A few points to consider:
By Paul Goldman
Former Governor Kaine may not be aware of a little known provision in the Virginia state law, one that I discussed with the Obama for President campaign on a very confidential basis, legal capacity kind of thing.
It's my reflection of having written about it before, but perhaps not. When you ask people in politics in Virginia, they immediately say state law prohibits anyone from running for two offices at the same time.
That isn't true. Here is one narrow exception hidden away in a little known provision of the Code of Virginia. Here is what the law says:
"...a candidate for federal or statewide office... may have his name printed on the ballot for two offices at a primary election."
Congressman Scott could therefore run in both the 3rd district Democratic congressional primary and the statewide Democratic Senate primary assuming both were held.
Bottom line: As they in politics, Bobby Scott has a Get Out Of Jail free card to play next year if he so chooses.
What if he wins both nominations?
That's for another post. I just saw the news on
UVA Professor Larry Sabato's Twitter feed
:
"Unconventional announcement: Tim Kaine tells a Richmond class he is running for Senate."
Sabato adds, "Kaine-Allen will be 1 of half-dozen top '12 Senate races. Appears close at starting gate. Who knows what twists and turns contest will take?"
Also, blogger Rick Sincere tweets "Tim Kaine tells UR class he is candidate for US Senator reports WINA."
I'm waiting for more details, confirmation of this news (or should I say "news?"), etc.
UPDATE: @HotlineJosh tweets, "One top adviser in Kaine inner circle: "First I've heard" about Senate "announcement" at URichmond."
UPDATE #2: Peter Hamby of CNN tweets, "@LarrySabato have you verified that? a lot of smart politicos in Virginia have not." Also, "re: Kaine - everyone is citing a tweet that hasn't been confirmed." I'm starting to doubt this story.
UPDATE #3: Jennifer Epstein of Politico tweets, "V[ery] convoluted story on Kaine and #VASEN. UR student called WINA to say two of his friends told him that Kaine told their class he's running." Looking less and less likely by the minute...
UPDATE #4: Reporter Michael Shear tweets, "@larrysabato tweet about Kaine running based on local radio caller, he says. Guy named greg called in to say friends told him kaine running." Hmmmmmm.
UPDATE #5: My god, this is a complete and utter FAIL (not to mention a joke - the rightwing Schilling Show, no less)!

A University of Richmond student has been told that former governor Tim Kaine has said he WILL run for the U.S. Senate. A caller named Greg phoned the Schilling Show on Newsradio 1070 WINA early Monday afternoon and said he has two friends taking the class that Kaine teaches at the UR Jepson School. Kaine reportedly told the class that he will seek the Democratic nomination for the U.S. Senate seat being left vacant by Jim Webb. Greg says his friends told him that Kaine acknowledged that he has yet to make an official announcement, but he did tell the class that he is running. Kaine teaches the leadership class every Monday at the the Jepson School.
FAIL. FAIL. FAIL. FAIL. FAIL.
UPDATE #6: Reporter Adam Rhew tweets, "DNC out w/ statement on kaine, says comments came in response to a student question, kaine said he's leaning toward a run, no final decision."
UPDATE #7: Here's the DNC press release, courtesy of The Shad Plank blog.

In response to a student's question, Governor Kaine told his law school class today what is already widely known which is that he is increasingly likely to run. However, no final decision will be made or announced until the governor has had a final round of consultations with folks about how he can best serve the President, the people and the causes he cares about; he is assured that the Democratic Party will be in good hands should he choose to make the race and leave the DNC; he has the support that would be necessary to mount a successful campaign and he completes commitments for travel and fundraising he has made to the Party and the President through at least the end of the month.