by Lowell Here are a few national and Virginia news headlines, political and otherwise, for Friday, July 26.  Flags of inconvenience: noose tightens around Iranian...
I'm not sure what to make of this exactly (other than it's super weird), but check it out for yourself. Alexandria City Council member...
The crowd of Democrats competing for Jim Moran's House seat is growing faster than a herd of rabbits in spring. Now up to eight, it may well, like the legendary stereo in the movie
Spinal Tap
, "go to eleven."
I see this as a good sign. This field is a rainbow of talent, experience and diversity, a remarkable crew to see running in the former cradle of the Confederacy, as described by the Washington Post's Ben Pershing:

[A] half-dozen elected officials, three African Americans, two Latinos, a talk-show host, an openly gay state senator and a car dealer who last was on a ballot 17 years ago.
Okay, so maybe that sounds like the start of a bad joke that John Whitbeck would tell to warm up a Tea Party crowd. But in a Democratic district like the 8th, it's a real opportunity to elect a new face with new ideas and experiences to represent NoVA in Congress -- an exciting prospect.
I can think of only one thing that could go wrong here -- and that's if the Dems in this very competitive field take the opportunity to tear each other to pieces. Doing so may not cost us this seat in a very Democratic district, but it could create scars that would hurt us in other ways -- and perhaps linger.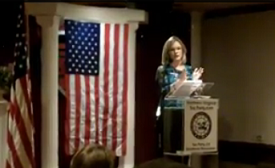 Briefly, a few winners and losers from yesterday. In general, the day belonged to the Republican Party of Virginia since most of the focus was on its contests. Generally not that much unusual to note, but if you have anything to contribute or simply disagree, please jump in.
Winners
1. Democrats in Alexandria. Imagine, left to their own devices and without a slate, they managed to choose six diverse and capable candidates for city council.
2. Republican conventions. Formalize incumbent protection over there, will you? The RPV really should get out of these embarrassing and unnecessary primaries when they already know who they want to run. Let's see what they decide come Friday. (Though a 3:1 beat down by Ken Cuccinelli in a primary might be something to behold.)
3. Jim Moran. A solid and well-deserved victory only surprising by his opponent's meager showing. "Not the incumbent" usually can gather 30% on that distinction alone. (See Bob Goodlatte)
4. Incumbency. Always a good bet and better now than ever.
5. George Allen. This man of solidly adequate accomplishment and famous lineage stands a fumble away from the goal line. Virginia may become the first state ever one of just a handful of states to elect a Senator who was unable to win re-election to the United State Senate as an incumbent.
The
latest Congressional scorecard from the League of Conservation Voters
flunks every single Virginia Republican, including House members like Scott Rigell, Rob Wittman and Frank Wolf who'll be trying to sell themselves as moderate in November. Committed opponents of clean air & water, public health, and wildlife like Eric Cantor, Randy Forbes, Bob Goodlatte, Morgan Griffith and Robert Hurt all scored in the teens. Meanwhile, Virginia House Democrats Gerry Connolly, Jim Moran and Bobby Scott all scored 100%. On the Senate side, both Sen. Mark Warner and Jim Webb scored 100%, though given that both support oil drilling off Virginia's shores and Webb has
opposed clean air regulations
, neither is perfect on conservation.
What drew the LCV's ire? Every single Republican voted for the House Republican budget resolution to gut the Clean Air Act & Clean Water Act, to protect billions in tax giveaways for oil corporations that banked $137 billion in profits in 2011, and to weaken offshore drilling safety rules even as they pushed to bring oil drilling to the Virginia coast:


Great job by Rep. Jim Moran, his full statement is on the "flip." As Moran says, the Republican assault on federal workers is nothing more than "a cynical attempt to tap into misguided resentment fostered by the far right against the federal government and the 2.1 million men and women who serve our nation as civil servants." Thank you to Rep. Moran for calling them out on that!
P.S. It's speeches like this which demonstrate why Rep. Moran will be, and should be, reelected overwhelmingly this coming November.
With Senator-elect Barbara Favola set to head to Richmond, the Democratic primary race in the special election to fill her Arlington County Board seat is quickly heating up. Already announced:
Melissa Bondi, community activist on issues including affordable housing & smart growth
Terron Sims, active in veterans issues and a former school board candidate
Among those rumored to be considering a run:
Peter Fallon, Arlington Planning Commission member
Libby Garvey, school board member and most recently a candidate in the 30th state senate district Democratic primary
Kim Klingler, civic activist and health care consultant
Stacey Whyte, Arlington Heights Civic Association president
So far, the biggest news in the campaign has been Rep. Jim Moran (D-8th) already endorsing Sims. To state the obvious, Jim Moran has been working his tail off for Northern Virginia since before your humble blogger was born and he does not need my or anyone else's permission to endorse whomever he pleases. But in conversations with Arlington progressive activists, I'm hearing less enthusiasm for this endorsement than I am questions about why Rep. Moran would not only take sides in a local Democratic primary, but do so even before the full field comes into focus.

These "It Gets Better" video series continues to amaze me. Here's Rep. Jim Moran's powerful, moving contribution. Personally, I hope some day to live in a world where "It Gets Better" videos aren't even necessary. To get to that point, unfortunately we'll have to overcome a lot of bigoted, intolerant people out there, several of whom are Republican candidates for President of the United States. It's very sad that in the year 2011 we're still at this point, but for whatever reason, progress seems to take a lot of time, as people don't give up their prejudices and ignorance easily. Some day, though, we'll win; I just hope it's sooner rather than later! I just received this statement from
Rep. Jim Moran
. I think it's fair to say that most Blue Virginia readers strongly agree with what Rep. Moran has to say on this issue!
Moran Statement on the Debt Ceiling Deal

Washington, DC - Congressman Jim Moran, Northern Virginia Democrat, released the following statement in advance of the House vote on the debt ceiling proposal:

The debt ceiling has been raised cleanly 39 times over the last 30 years, 18 times by President Reagan alone. But for the first time ever, a deal has had to be negotiated to raise the debt ceiling and prevent a default. Unfortunately, the proposal we are being asked to vote on would be bad for our country. It should be rejected, and President Obama should take matters into his own hands by invoking the 14th Amendment to raise the debt ceiling.

This deal is not representative of a balanced approach to long-term deficit reduction. By leaving revenue entirely off the table, the agreement severely restricts the government's ability to make investments in the human and physical capital of this country - investments that created the strongest middle class in the world and made our country the most powerful.

At a time of stagnant growth and high unemployment, the far-right of the Republican party has been able to hold our economic security hostage in exchange for deep cuts that will reduce growth and employment and increase inequality in the short term without properly addressing the structural causes behind our long-term deficits.
I first noticed Politifact was going out of its way to let Republicans rack up "trues" when they did an entire article crediting Rep. Eric Cantor for correctly saying
10,000 Baby Boomers a day
are becoming eligible for Social Security & Medicare. I mean, is that the hot-button political dispute of the day in need of fact checking? Or an excuse to give an easy "true" to a guy who managed only
1 full truth in his first 11 fact-checks
?
Rep. Jim Moran has fared just the opposite under Politifact's examination, rating 3 out of 4 "true" or "mostly true." Today, Politifact tries to bring him back into "balance" with a really weird "pants on fire." I say weird because ... well, what Rep. Moran said was at least half true. He said House Republicans had gleefully ordered biodegradable plates, trays & cutlery removed from the House cafeteria ... which they did. And he said they're using materials made by a Koch Industries subsidiary ... and while he got that wrong, it's actually a competitor, Koch does make the types of products in question.
Politifact giddily declares, "Moran must have been wearing a tin foil hat on the day he came up with this one." Sure, the Koch reference was sloppy (if pretty insignificant to warrant Politifact's pants conflagration). But Politifact is completely disingenuous to say Republicans didn't require a switch to plastic & styrofoam. Republicans wanted to stick a thumb in the eye of environmentalists & told the vendor to stop giving them all this nice, beneficial biodegradable stuff and switch to the cheapest crap possible.
Talk about going out of your way to absolve Republicans of responsibility for the consequences of their actions. I mean, if Republicans block an increase on the debt ceiling, will Politifact say, "Well, Republicans didn't require the Treasury to stop writing disability checks to wounded veterans & Social Security checks to seniors"? What's the point of having "fact-checkers" if you're going to play just as dumb as the talking heads chasing Sarah Palin?