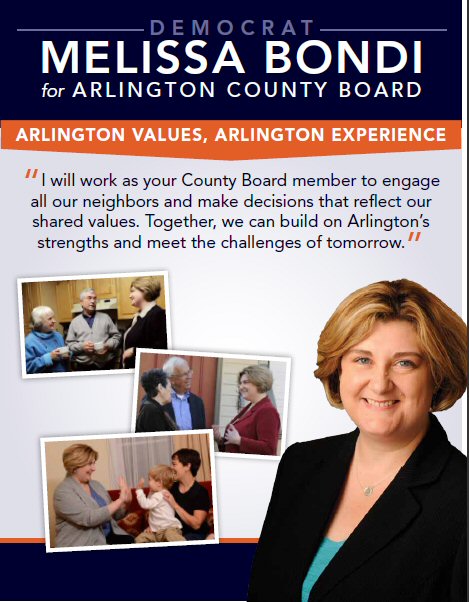 It looks like the Arlington County Board race for Senator-elect Barbara Favola's seat is off and running. This coming Wednesday, the 5? 6? announced Democratic candidates will be speaking at the Arlington County Democratic Committee meeting, and today I received my first mailer of the campaign — from Melissa Bondi — which you can see here and on the "flip." Other candidates include Terron Sims, Kim Klingler, Libby Garvey, Peter Fallon, and possibly Elmer Lowe (not sure if he's running as a Democrat, or at all for that matter) and H.K. Park.
The first step in choosing a replacement for Barbara Favola is for Democrats to choose their nominee, in a two-day "firehouse primary" process in early February 2012 (I'm hearing that one of the locations will be in Ballston — NRECA Building, the other in South Arlington — Kenmore Middle School). Presumably, Republicans, Greens, etc. will select nominees as well. Then, there will be a special election, probably in mid-April 2012, to fill Favola's seat. Clearly, Democrats are a huge majority in Arlington, and thus the Democratic nominee will be the overwhelming favorite to win in April. What really strikes me is that the expected turnout for the Democratic nomination contest is in the 5,000 range, with the "win number" somewhere around 1,500-2,000. In other words, out of a population of 200,000, just 2.5% will select the nominee, and only 1% or so will probably have voted for that person in the nominating process. I don't know about you, but somehow that doesn't seem acceptable to me. The question is, how do we get the other 97.5% of Arlingtonians interested in this race? It's kind of baffling to me that they wouldn't be, but there it is. Any ideas?
P.S. I'm glad to see that Melissa Bondi's campaign mailer is printed on recycled paper, with soy ink, using wind power and union labor. I certainly would hope the other candidates would do the same!