 Below is the text of a letter sent today by
County Board Member Chris Zimmerman
in support of
Melissa Bondi for Arlington County Board
. I share his thoughts and sentiments and urge you to take a look for yourself.
Jason
Dear Friends:
I came to run for office in Arlington as a neighborhood and community activist. I still believe that is the best preparation for a County Board Member. We want people making the decisions to know what it is like to be on the other side of the table. We want someone who knows what it is to come home from your job in the evening and then go to meetings for which you are not paid to work with your neighbors to get the attention of County Officials over a problem. To sometimes face-off against the high paid lawyers who represent development interests and craft solutions that will be taken seriously, and will be a better deal for the community.
It is not an easy thing to do. The fact that Arlington has been able to call forth dedicated and talented citizens who are willing to contribute their time and talents this way is why this community is the great place to live that we enjoy. That's the kind of person we need on the County Board. Melissa Bondi is that kind of person.
Melissa Bondi is a candidate who at once exemplifies the fine Arlington tradition of extensive civic service to the community, and at the same time represents a new generation of leadership. She would be the first person elected to the County Board born after 1970, and will bring a fresh and new perspective to County government. She has been a leader on the neighborhood level, and on County-wide matters. She has been an effective spokesperson for her civic association and a trusted advisor to policymakers. She has in-depth understanding of the institutions and processes that are the focus of local government in Arlington, from the site plan process that is such a substantial component of the Board's work, to fiscal matters, to service delivery. She has invested time and energy working across all the issues that are central to the work of the County Board, including land use planning and development, affordable housing, services for the elderly, and environmental protection. And, she has already proven her ability to get things done, both here in Arlington and beyond. I am a steadfast and enthusiastic supporter of Melissa Bondi for Arlington County Board. More than anyone else in the race, she is the one who takes the time to listen to the community and really understand the issues -- not just at a surface level but in every painstaking nuance.
Of all the candidates, she has spent the most time in the trenches on county issues from affordable housing to smart growth and development to neighborhood preservation. She chaired the Housing Commission at a critical time for affordable housing. She's serves on the Economic Development Commission and has been a Civic Association President. She has a long record of community service.
These aren't just titles. Ask the people who have served with her. Every process that she has participated in has benefited from her clear-headed, inclusive, deliberative leadership. Outcomes are simply better when Melissa is involved, because she makes sure that the process is the best that it can be, and creates an environment in which people feel valued and willing to put ideas on the table.
She is a thoughtful, caring, compassionate, and smart person who loves Arlington deeply. She is fresh voice from a new generation who is prepared to move Arlington forward. All Arlingtonians will benefit from her leadership on the County Board.
There's a lot more I could say, but I'm going to post separately a letter Arlington County Board member Chris Zimmerman sent today. It says everything I might, and more, about why we need Melissa Bondi on the Arlington County Board. Please read it.
I strongly urge you to vote Melissa Bondi on Thursday or Saturday.
Did you know Arlington Democrats narrowly escaped nominating a House of Delegates member with some
very serious ethical questions
? That's right - they could've nominated someone who
missed a car tax payment
. Imagine what a field day the Republican & Green Party candidates would've had with
that
!
That candidate was ... me. (Cue Shayna Englin: "Narrowly?" OK, I needed to make it sound more dramatic.) After moving to Virginia in 2002, the first I learned of the personal property tax & Arlington decal fee was a form letter from Treasurer Frank O'Leary's office telling me it was overdue. I emailed O'Leary promising to pay but pleading ignorance & hoping to get the late fee waived. "It is each taxpayer's duty to know when taxes are due," came the terse reply. Welcome to Arlington.
I tell the story because anonymous emailers are now shopping some similar stories about Arlington County Board candidate Melissa Bondi & claiming they make her unfit for office. I will not relate the details because not only do I not reward smears, the attempted smears in question are incredibly boring. I'm sure the people pushing the smears will disagree and be all SURELY YOU CAN'T BE SERIOUS and WHY WON'T THE MEDIA COVER THIS SERIOUSNESS and that is what the comments section is for, so go to town making anonymous handles under which to file your complaints. To me, the real questions I'd like answered are about how the anonymous people first learned of the issues, whether they were tipped off by anyone on the Arlington County payroll, and how someone obtained creepy/stalker-ish photos of Bondi's car from way back in 2006.
UPDATE 1/10: Read more on the positions of Melissa Bondi, Libby Garvey & Kim Klingler on these issues in their Greater Greater Washington questionnaire responses (Peter Fallon & Terron Sims did not respond).
Every Democratic candidate running for Arlington County Board claims to support smart growth. But when smart growth runs up against single-family homeowners' interests, are they willing to make tough choices? At a recent forum, statements from most candidates weren't promising.
The board has an open seat since Barbara Favola was elected to the state senate in November. Arlington Democrats will select a party nominee (who's almost certain to then win the official special election) at 2 caucuses on Thursday, January 19th and Saturday, January 21.
Wednesday night, the Arlington County Democratic Committee hosted a forum with the candidates. The forum spotlighted the paradoxical views of Arlington Democratic voters: They want candidates to express concern about things like smart growth, affordable housing, and transportation, but may be reluctant to support the density increases, transit projects or higher taxes to pay for affordable housing programs that may actually deliver it.
Arlington is gearing up for a special election to replace Senator-elect Barbara Favola on the County Board, with the caucus dates now set for 2/2 and 2/4 (at the NRECA Building and Kenmore Middle School, respectively), and with numerous candidates announcing at this past Wednesday's ACDC meeting (see videos of their speeches here). I recently sent out questionnaires to all the announced Democratic candidates, with a deadline of this morning. The first interview, with Arlington NAACP President Elmer Lowe, is available here. The second interview, which you can read below, is with community activist Melissa Bondi. The rest will follow in coming days as soon as possible. Thanks to Mr. Lowe and Ms. Bondi for returning their Blue Virginia surveys (on time is an added bonus! :)), and to the other candidates in advance for their responses as well.
1) Why are you running for Arlington County Board and what makes you the most qualified candidate at this time?
I want to serve on the County Board to engage our community in resolving major questions about Arlington's future.
I love Arlington. As a County Board Member, I would bring my experience as a neighborhood leader, my professional policy expertise, my collaborative style and a ten-year track record of resolving challenges in my own neighborhood and across Arlington. I believe I am the only candidate who would bring all these assets to the County Board.
Arlington's prime location next to our nation's capital and its visionary planning around Metro in the 1960s and 1970s has led to enormous success. However, these factors alone will not carry us through the next 50 years. We need a community conversation to update our vision. I want our community to consider life beyond the Metro corridors, and to consider the next generation of our economic, social and environmental sustainability. I've seen repeatedly that some of our best ideas come from the public -- I will work to ensure they have adequate resources to broaden community conversations and to forge tailored solutions that fit our neighborhoods and shared goals.
As a County Board Member, I would also lead new efforts to preserve and pursue additional committed affordable housing, and to ensure our outstanding schools, parks and other capital investments, our triple-AAA bond rating and excellent transportation choices and systems. I would stand up for equality and further pursue equitable, social justice no matter one's age, income, race, ethnicity, physical ability or orientation. I would work with all of the Arlington community to continue to achieve success while maintaining our values and welcoming new ideas. County Board candidate Melissa Bondi tonight addressed the December meeting of the Arlington County Democratic Committee (ACDC) at what had been billed by ACDC as a county board candidate kick-off. Clerk of the Court Paul Ferguson introduced Bondi, who outlined her vision for the office and sought the support of Arlington Democrats.
Bondi's remarks in full are below: Numerous elected officials have endorsed Melissa Bondi for Arlington County Board. County Board Chairman Chris Zimmerman on Monday joined fellow County Board member Walter Tejada, Delegate-Elect Alfonso Lopez, Clerk of the Court Paul Ferguson, and School Board Member James Lander in endorsing Melissa Bondi to succeed State Senator-Elect Barbara Favola on the Arlington County Board.
The following are statements from each official on why they are supporting Melissa:
Chris Zimmerman, Chairman, Arlington County Board
Melissa Bondi has been an effective, tireless advocate for neighborhoods and organizations, while building an in-depth understanding of the complex issues and processes that are central to the work of the County Board, including land use planning and development, affordable housing, budget and capital, services for the elderly, and environmental protection.

She exemplifies Arlington's enduring tradition of extensive civic service, while representing a new generation of leadership, and she would be the first person elected to the County Board born after 1970, bringing a fresh, new perspective to County government.

Also, Melissa has a proven ability to bring her own, innovative ideas to help resolve local problems that affect people's lives: notably the key role she played in the 2005 development of Arlington's historic affordable housing ordinance and statute, and in the landmark efforts to preserve the Buckingham community.

Perhaps most importantly, those who have worked with Melissa are impressed not simply by how much she knows, but by how well she works with people of all kinds and all opinions. She is able to establish constructive relationships among people who may disagree very strongly with one another, and treats everyone with respect and integrity. Melissa Bondi is the kind of person I want to represent me on the County Board.

Walter Tejada, County Board Member
Melissa Bondi is one of the smartest, most effective community leaders I know. I've long admired her commitment to inclusion. She works hard to ensure that every Arlingtonian has a voice in matters that affect our community. She has the experience and the knowledge, gained from working on community processes all across Arlington, to make a real difference in elected office. I enthusiastically endorse Melissa Bondi for the Arlington County Board.
Alfonso Lopez, Delegate-Elect (49th District)
It's been my pleasure to work with Melissa for over ten years on issues of importance to Arlington. Through her extensive professional and volunteer service across the Commonwealth on both policy and budget issues she has demonstrated a nuanced understanding of how our state government works, and its relationship to local decision-making. This experience will make her a uniquely effective member of the Arlington County Board, and a skilled partner to our Richmond delegation on day one.

Coupled with Melissa's expert knowledge of local policy and neighborhoods, including along Columbia Pike, in Nauck, and in Pentagon City, is her proven dedication to Arlington values. She is already widely respected across the region for her expertise on critical issues, including affordable housing, social services, transit, and sustainability. Simply put - there is no better choice for the Arlington County Board than Melissa Bondi. She has my full support!
James Lander, Arlington School Board Member
I'm voting for Melissa Bondi for Arlington County Board! Melissa has served in various leadership positions on committees throughout Arlington. Her dedication to our community, commitment to service, and knowledge of the issues is exactly the type of experience needed to continue to move Arlington forward.

In my capacity as an elected school board member, I often work in collaboration with my colleagues on the County Board, and understand the importance of having a candidate for the County Board who values the importance of this partnership. Melissa has earned the respect of many civic leaders throughout the county through her selfless efforts to positively impact our community.

Fellow Arlingtonians, Melissa Bondi is the only candidate I support in this race. She has earned my endorsement and more importantly my vote for Arlington's County Board.

Paul Ferguson, Clerk of the Court and Former Member of the Arlington County Board
Melissa Bondi is the best possible candidate for the Arlington County Board. When I served on the County Board, Melissa was someone I looked to for advice on planning, transportation, housing, budget and environmental issues.

She has served Arlington on numerous advisory commissions. She is a known civic leader and supporter of neighborhoods. She is well known in the Washington Metropolitan Region for her advocacy and knowledge of Smart Growth policies. She takes the time to be well informed on all issues. She has the ability to listen effectively, collaborate, and craft compromises on difficult issues.

Melissa has the skills and experience to be a great leader on the Arlington County Board and in the Washington Metropolitan Region. I endorse her candidacy with great enthusiasm. From time to time in this space, I'll be posting updates related to the Melissa Bondi for Arlington County Board campaign. Melissa is seeking the Democratic Party's nomination for the Arlington County Board seat to be vacated by State Senator-Elect Barbara Favola. I've worked with Melissa on numerous county and party issues over the years and, in my opinion, there is no one better prepared to lead Arlington in the years ahead.
Bondi, 40, has served in numerous leadership roles in Arlington, including as chair of Arlington's Citizens Advisory Commission on Housing, President of the Lyon Park Citizens Association, and as a member of the board of directors of the Arlington New Directions Coalition and the Virginia Housing Coalition. She serves on Arlington's Economic Development Commission, the Arlington Chamber of Commerce Community Action Committee, and is Parliamentarian of the Arlington County Democratic Committee. She is member of the Committee of 100, the Arlington Gay & Lesbian Alliance and Virginia Partisans LGBT Caucus, the Virginia League of Conservation Voters, among many other groups.
"For the past decade I've worked extensively on the core issues facing our county. I am prepared to lead important community conversations about what will make Arlington a stronger, more competitive and desirable place to live in the next 30 years," Bondi said. "I want to make sure we are truly engaging our neighbors, meeting public expectations, and making decisions that reflect our shared values. I will bring a knowledgeable, fresh approach that builds on our strengths and prepares our community to meet the challenges and opportunities that lie ahead."
Arlington residents and community leaders who have worked closely with Bondi hailed her candidacy:
"I've always admired Melissa, from her command and knowledge of issues affecting people all across Arlington to her attention to detail in getting things right," said Charley Conrad, past president of Virginia Partisans and past chair of LGBT caucus of the Democratic Party of Virginia. "We first worked together on Sally Baird's historic campaign for School Board. She's been a great friend and personal mentor and is extremely supportive of my work across the Commonwealth to promote equality."
"Melissa's breadth of knowledge, fresh perspective, and responsiveness to community concerns is exactly what we need on the County Board," said Kristine Wood, a long-time school and community activist. "From neighborhood conservation, to affordable housing, to issues around school crowding, Melissa understands how county government can play a positive role to improve our community."
"Melissa and I have worked together through the Arlington New Directions Coalition, including my passions of affirmative action and other human rights issues facing our community and our schools," said Maurico Alarcon, an Arlington educator and social justice activist. "She understands the importance of standing up for everyone's ability to be an equal participant in Arlington."
"Melissa combines a strong neighborhood perspective with a broad understanding of public policy," said Inta Malis, a community planning activist. "This is just the right approach for solving the complex land use and housing issues that face Columbia Pike and all of Arlington today."
Bondi campaign's website www.MelissaBondi.org, lists more than 150 active Arlingtonians who are supporting her campaign.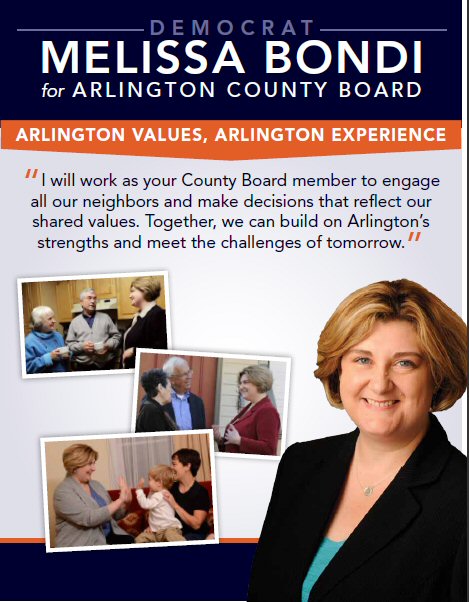 It looks like the Arlington County Board race for Senator-elect Barbara Favola's seat is off and running. This coming Wednesday, the 5? 6? announced Democratic candidates will be speaking at the Arlington County Democratic Committee meeting, and today I received my first mailer of the campaign -- from
Melissa Bondi
-- which you can see here and on the "flip." Other candidates include
Terron Sims
,
Kim Klingler
,
Libby Garvey
,
Peter Fallon
, and possibly
Elmer Lowe
(not sure if he's running as a Democrat, or at all for that matter) and
H.K. Park
.
The first step in choosing a replacement for Barbara Favola is for Democrats to choose their nominee, in a two-day "firehouse primary" process in early February 2012 (I'm hearing that one of the locations will be in Ballston -- NRECA Building, the other in South Arlington -- Kenmore Middle School). Presumably, Republicans, Greens, etc. will select nominees as well. Then, there will be a special election, probably in mid-April 2012, to fill Favola's seat. Clearly, Democrats are a huge majority in Arlington, and thus the Democratic nominee will be the overwhelming favorite to win in April. What really strikes me is that the expected turnout for the Democratic nomination contest is in the 5,000 range, with the "win number" somewhere around 1,500-2,000. In other words, out of a population of 200,000, just 2.5% will select the nominee, and only 1% or so will probably have voted for that person in the nominating process. I don't know about you, but somehow that doesn't seem acceptable to me. The question is, how do we get the other 97.5% of Arlingtonians interested in this race? It's kind of baffling to me that they wouldn't be, but there it is. Any ideas?
P.S. I'm glad to see that Melissa Bondi's campaign mailer is printed on recycled paper, with soy ink, using wind power and union labor. I certainly would hope the other candidates would do the same!
With Senator-elect Barbara Favola set to head to Richmond, the Democratic primary race in the special election to fill her Arlington County Board seat is quickly heating up. Already announced:
Melissa Bondi, community activist on issues including affordable housing & smart growth
Terron Sims, active in veterans issues and a former school board candidate
Among those rumored to be considering a run:
Peter Fallon, Arlington Planning Commission member
Libby Garvey, school board member and most recently a candidate in the 30th state senate district Democratic primary
Kim Klingler, civic activist and health care consultant
Stacey Whyte, Arlington Heights Civic Association president
So far, the biggest news in the campaign has been Rep. Jim Moran (D-8th) already endorsing Sims. To state the obvious, Jim Moran has been working his tail off for Northern Virginia since before your humble blogger was born and he does not need my or anyone else's permission to endorse whomever he pleases. But in conversations with Arlington progressive activists, I'm hearing less enthusiasm for this endorsement than I am questions about why Rep. Moran would not only take sides in a local Democratic primary, but do so even before the full field comes into focus.