( – promoted by lowkell)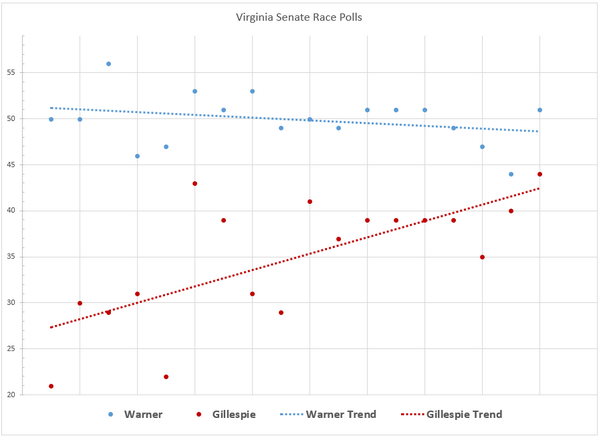 Since my series on Virginia politics back in December and January I've given up my Virginia roots, moved to the District of Columbia, and even find myself voting in a DC election! You can take me out of Virginia, but you can't take Virginia out of me. With Election Day just around the corner, I'm delurking to raise some questions about what we should expect from the Mark Warner victory on Tuesday … Knock on wood!
Despite my concerns about jinxing the election, a Mark Warner defeat on Election Day is the furthest thing from the realm of plausibility. Consider this trend line of polling in the Virginia Senate race tweeted earlier this week by Speaker Howell's spokesman, Matthew Moran.
I fully expect Warner to win on Tuesday, but I think we should be prepared for a closer than expected victory. Libertarian Robert Sarvis was hoping to build on his surprisingly strong showing from 2013, but he will be lucky to hit 2% this time around. I would not be surprised by a Warner margin of victory of 5 to 6 percent, far closer than earlier polls showing him up by over 20 percent. Warner has run a positive campaign based on his personal brand, playing up bipartisan support from that other Senator Warner and reminding Southwest Virginia of his work bringing Virginia Tech into the ACC. The polls show we won't have the same "Warner Country" that turned out for Mark almost two to one from 2008.
One of the constant themes from my Christmas series was that the Democratic Party of Virginia needs to prioritize competitive races based on the underlying Democratic lean of the districts, not idealizing the magical appeal of candidates who can supposedly swim up stream against the partisan tides that have been moving rural Southwest and Southside Virginia into the Republican column. This year could be a good test of the personal appeal of Mark Warner in Southwest Virginia versus the "War on Coal" rhetoric in Republican attack ads.
Consider the low-turnout environment of 2014 with an electorate that is still favored to return Mark Warner to the Senate. In the same way that it is questionable to even consider districts that did not support Ralph Northam over the meltdown Tea Party candidacy of E. W. Jackson, how should we view districts that may have historically backed Democrats like Mark Warner in 2001 and 2008, but are shifting Republican even when he's on the ticket?
Here are some areas to watch on Election Night to see how Mark Warner's brand is faring.
9th House of Delegates District (Franklin, Henry, Patrick Counties): In 2008, this was the second best district for crossover support for Warner (the 1st was the best district). Warner won 63% of the vote, 25% ahead of Obama's performance. When Republicans drew Ward Armstrong into the district, he put up a hell of a fight and ended up losing in 2011 by only 5 points. But in 2012, Obama dropped to 34%, down from 38%. But even that wasn't a floor for Democratic performance. Terry lost the district with only 29% of the vote, not even Northam could win the district. This is the sort of district that believers in a rural Virginia Democrat appeal would want to contest. How Warner performs on election day should give us a good indication if this will be possible.
12th House of Delegates District (Montgomery and Giles Counties, Radford City): Just how effective will Mark Warner's Virginia Tech ad strategy be in this Blacksburg based district? The district is well crafted (aka gerrymandered) challenge for Virginia Democrats. High turnout among the student population in presidential years makes the district look competitive, but in lower turnout years the more conservative electorate that turns out makes the district look more like the rest of Southwest Virginia. With polls showing increasing disillusion among Millennials about Obama's agenda, what will this district look like on Tuesday?
6th House of Delegates District (Wythe, Carroll, Smyth Counties): House Democrats in 2013 were shocked when they failed to win this seat, somehow believing this deep red district was about to elect a Democrat. That was political malpractice. Watch Warner's performance in this district to see if there's any grounds for believing a Democratic victory would ever be possible here.
14th (Danville City; Pittsylvania and Henry Counties) & 16th (Pittsylvania and Henry Counties; Martinsville City) House of Delegates Districts: The Republican "War on Coal" may resonant in Southwest Virginia, but these Danville and Pittsylvania County district will be a testing case of just how low Warner's brand can fall simply through association with Obama and the Democratic Party. Pittsylvania County is the bastion for Southside Republicans and will push Adams or another Pittsylvania Republican into the State Senate should Frank Ruff ever retire. The 14th District is a frustrating tale of low turnout in odd years when the African-American community is less engaged. The low turnout was a scare for Democrats in early on election night in 2013, with Terry far behind expected vote totals. And it cost Roscoe Reynolds his State Senate seat in 2011. Look to Warner's vote total in the 14th to see how low his brand is among white Southside voters, as minority turnout will likely be lackluster.
2nd (Parts of Prince William and Stafford Counties) and 13th House (Prince William County, Manassas Park City) of Delegates Districts: These are two seats that have rapidly changing demographics. No one is more hated by progressive than the 13th District's Bob Marshall, who represents a district that has been rapidly trending to the Democrats nationally. But in low-turnout affairs the district continues to send Sideshow Bob back to Richmond. Look to these districts to see how low Democratic turnout is in a midterm as we head into 2015. Although winning in 2013, even Terry struggled to turn out the increasingly diverse communities of Prince William County.
34th House of Delegates District (Parts of Fairfax and Loudoun Counties): There's still time to stop Barabara Comstock from going to Congress, but the important story on election night could also be how Mark Warner performs in this affluent Northern Virginia District. Despite the great difficulties in knocking off Comstock, this is a district where statewide Democrats tend to do a better job in minimizing their dropoff from the Presidential campaign. It also has a high number of independent swing voters, like those who supported both Mitt Romney and Tim Kaine in 2012.
1st State Senate District (Newport News City; parts of James City County, Hampton City, Williamsburg City, York County, Suffolk City) and 94th House of Delegates District (Newport News City): These two Peninsula seats could feature barnburners in 2015, with State Senator John Miller a perpetually vulnerable Democrat and the 94th providing a pickup opportunity in the House of Delegates. The two districts overlap significantly and offer good synergies for getting out the vote in 2015. Democrat Monty Mason in the neighboring 93rd should also be facing a tough reelection.
10th State Senate District (Chesterfield County, part of Richmond City and Powhatan County): This is the most Democratic State Senate seat held by a Republican and represents one of the few pickup opportunities for Democrats in 2015. Retirements and primary defeats may appear to put other seats into play, but this is the seat that represents the best pickup opportunity at this time.
What predictions do you have for election night?