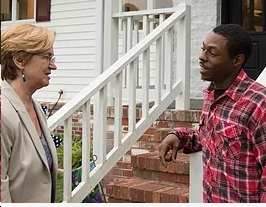 by Sheila Crowley, Democratic candidate in HD-98
I am Sheila Crowley and I am running for the Virginia House of Delegates.
​I am not a politician. I have never run for office. In fact, I never intended to run for office. But like many people in our community and nation, the results of the 2016 election shocked my conscience. This is a moment in our nation's history when each of us must do everything we can to advance progressive ideas and reject the politics of greed, fear, and division. We must pursue every avenue to express traditional values of caring, community, and the common good.
So I decided to run for the Virginia House of Delegates this year. It was a pivotal moment when the General Assembly voted on April 5 this year to once again deny health coverage to over 300,000 working class Virginians, including 3,000 people here in the 98th District. My delegate, Keith Hodges, voted with the 65 other Republicans in the House to reject the use of our federal tax dollars to expand Medicaid coverage in our state.
Voters in my district deserve a serious choice when they go to the polls in November. Democrats across the state are challenging Republican incumbents in the General Assembly, many of whom have not had to defend their records in some time.  This year will be different.
This year when you vote for your delegate for the 98th district, you will be able to choose between:​
Assuring affordable health care for more Virginians or rationing health care to a privileged few,
Raising the minimum wage or keeping wages below livable levels,
Making our schools state-of-the-art or willfully neglecting public education,
Assuring clean water or protecting polluting industries,
Welcoming people from other lands or shutting our doors to hard working people who want to contribute to our economy,
Creating housing and services for people with mental illness or allowing them to languish in jails,
Encouraging participation in our democracy or making voting more difficult,
Enacting common sense gun laws or turning a blind eye to more senseless deaths of children from stray bullets and careless gun owners,
Protecting reproductive rights or letting politicians dictate women's health care needs,
A community in which we all care for one another or a place where people are left to rise or fall on their own.
If you live in the 98th district, I hope to introduce myself to you personally over the coming months.  I may knock on your door. I may introduce myself to you in the grocery store. I may attend services at your house of worship. I may show up at a festivals and sporting events you attend.  I may even drop by your yard sale on a Saturday morning.
​Please feel free to walk up to me anywhere you see me and introduce yourself. Please contact me anytime (sheila@crowleyforva98.com or 804-803-3498). I truly want to hear from you.
Sheila Crowley