By Frank Anderson and Lowell Feld
Last night, the Republican Party of Virginia held an (unethical) event with Press Secretary Sean Spicer at the Trump National Golf Club in Sterling, VA. A Trump/Spicey supporter posted the following video online. See below for a few "highlights." According to the right-wing Washington Examiner, there were only 75 people there last night – SAD!!! (in contrast, the Fairfax Dems' Jefferson-Obama Dinner costs about the same as the Trump Golf Club event, but has 400 people scheduled to attend tomorrow night!)
VA GOP Chair John "Anti-Semitic 'Joke" Dude" Whitbeck starts off by bragging about the unethical fact that "we are standing on property owned by our president, Donald J. Trump."
Whitbeck welcomes former Virginia Attorney General Jerry "The Duck" Kilgore, who Tim Kaine defeated in 2005 (thank goodness) to become governor of Virginia.
Whitbeck also welcomes raving bigot and far-right-wing extremist nutjob, Whitbeck's "friend" EW Jackson to the event.
Whitbeck says "of course" his opening remarks "have to be approved by the White House." Seriously?
Spicer says: "One of the things the media won't ever tell you is, you look around this place. the quality of the people, the quality of the establishment, the quality of the food, it's what Trump's all about. It's all about quality. It's the same kind of qualities, the same kind of dedication, that he's brought to the White House. And I know sometimes the media talks about how that's a bad thing…"
More idiocy from Spicer: "Tonight, I think we're just past 118 days in office… I think the President has squeezed every second out of every minute out of every hour out of every day, in those 118 days plus that he's been in office. And I think, when we stop and we take a look at what he's been able to accomplish, it's been incredible."
Spicer says: "Ralph Northam and Tom Perriello are battling it out to see who can go further to the left in the gubernatorial race. They are literally battling it out to see who can get Elizabeth Warren's endorsement and Bernie Sanders' endorsement [laughs from audience]"
Spicer gives a shoutout to a coal industry representative in the room, goes on about how Trump is "committed to bringing back" planet-killing fossil fuels (e.g., coal, the Keystone pipeline, Dakota pipeline) and suspending environmental protections.
The audience cheers Trump trying as hard as he can to take away tens of millions of Americans' health care coverage. Appalling.
Spicer brags that the Supreme Court, with Neil Gorsuch on the court, is now back to favoring "liberty" (note that "liberty" means the opposite of liberty in right-wing speak).
Spicer bizarrely claims that Trump has "passed more legislation in the first 100 days than Truman and Truman certainly did not have to put up with Chuck Schumer and Nancy Pelosi." Hardy har har!!!
By the way, where was Rep. Barbara Comstock (R-VA10) last night? Oh, there she was! LOL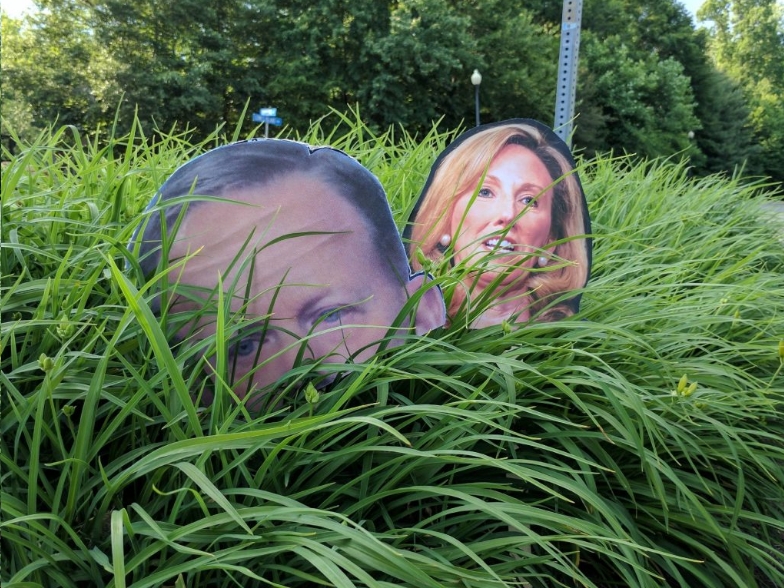 And great work by the "Dump Comstock" folks as always!