BREAKING NEWS:  The Democratic mayor of Norfolk, Kenneth Alexander, has endorsed the Republican candidate for Virginia Beach Sheriff, Ken Stolle.  Yay Team. [UPDATE by Lowell: I'm hearing mixed reports on this, including that Stolle is not being truthful about this. Trying to find out; hopefully we'll get an official statement from Mayor Alexander.]
Virginia Democrats are working hard (everyone but Kenneth Alexander, at least) so that our elections this year will be the beginning of the Blue Wave that surges through Congress in 2018 and makes impeachment — and every other good thing we need to do — truly possible. Energy and enthusiasm are high as we take on districts where Republicans haven't been challenged in years.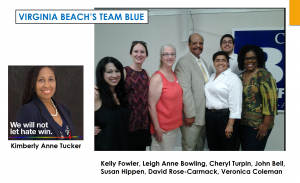 Virginia Beach is one of those areas. There are six good Democrats running for state delegate seats: Kelly Fowler, Kimberly Anne Tucker, Leigh Anne Bowling, David Rose-Carmack, Veronica Coleman, and Cheryl Turpin. Two city-wide races are of particular importance, since bringing voters out for them will also help the delegate candidates; our candidates are Susan Hippen for Treasurer (facing an incumbent who is responsible for the city's owing the state more than a quarter million dollars that has since been spent) and John Bell for Sheriff.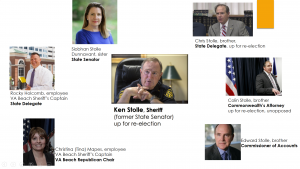 These candidates are up against an entrenched political machine run by the Stolle (rhymes with "dolly") family, an entrenched Republican political dynasty.  The capo dei tutti capi is Ken Stolle, a former state Senator and the current Sheriff, running for re-election. Ken Stolle's brothers and two employees (Sheriff's Captains, who serve at the pleasure of the Sheriff) hold an astonishing number of powerful positions in Virginia Beach; his sister, Siobhan Stolle Dunnavant, is a state Senator in the Richmond area (SD12).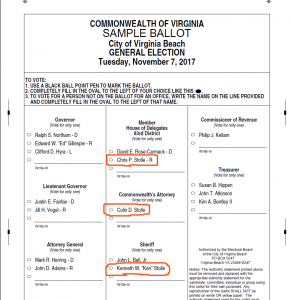 Nothing shows the Stolle grip on Virginia Beach quite so well as this year's sample ballot for the 83rd Delegate District (everyone in VA Beach will have Ken and Colin Stolle on their ballots, but the citizens of the 83rd are super lucky and have THREE Jolly Stolles on theirs, by golly! Whatever is wrong with the rest of the family? There must still be more Stolles to run for office – surely they're not out!
It is not illegal for the Stolles to do this, of course — it just stinks. You have a complaint about the jail or the Sheriff so you go to your delegate; oops! he's the Sheriff's brother or employee. So you try the Commonwealth's Attorney (i.e., the county prosecutor), but wait! He's a brother, too. Conflict of interest in Virginia Beach is spelled S-T-O-L-L-E. It's no surprise that this political incest has led to some rather fishy financial dealings, some of them recounted here.
But there's tragedy, too. On November 7, 2010, Mr. Douglas Poole died in the Virginia Beach jail. He had spent ten days there after being arrested for driving with a suspended license. Mr. Poole suffered from diabetes and high blood pressure and had his medications with him, but was denied both his blood pressure medication (and, initially, his insulin) and medical treatment by jail and medical staff. Douglas Poole was 54 years old, the father of three and grandfather of five. The medical staff were employees of a for-profit medical care company, Conmed Health Management, which had been awarded the Virginia Beach contract by Ken Stolle in 2010 after donating to his campaign.  Here's a description of Douglas Poole's suffering and death from the decision in the lawsuit filed by his sister.
Plaintiff has pleaded sufficient facts to show that jail employees may have violated plaintiff's constitutional rights. Indeed, that Mr. Poole had known serious medical issues, that he was never provided his blood pressure medication, that he was turned away after complaining of headaches, sudden blindness, and an inability to walk, and that his care was so direly neglected that he ultimately died from lack of treatment may be sufficient to satisfy the low threshold of Rule 8(a)(2) in proving that jail staff acted indifferently toward Mr. Poole's serious medical need.
Conmed, which according to the same legal decision had retained nearly all of the medical and nursing staff of the prior healthcare company, which itself had also come under scrutiny for providing sub-par medical care to inmates, ended up settling with the family out of court for $300,000. In 2011 and 2012, Conmed increased its annual donations from $1,000 to $2,500.  That's right, Douglas Poole's days of suffering and entirely preventable death did not cause Stolle to end the contract or refuse donations from Conmed.

Now contrast the Douglas Poole tragedy with the crime of Kenneth Stolle, Jr., Ken Stolle's son and a Sheriff's Deputy in Chesapeake.  He was arrested for a DUI hit-and-run in Virginia Beach and got off with a $250 fine.  Dad's the Sheriff, Uncle Colin's the county prosecutor:  Connections can be the difference between life and death in Virginia Beach.
Since 2015, when it began donating to Ken Stolle's campaign committee, NaphCare has been the company providing medical care to Virginia Beach Jail's inmates.   NaphCare has contributed $7,500, and its president, Byron Harrison, $15,000 to Stolle in nice regular annual donations of $7,500.
But healthcare for inmates isn't the only area where there are suspicious donations; as noted in this article:
Ken Stolle has received nearly $600,000 in donations since 2009 — though he usually runs unopposed.  Given the pattern above, these would bear closer scrutiny.
I question, too, whether Ken Stolle is physically fit to serve as the Virginia Beach Sheriff. This video, taken at a recent candidates' forum, this radio interview of a few weeks ago, reveal quite pronounced physical fragility (see this informative article). Voters have the right to the authoritative assessment of a medical specialist — not Stolle's own declaration — as to whether he's up to the stresses of being the Sheriff of a major metropolitan area, never mind of carrying a gun.
Residents of Virginia Beach have, however, a fantastic alternative in John Bell, who rose through the ranks of the Virginia Beach Police Department to become Deputy Chief of Police. He was awarded the Silver Medal for extraordinary bravery and has numerous other awards and commendations. One of John's priorities is to disrupt the school to prison pipeline and he understands the need to educate the police force to deal with teenagers differently from adults. You can get a sense of where he's coming from in the video below.
Supporting the Democratic candidates who've taken on the Stolle Machine is a worthy cause. They are fighting the good fight and we need to support them as we can. Each and every one deserves financial support, and helping Susan Hippen for Treasurer (donate here) and  John Bell for Sheriff (donate here) will help get out the vote for all. Please do what you can to help us throw a spanner into the Stolle Machine! Thank you!
Watch this clip to get John's take on the Pipeline – the school-to-prison pipeline, that is.