From the Democratic Legislative Campaign Committee (DLCC): DLCC Launches Press Twitter, Virginia GOP Hall of Shame Promoted digital projects will hold Republicans accountable for their right-wing...
UPDATE - Whoa, the NRA just gave Speaker Kirk Cox's PAC  House Republicans $200k! *************************** As we know, today's Republican Party has several defining elements, among...
See below for the first ad from Democrat Nancy Guy for Delegate, who's running against Del. Chris Stolle (R) in HD83 (94% Virginia Beach,...
BREAKING NEWS:  The Democratic mayor of Norfolk, Kenneth Alexander, has endorsed the Republican candidate for Virginia Beach Sheriff, Ken Stolle.  Yay Team. Virginia Democrats...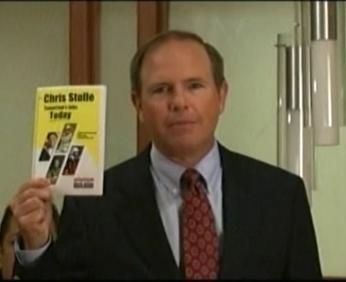 The Stolle clan boasts a crew of adequately accomplished attorneys who don't lawyer, a physician who doesn't much doctor, and private sector cheerleaders all nursing at the public teat. They may be planning to pull a hat trick in Virginia Beach that will distinguish that city for its low public service expectations.
It probably won't be at tomorrow morning's Virginia Beach Republican Breakfast that Chris will discuss Julian Walker's Virginian Pilot stories that he was considering a run for state Senate and that his brother the Sheriff, who will soon have his high three for a handsome publicly funded retirement, may want to join him there. Possibly Ken has decided to relocate ala Frank Wagner's now nixed idea to move to a Senate district currently represented by Senator John Miller (D). That could leave littler brother (also a Commonwealth employee, last I saw) a delegate seat somewhere. Maybe he can use Chris's house and run from the district he currently represents and where Chris probably lives most of the time. Congressman Nye joins the shameless "Support the Troops" chorus of Cantor and all who proffer use of the HOV lanes as honor for service rather than offering substantive support by calling for an end to the waste of American blood and treasure in foreign misadventures. Cower behind the troops, again.
Beyond the fact that this is part and parcel of establishing a separate military class and walking away from the concept of the citizen-soldier, it is idiotic; it is unenforceable; it rewards personnel whose only sacrifice has been a paper cut when opening their paychecks. It gives short shrift to civilian members of DoD. But nice stab at reaching out to the same people Palin abuses. It is a modern day Napoleonic ribbon.
"Traffic congestion is a serious problem in Hampton Roads, and our HOV lanes are often under-utilized," Nye said. "This legislation will help ease traffic for everyone in the region, and make sure our military and emergency response personnel get where they need to go." - Glenn Nye Negotiations are nearing completion for a British Petroleum and North Korean partnership to seal the spewing crude flow in the Gulf of Mexico. "This is the kind of public-private partnership we've advocated" said someone familiar with the "
Good Government for America Committee
" currently sponsoring an unofficial "
give George Allen money
" website.
This is seen as an immensely important development particularly at this time of heightened tensions on the Korean peninsula. A North Korean envoy intimated that this arrangement serves many purposes but is humanitarian in nature. It will help his proud nation feed its starving population. "But it should not be lost on the people to the south that we possess this capability." He went on to suggest that the Gulf of Mexico be saturated with rice prior to the blast and that the resulting gumbo be harvested and shipped to his nation. "There is no reason to waste that bounty of nature as it may be the last for some time to come."
A source close to Delegate Chris Stolle (R-Virginia Beach) who claimed during his campaign against former Delegate Bouchard that his "contacts" in the Navy assured him that there would be no objection to drilling off the coast of Virginia, noted that the absence of any public objection from the Governor Jindal of Louisiana was proof of Jindal's support for the use of nukes. "It also shows you that the eco-nuts' objections to drilling off of Virginia are unfounded. With this solution in our quiver, spills off of Virginia Beach only promise more dramatic fireworks for the tourists. Remember that the Delegate was a naval nuclear engineer."