Advertisement

I recently looked at Fairfax County and Loudoun County in more detail, with an eye towards what (if anything) the 2017 gubernatorial results might imply for future local elections, particularly Board of Supervisors. Now, I'll take a quick look at Henrico County, the fifth-largest county in Virginia – and one turning bluer by the year, it seems.
See below for a map of Henrico County's five magisterial districts, which are Brookland, Fairfield, Three Chopt (I love that name, btw), Tuckahoe and Varina. Also check out the photo of Henrico's five supervisors: Tyrone E. Nelson (D), Varina; Thomas M. Branin (R), Three Chopt; Patricia S. O'Bannon (R), Tuckahoe; Frank J. Thornton (D), Fairfield; and Courtney D. Lynch (D), Brookland. Now, let's take a look at results for governor on 11/7 in those five magisterial districts:

Brookland: Northam 11,802 – Gillespie 8,839
Fairfield: Northam 17,030 – Gillespie 3,583
Tuckahoe: Northam 12,518 – Gillespie 12,245
Varina: Northam 13,290 – Gillespie 6,175
Three Chopt: Northam 11,431 – Gillespie 10,363
As you can see, Ralph Northam swept all five of Henrico County's magisterial districts, en route to winning the county by a whopping 61%-38% (70k-44k) margin. Which means, most likely that the County Board's three Democratic members – Courtney Lynch (Brookland), Tyrone Nelson (Varina) and Frank Thornton (Fairfield) – are in excellent shape, politically speaking.
As for the two remaining Republicans on Henrico County's Board, I'd say that if I were either Thomas Branin or Patricia O'Bannon I'd be fairly concerned, although not panicked necessarily, since Ralph Northam only won their districts by small margins. Also worth noting is that O'Bannon has been a member of Board of Supervisors since 1996, and that her husband, Del. John O'Bannon (R), just lost reelection to Democratic newcomer Deborah Rodman.  As for Thomas Branin, he's only been a member of the Henrico County Board of Supervisors since January 2016, plus his district went from a 9,394-7,239 margin for Ken Cuccinelli over Terry McAuliffe in 2013 to an 11,431-10,363 margin for Ralph Northam over Ed Gillespie this November. In other words, that district doesn't seem to be moving in the "right" direction, so to speak, from a Republican's point of view…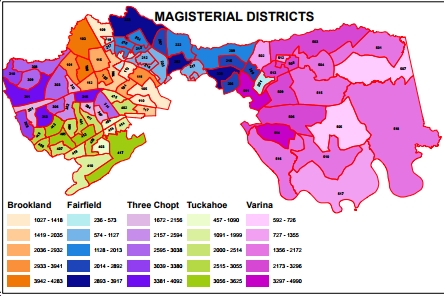 There's no paywall on Blue Virginia, and we definitely want to keep it that way! If you want to help support our work, you can donate here - thanks!
Also, you can
sign up for our weekly email list here
.