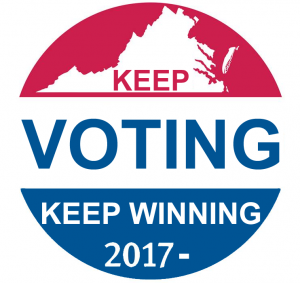 November 7th, 2017 will go down in history as the day Virginia fired the opening volley in a war against hate and division in our nation. On that day, we elected the second ever African American to a statewide office, a completely Democratic slate, and upwards of 15 Democrats to the House of Delegates. Those 15 freshmen delegates represent the most diverse slate of challengers ever fielded by either party in our commonwealth.
Much of Tuesday's voters participated to send a clear signal that Washington's dysfunction will not cross the Potomac, but it was also a testament to the strength of our candidates, the power of our vision, and unity of our party. Despite all of the noise and distraction on the national stage, we cut through the cynicism and appealed to the best parts of ourselves.
But our fight is far from over.
We have to understand that last week's victory was just another step in a much longer journey of progress for our commonwealth and our country, and we have much more to do:
Help Governor-Elect Northam Fill His Administration
Our new Governor has already announced his transition team and his first few key appointments, but there are literally hundreds of staff and commission positions to apply for. These positions run the gambit of every aspect of our state government, who it listens to, and how its regulated. Many of these roles are advisory, supervisory, or policy-crafting in nature; some meet as few times as quarterly. All have an important role, though.
Getting involved in these commissions and staff positions is particularly important for anyone who wants to help hold the administration accountable for promises made on the campaign trail. Protesting, rallying, and sending letters are great, and if you really want to be part of the change in our commonwealth, you need to be part of the process. Visit govelect.virginia.gov to apply.
Get Involved in Your Local Democratic Committee
The cycle is always the same – hundreds of organizers come in from out-of-state, help the campaigns create a volunteer network from all segments of our community, and then everyone scatters and goes home after the election is over. Folks who have never been to a single Democratic Party meeting put in dozens of hours of canvassing, phonebanking, postcard writing, and organizing in the last few weeks of the campaign, and then we never see them again until the end of the next election.
There is a fundamental disconnect between the party apparatus in most counties and the grassroots volunteer network. Especially now with all of the new grassroots groups in the mix. We need to change that.
Party politics isn't for everyone. Neither is going to monthly meetings which mostly revolve around more talking and less doing. People have busy lives. I get it. Staying away from the party, though, changes nothing.
In December and January, every single county Democratic Committee will be reorganizing. That means their entire roster of members will be wiped clean and their leadership will all be up for grabs, and those elected will be in charge for the next two years. That means the makeup of the local committees will be overseeing the 2018 and 2019 elections.
As much as I love the massive amount of grassroots energy we've seen this year, it's frustrating that a lot of these folks aren't at all involved in the local committees. If you have qualms with how your local party is run, what it's doing (or what it isn't doing), then now's your chance to change it.
Realize That 2018 is About More Than Just Congress
Yes, all of our Congressional Districts (House of Representatives) are up next year. Yes, Tim Kaine will be seeking re-election next year. All of the most important positions in putting checks and balances on the Trump Administration will be up for grabs, but we also have more local elections next year, too.
Nearly all of the towns and cities in Virginia will be having elections next year. Council positions and Mayors will be on the ballot. Some of these elections will be as early as May 1st, with the Primary Elections being in March!
Never forget that these local positions have a much more direct impact on our lives than federal positions, or even in comparison to state ones. Getting the right people in these town councils, city councils, and mayor positions is key. These folks can also serve as great field generals for top ticket races in 2019 (when House of Delegates and State Senate are up) and in 2020.
In closing, 2017 was a big year for us, but we still have a lot of work to do. If we want to really take the fight to the Republicans in 2020, each and every year between now and then is important. Let's keep this wave going!