Advertisement

Check out the following photos, courtesy of Graham Weinschenk, of Corey Stewart's latest pathetic fail (as Weinschenk notes – "no attendees other than the organizers"). Also see following the photos for background on Corey's latest stunt, this time coming to Arlington to rant about the Arlington County Public School Board considering changing the name of Washington-Lee High School. Obviously, it's fine to have a debate on this issue, and people have the right to disagree and to express their views. But why is it that Corey Stewart only seems to get riled up when what's being considered is taking down Confederate monuments or changing the name of public buildings named after Confederates, slave owners, etc? Is that purely a coincidence or is something else driving this native of Minnesota to feel so strongly about this specific issue and in this specific way?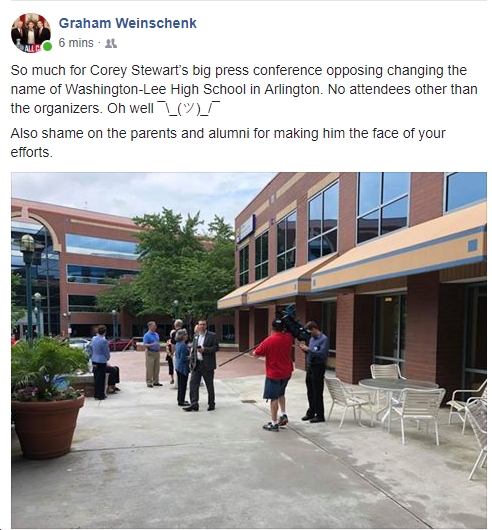 Subject: Fw: Fwd: MEDIA ADVISORY: Stewart to Hold Press Conference Outside Arlington School Board Meeting on Renaming Washington-Lee High School
May 30, 2018
Dear W-L "Keep the Name" Supporters:
This is the time for you to "Step Up" and show your support for keeping the name of W-L! 
Corey Stewart is going to come to the Syphax Ed. Center tomorrow evening at 5:30 p.m. and lend a hand to help us advertise to the county that the Arlington County School Board is VERY SERIOUS about renaming W-L High School.  In fact, it is scheduled to be renamed by 2020.  Is this what you want to happen to the 93 year old educational beacon?  Doing nothing says that you are in favor of erasing the name….  
We, some people in the alumni association, have been leading this crusade and are depending on you to show up and be present. You don't have to say/do anything except be bodily present to let the community know that we are serious about keeping Washington-Lee High School alive at least until it celebrates its 100th year of being in existence!
Bring your family members, friends, and anyone else who can come to show that there are people in the community who are interested in keeping the school from being assaulted by the squeaky wheels of the community. 
I look forward to having you step up and show your support by your presence tomorrow evening.  This will really turn the tide for our Keep the Name cause.  It will not be necessary for you to stay for the School Board meeting.  
By the way, FREE PARKING is available in the attached garage on the lower level.  Scroll down to see the information about the media advisory.
Regards, 
Betsy Zimmerman Lockman, W-L '60
Dean Fleming, W-L '75
MEDIA ADVISORY
May 30, 2018
Press Inquiries Contact: Stewart Press Team
E-Mail: Press@CoreyStewart.comStewart to Hold Press Conference Outside Arlington School Board Meeting on Renaming Washington-Lee High SchoolWoodbridge, VA – Republican U.S. Senate candidate and Prince William County Board Chairman Corey Stewart will be holding a press conference 

tomorrow

 on the Arlington County School Board's efforts to rename Washington-Lee High School. Stewart will be joined by concerned Washington-Lee High School alumni.The press conference will be held at 

5:30 PM

, outside of the Arlington County School Board meeting at 2110 Washington Blvd, Arlington, VA 22204.Corey Stewart Press Conference with Washington-Lee High School AlumniOutside the Arlington County School Board MeetingSyphax Education Center

2110 Washington Blvd

Arlington, VA 22204

Thursday, May 31

Stewart will be there at 5:30 PM
There's no paywall on Blue Virginia, and we definitely want to keep it that way! If you want to help support our work, you can donate here - thanks!
Also, you can
sign up for our weekly email list here
.