Congressman Dave Brat (VA-7) is among a highly-select group to receive the "Worst for Women" Award, meted out by American Bridge and UltraViolet PAC. How did Brat get to be best at being worst?
Congressman Dave Brat has voted in line with Trump 89 percent of the time.
He voted– and sponsored a bill – to defund Planned Parenthood, he voted against the Title X Family Planning Program, against a minimum wage hike, to repeal health care, for tax cuts for the 1%, and cosponsored an abortion ban.
He has the highest ratingfrom anti-choice interest groups.
He once mocked constituents who were concerned about attempts to repeal the Affordable Care Act, saying "The women are in my grill no matter where I go," and accusing them of being paid protestors.
BUT — we in #VA07 have a candidate running against him who'll be fantastic for women and for men, too.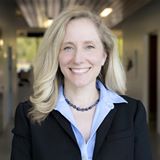 Abigail Spanberger is strong on all the issues I care about most:  healthcare, education, and foreign policy.
Check out Abigail's website, and please consider a donation.
Democrats in #VA07 are ENERGIZED, and the race, once deemed safe for the GOP, is now considered a toss-up by Cook Political Report, Larry Sabato, and CNN, but Brat is going to get major help from well-heeled Trump supporters and we need resources to get lots and lots of women up in his grill!
Thank you!