Advertisement

Five months ago Arlington Commonwealth's Attorney Theo Stamos called a letter from the legislative delegation requesting her office end the practice of requesting cash bail "silly," claiming that she is simply following the law, and that if they want an end to the practice, they need to rewrite the law. But she wasn't facing a potential primary for her re-election five months ago.
Today, now that she is facing a likely primary, and only after Attorney General Mark Herring issued a public statement last month urging reform of the cash bail system, she suddenly issued a press release touting a new cash bail policy. Delegate Patrick Hope, one of the signatories of the legislative letter, called Stamos a "leader in the criminal justice reform movement." I'm not quite sure I'd call her a leader for fighting this reform every step of the way. (Nor for the many other criminal justice reform efforts she's opposed, including reinstating felon voting rights, civil asset forfeiture reform, and recording police interrogations.)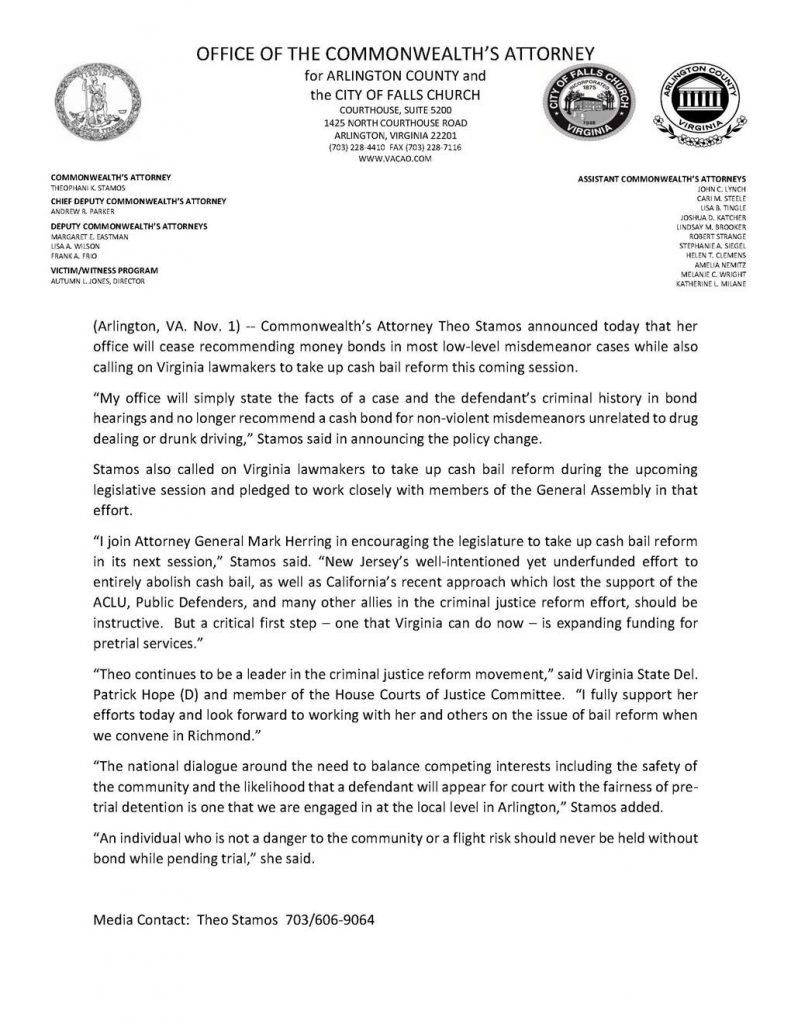 In fact, this new policy has barely any teeth. Her office will "no longer recommend a cash bond for non-violent misdemeanors unrelated to drug dealing or drunk driving." That still means her office can (and probably will) request cash bail for all felonies, as well as all misdemeanors related to drug dealing and drunk driving. The list of such non-violent misdemeanors is fairly short. Compare this to the statement from Richmond Commonwealth's Attorney Michael Herring which stated that he will "no longer seek cash bail bonds for defendants awaiting trial" without any limitations. He goes even further–in addition to not recommending cash bail, "if they don't believe the person poses an unacceptable risk of harm, then they are to recommend [to the judge] release with appropriate pretrial conditions," Similarly, Charlottesville Commonwealth's Attorney Joe Platania's office simply does "not use secured bonds in this community as a general rule."
In short, this move to try to veer left before a primary, is hardly being a leader on criminal justice reform, and won't actually improve matters much for most defendants. I don't even think it will lose her the valuable endorsement of the ever-classy AArrow Bail Bondsmen, who previously found it "refreshing to see a lawyer of stature display principle and rectitude by simply sticking up for the rule of law, as well as apply common sense to a political issue."
There's no paywall on Blue Virginia, and we definitely want to keep it that way! If you want to help support our work, you can donate here - thanks!
Also, you can
sign up for our weekly email list here
.