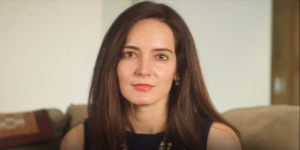 By Kindler
"Think globally, act locally" very much applies to today's climate crisis. I and others are busy doing just that in Virginia's 35th Senate district, where a clean energy champion – Yasmine Taeb – is challenging a long-time defender of one of the most backwards electric utilities in America – Senator Dick Saslaw. This is the rare battlefield where, in a race likely to be decided by a few hundred or thousand votes, we have a leverage point – a moment to tip the scales in favor of climate action – or miss yet another chance to avert future climate catastrophe as the hours slip away.
What makes this such a rare opportunity is that Saslaw, the incumbent, is the Democratic leader of the state Senate. Yet rather than using his position to advance clean energy policies, he has more often than not used it to support the position of the fossil-fueled energy giant that has given him more than $350,000 in donations over the years, Dominion Energy.
Saslaw's Democratic primary challenger, Yasmine Taeb, has made it clear that she will:
refuse to take Dominion's money while voting to regulate this monopoly property;
fight to increase Virginians' access to renewable energy;
oppose the unnecessary, environmentally harmful gas pipelines set to cost ratepayers billions of dollars; and
be a champion for a Green New Deal in Virginia.
The reasons why this race represents a climate leverage point include:
The potential impact of Virginia as a big, wealthy state – vs. the Commonwealth's current position in the bottom third of states on clean energy;
The overriding political reality of Dominion's dominance;
Saslaw's compromised yet pivotal position at the center of state politics; (shoot down lame LCV line)
The new hope represented by Yasmine Taeb (include lean of district)
Virginia's Clean Energy Potential
Virginia today ranks 12th in the nation in both population and GDP, with NoVa a booming high-tech hub benefitting greatly from our position next to Washington, DC.  Fairfax County, covering most of the 35th district, is the second richest county in America – so it's not like we couldn't afford clean energy if we loudly demanded it.
And yet Virginia lags pitifully behind when it comes to every clean energy ranking:
Meanwhile, Dominion is ranked the second-worst utility in the nation on energy efficiency – only Alabama Power scored worse!
Is this backwardness due to Virginia being too Southern or too Republican? Neither. If it were, why would states like North Carolina, South Carolina, Nevada and Montana rank above us on solar, for example? Why has almost every state succeeded in getting their utilities to be more efficient than ours?
No, saying that we're powerless in the face of Republican intransigence is a cop-out. There's more going on here – and sad to say, it involves complicity on the Democratic side as well as the Republican.
Dominion's Dominion
Over the past 19 years for which the Virginia Public Access Project (VPAP) has kept contribution records, one corporate donor has stood above the pack. Excluding party groups, Dominion is consistently the top donor in Virginia – with a total over that time period of a whopping $11.5 million.
And no, those contributions have not just been to Republicans, but at least as much to Democrats in the Commonwealth. This tidal wave of cash is reinforced by Dominion's army of 22 registered lobbyists – on which, just in the last reporting year it spent a cool $1 million. These lobbyists include retired General Assembly members and former aides to Virginia elected officials (like Mark Warner 's former Chief of Staff David Hallock).
Dominion reinforces its direct political donations with strategically placed charitable donations – on which it then cashes in, as when NGOs receiving Dominion's largesse testify in its favor.
As a result of all this carefully cultivated clout, Dominion traditionally gets what it wants in Richmond. And what it wants is guaranteed profit through old-fashioned fossil fuel-based generation. This is why, unlike 29 other states, Virginia has never had a mandatory renewable portfolio standard requiring our utilities to obtain a certain percentage of its power from renewable sources. This is why, unlike 20 other states, Virginia has never had a standard mandating that our utilities prioritize energy efficiency.
And it is why Dominion literally writes the legislation it wants and hands it to its favored legislators to introduce and pass. Worst of all, one of those most favored legislators is the Democratic Leader of the Senate.
Dick Saslaw, Dominion's Fixer
An AP story from last year titled "Facing new scrutiny, powerful utility turns to old friends" tells the story of a Dominion executive complaining in an email to Sen. Dick Saslaw that Democrats had dared to criticize a Republican for being too close to Dominion.
"I was very disappointed to see this, especially considering how our company has supported Democrats over the years," Dominion executive Bob Blue wrote in an email to Senate Democratic Leader Dick Saslaw. "As you know, many of us have been personal supporters as well."  Saslaw, one of Virginia's most influential elected Democrats, quickly apologized and criticized the state party for not doing its "homework" on "how generous Dominion has been to me" and others in the party. The company and its executives have given about $350,000 to Saslaw in the last 15 years, by far his biggest source of campaign funds.
Sadly, Mr. Blue was correct. Coal-scented corporate campaign cash is a drug on which Dominion has indeed gotten Virginia Democrats hooked, with Sen. Saslaw serving over many years as their pusher.
Saslaw demonstrates his fealty by helping to shepherd the legislation drafted by the monopoly itself, like the infamous bill that exempted Dominion's rate requests from regulatory scrutiny over several years. He also parrots the company's talking points to justify these stances – in that case, the claim that Dominion would be forced to "absorb $82 million in costs" from "potential EPA regulations", i.e., Obama's Clean Power Plan. (In fact, those compliance costs have proven to be significantly lower than expected – and anyway never justified muzzling the utility's watchdog, the State Corporation Commission).
He has been notorious over the years for arrogantly attacking any constituents who dare raise the topic of clean energy or criticize Dominion to his face. Here's just one example of many. I myself have been shouted down by my State Senator for simply raising the issue of clean energy at a town hall as his constituent.
In addition to usually siding with the fossil fuel industry, Saslaw also regularly argues against reforming Virginia's notoriously weak campaign finance laws, which allow Dominion and other moneyed interests to control state politics.
Even today, when Saslaw is on his best behavior to stave off a primary defeat, he can't resist echoing Dominion talking points to take a cheap shot at renewable energy, as at a recent town hall when he claimed that we need fossil fuels because otherwise we'd have no electricity when the sun's not shining or the wind's not blowing. (Ever heard of energy storage or the smart grid, Dick?)
For all he tries to pretend that he's changing his stripes, Dick Saslaw remains Dominion's "old friend."  The idea that he can and will do a 180 degree turn on his positions after 40 years in office goes beyond hopeful thinking into the realm of fantasy.
The good news is that we finally have an opportunity to replace him with a promising alternative.
A New Hope in the 35th
If Sen. Saslaw represented a marginal purple district, there could be an argument for protecting such an incumbent rather than letting a Republican take his place. But his district is one of the bluest you'll find anywhere. The 75% of the vote it gave Ralph Northam in 2017 was his highest margin in the whole Commonwealth, while the 76% it awarded Tim Kaine was bested by only a few other districts.
It is a vibrant, diverse area full of young people which is frankly better suited for his challenger, Yasmine Taeb, who first came to the US as a refugee from Iran. The 35th boasts a population that is 26% Latino, 13.7% Black and 17.1% Asian.  This is also a constituency with a significantly higher 22-45 year old cohort than the state average.
We hear that we can't afford to lose Sen. Saslaw because no one else could ever be such an effective leader. Weird then that his "batting average" – percentage of bills passed – is a mere 20%, in the bottom fifth of Democrats in the General Assembly.
In short, there ARE NO compelling reasons to keep Dick Saslaw – and many to replace him, as the impediment that he is to progress on climate change in a large and important state. After so many years of waiting, I'm delighted that this time we have a compelling, progressive, environmentally responsible alternative in Yasmine Taeb.
Yasmine is a credible, experienced candidate who has built a career as a human rights attorney defending the rights of immigrants and torture victims.  She was the first Muslim woman elected to the Democratic National Committee. Her experience includes working as a Legislative Fellow in Congress and helping draft and pass legislation on issues including war powers and human trafficking.
She has a strong clean energy platform that will allow her to join with other progressive Democrats in the General Assembly to finally overcome Dominion's stranglehold over Virginia politics and allow the Commonwealth to become a leader, not a laggard, in the clean energy movement.
As the days we have left to stave off a level of catastrophic global warming endangering millions of people on the planet tick down, we need to sweep aside bottlenecks like Sen. Saslaw in order to get the job of climate change mitigation done today. I encourage you to help Yasmine do just that this June 11th.
Cross-posted at Daily Kos