See below for several newsworthy items regarding 2019 Democratic candidates. First, Marques Jones has announced that he is not continuing his campaign for Virginia State Senate in SD12. This announcement comes a few days after Del. Debra Rodman (D-HD73) announced that she was entering the SD12 race, where Democrat Veena Lothe is also a candidate, to take on Sen. Siobhan Dunnavant (R).
Dear friends,
The spirit of activism fueled this campaign from the start. It was in the Virginian with MS who rode his wheelchair across the Capitol advocating for Medicaid expansion. It was in the woman lobbying to raise the larceny threshold and do away with private prisons. It was in the teacher who just wanted to be able to pay the bills doing their job – making a positive impact on the community.
That spirit will always be a driving force for me – but unfortunately, it will not be pushing me towards the Virginia Senate in 2019.
Today, I am suspending my campaign to be the Virginia Senator from District 12.
Although I won't be representing the district as a member of the general assembly – rest assured I will never give up advocating for the issues I've focused this campaign on.
I'll continue to advocate until every Virginian has quality, affordable health care, I'll continue to speak out in favor of criminal justice reform and demolishing the crib to prison pipeline, and I'll always fight to increase funding for education.
Sincere thanks to everyone who supported me over the past year. It's your encouragement, sweat, and donations which made this effort possible. I am forever grateful.
Democracy only works if well-meaning citizens step up and serve in government – and I'm proud to have played my small part.
I wish all of the candidates I've had the honor to meet, commiserate with and learn from good luck – I'm rooting for you.
Marques
Next, it looks like
Del. Cheryl Turpin
(D-HD85) will be entering the SD07 race, where Democrats
Kim Howard
and
Susan Hippen
are already running for the open seat, following Sen. Frank Wagner (R-Dominion Energy)'s retirement announcement.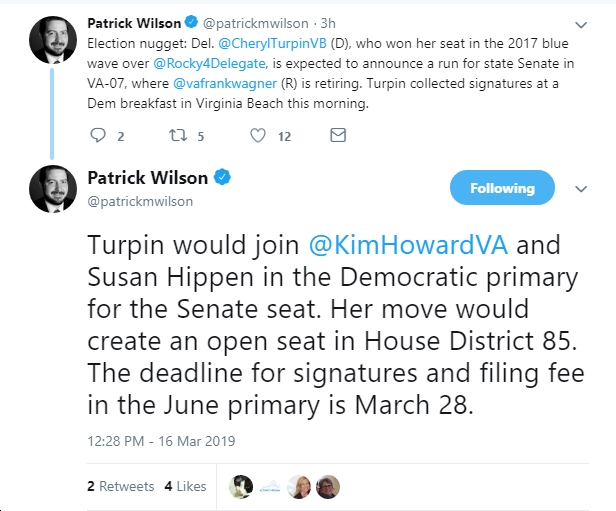 Finally, Democrat Martha Mugler has announced her candidacy for HD91, where Democrat Michael Wade is also running for the open seat, following Del. Gordon Helsel (R)'s retirement announcement.
Well….Here goes Facebook Friends.
I am sharing with you my intention to run in the Democratic Primary for the Virginia House of Delegates 91st District.
Delegate Gordon Helsel announced his retirement from the House at the close of the 2019 session and I applaud his service to the Commonwealth. He worked across the aisles to support public education in the District through SOL reform and was instrumental in the pursuit of a budget amendment to provide essential funding for the Academies of Hampton.
I spent the last decade as an elected School Board member in Hampton and have worked to support academic excellence in our schools. I entered the work with a passion for pre-kindergarten and expansion of Virginia Preschool Initiative funding. Throughout the decade of work, my focus has expanded to SOL reform, High School redesign, and technology initiatives in the classroom (just to name a few). My budgeting experience began at the onset of the "great recession" and I learned how to trim a budget to the bone and have enjoyed the opportunity to see funding begin to rise and incrementally add new initiatives back into the budget. During my tenure I have participated in efforts to lobby our Virginia Legislature, Congress and Senate to promote public education, special education funding, and oppose efforts to divert funding from public education.
It is time for me to take my experience to another level. I hope the citizens in the 91st will agree.
As I begin developing my platform, I can share with you that along with support for excellent public education, expansion of the Virginia Preschool Initiative, and elevating compensation for our teachers and administrators; I will support efforts to raise the minimum wage in an incremental manner, workforce development and jobs creation. I will always support efforts to protect the environment, our coastline and our beloved Chesapeake Bay, as well as, mitigation to address the impact of climate change and sea level rise in our region. I support a resolution to ratify the ERA and of course, support the arts and the creative economy.
If you live in the district and would like to help with my campaign please send me a private message. This will be my only political post on my personal Facebook page, as this is my connection to old and new friends, and I have made it a practice not to talk politics here. I will be launching a political Facebook page and website in the coming weeks and will post when they are up and ready for visitors.
I am excited to make this journey with my friends and would be honored to serve as your Representative in the Virginia 91st District!
If you are not sure if you reside in the 91st, the list below identifies all of the
Precincts in the District:
Hampton – Asbury Precinct
Hampton – Booker Precinct
Hampton – Bryan Precinct
Hampton – East Hampton Precinct
Hampton – Jones Precinct
Hampton – Kecoughtan Precinct
Hampton – Langley Precinct
Hampton – Phillips Precinct
Hampton – Phoebus Precinct
Hampton – Smith Precinct
Hampton – Syms Precinct
Hampton – Tyler Precinct
Hampton – City Hall (Split Precinct)
Hampton – Hampton Library (Split Precinct)
Hampton – Thomas (Split Precinct)
Poquoson – Central Precinct
Poquoson – Eastern District
Poquoson – Western District
York County – Bethel Precinct