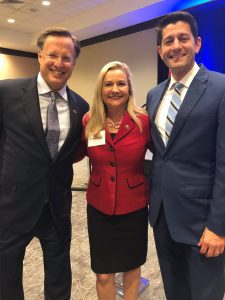 by Anne-Marie Leake
Just when you thought State Senator Amanda "My Gun Is My ERA" Chase (R-11th) had reached peak crazy when she started packing heat during this year's General Assembly because she hallucinated that visiting activists were trying to kill her, now it is reported that she threw a tantrum in front of the Pocahontas Building because the Capitol Police Officer on duty would not break established protocol to give her the special treatment to which she felt entitled.  The official Capitol Police report quotes Senator Chase, a self-described conservative Christian whose Lexus was blocking several buses and holding up downtown traffic during the altercation, as saying, "I am not going to move unless you let the fucking barricades down to let me in."
In another decidedly un-Christian moment, Chase also ranted about Senate Clerk Susan Clarke Schaar getting to park there, stating that, "Madame Clerk, Miss Piggy, gets to park her fat ass up front."
Suddenly Senator Law and Order is OK with breaking rules when it would benefit her, as she whines in the Richmond Times-Dispatch article that the Capital Police were being too "legalistic" by not breaking the rules to give in to her tantrum.  Not surprisingly, Chase resorts to the classic cry of the privileged, "Do you know who I am?" The most surreal moment, though, was when Chase, a vocal opponent of the Equal Rights Amendment who prefers her pistol to a constitutional amendment, blurts, "You don't know equality of women's rights!" at the female officer.
As soon as story started going viral on social media, Chase was quick to post a statement in which she borrows from Trump's playbook to concoct a loony defense that the official report is the work of partisan liars embedded in the Capital Police force: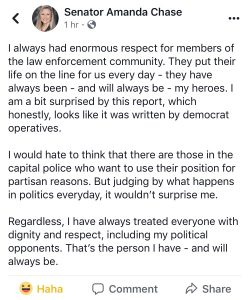 A quick peek at Senator Chase's Facebook posts from the last election cycle and General Assembly session shows that dignity and respect are only afforded to those with whom she agrees.  The examples are many, but my favorite was her dismissal of constituents who favor passage of the Equal Rights Amendment as part of "a ploy by the left to eliminate gender altogether."
Lordy, I hoped there were tapes, but sadly, Major Mark Sykes, Assistant Chief of Police, Division of Capitol Police, responded to my FOIA request to say that their officers are not equipped with bodyworn cameras.
Fortunately, there will be an alternative on the ballot in November.  These are the candidates vying for the Democratic nomination to chase out Chase: