An earlier version of this piece was published on Daily Kos
Tea Party darling Nick Freitas and Virginia Republican officials failed to get necessary paperwork filed for Freitas to be listed on the ballot this November for HD-30.  Lowkell has published on the Nick Freitas Debacle HERE and HERE and you can go HERE for a recent low-down by The Washington Post's Laura Vozzella.  Though the final shoe hasn't dropped, it now appears that Freitas will be a write-in, going up against first-time grassroots candidate, Ann Ridgeway, who will BE ON THE BALLOT!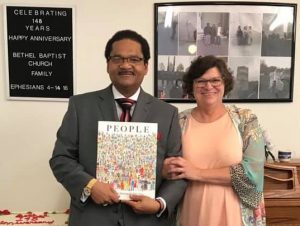 Who is Ann Ridgeway? She is nothing short of terrific and just the sort of person we need in the VA House.  She's the real deal and has been endorsed by Mark Warner.
Listen HERE to Ann at her June "We the People" rally, then go HERE to contribute to her campaign.
Ann is a community activist who has worked throughout her career to improve her community. She's the daughter of activists in the civil rights movement who were lifelong community activists and advocates for the underserved.  Ann's own work has centered on young people; she has worked as a juvenile probation counsellor and was instrumental in establishing a youth council and a youth commission in her county.  She has been a public school teacher and her three children attended public schools (tragically, one died at the age of six in a car accident).  Go HERE for more on Ann's background.
Ann Ridgeway on the issues:
I am running because all people in the 30th District should be given a voice…a voice for high-quality public education, increased teacher pay, and funding for educational infrastructure; high speed rural broadband; increased funding for mental health services; increased job opportunities; and protecting our rural environment.
Go HERE for more details, where Ann declares her belief that health care is a human right.
Go HERE to listen to her courageous no holds barred stance on gun violence and her attack on Republicans for having thwarted every effort at gun control legislation and for walking out of the Governor's special GVP session.  By contrast, in a video that went viral, Nick Freitas espoused the usual NRA-inspired right-wing litany, including arming teachers.
Let's flip both houses THIS November! The Freitas Debacle could well be a gift to us.  Just as our outstanding performance in 2017 energized Democrats nationwide for the 2018 Tsunami, so could #BlueVA2019 do the same for 2020, and Republican incompetency may have helped us do that!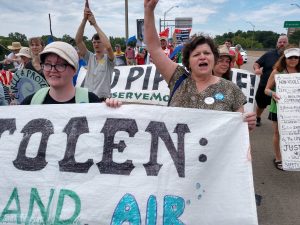 So that we can end the GOP logjam and finally pass gun control legislation, so that we can support our rural communities with good health care, schools, infrastructure, environmental protections, and broadband — support Ann Ridgeway!