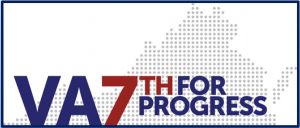 VA 7th for Progress worked tirelessly this past election cycle to help flip both chambers of Virginia's state legislature blue and to promote Democratic candidates in other races.  We did this primarily through matching fund contributions.
THANK YOU to all who participated in those drives.
While not all of the races turned out the way we'd hoped, we helped eight excellent candidates carry the Democratic message all across the 7th Congressional District.  We believe that supporting our candidates is key to building the party and expanding our base.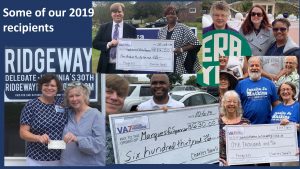 Now we're building for 2020 and we need your help.
OUR 2020 VISION:  Defend Virginia from Trump and his allies

Work to elect the Democratic presidential candidate.
Work for the re-election of Rep. Abigail Spanberger.
Run voter registration and voter education campaigns, including robocalls and other GOTV efforts in support of progressive voices and causes.
In 2018, VA 7th for Progress played a role in the extremely narrow defeat of Dave Brat. The Republicans will do everything they can to re-take that seat and, as excellent as Rep. Spanberger is, the battle will be fierce.  VA-7 went decisively for Trump in 2016, and there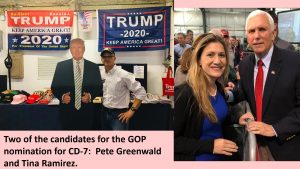 are at present SIX Republicans jockeying for the nomination, all of them running close to Trump.  Click here to help us be ready to unhorse the winner.

Among the Trump six-pack is John McGuire, whose flag-bedecked truck bespeaks his unblushing bromance with Trump.  He's got stiff competition in that department, though, from Trump fanboys Pete Greenwald, Jason Roberge and Craig Ennis, and from the only woman: Tina Ramirez, who has gone so far as to protest the impeachment inquiry outside of Spanberger's office.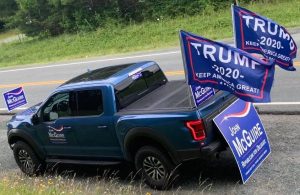 While they may rue the day they hitched their trucks to the orange star, it is hardly impossible that the impeachment inquiry — which as of today looks very likely to result in articles of impeachment — will lead to a backlash among the Trump loyalists in VA-7.  We need to be ready to battle Trump and Trumpism here in Virginia, where the 7th CD will be a crucial swing district.