It's kinda like Republicans never learn – or can't learn, or simply won't change. Case in point: the candidacy announcement today by far-right, conspiracy theorist (e.g., "birtherism"), nutball, ran-and-lost-previously Republican Ben Loyola, who we covered previously (see screen shots, below), against Rep. Elaine Luria (D-VA02).
For instance, check out "Virginia Is For…Birthers?", which we posted in March 2010, about how Loyola bought into the racist, "birther" conspiracy theory against President Obama, stating that he was "not sure" if Obama was a U.S. citizen and how "that troubles me." WTF? Also, how about Loyola calling for the elimination of the U.S. Department of Education? Claiming that the Affordable Care Act supposedly adds "a huge new layer of socialism?" Showing that he knows zero about economics, by laughably asserting that there's "no excuse" for U.S. unemployment to be over 1%-2% (note: 4% unemployment is basically what economists consider "full employment")? Ranting about the Federal Reserve conducting "terrorism against America?"
In sum, Ben Loyola represents everything wrong with today's Republican Party, while epitomizing why moderates and suburban voters are turning so strongly against it. If you're an Elaine Luria fan, you can only hope that Republicans are stupid and crazy enough to actually nominate this guy. Do it!!!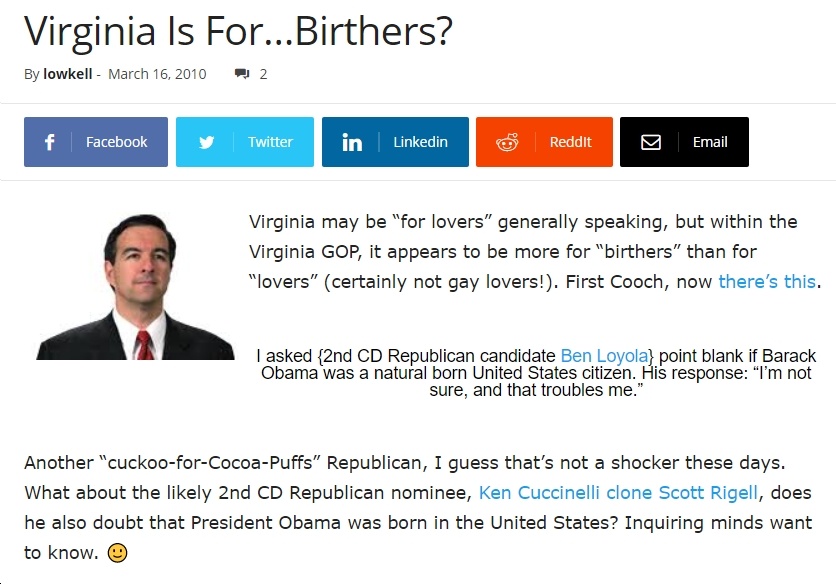 ?EXCLUSIVE: #VA02 GOP candidate Ben Loyola touted birther conspiracy theories when asked about Barack Obama's citizenship in 2009 blog interview–over a year before Donald Trump's smear campaign with the National Enquirer. #VApolitics pic.twitter.com/0ARoUv1F0q

— Virginia Political Memes (@VApoliticalmeme) November 11, 2019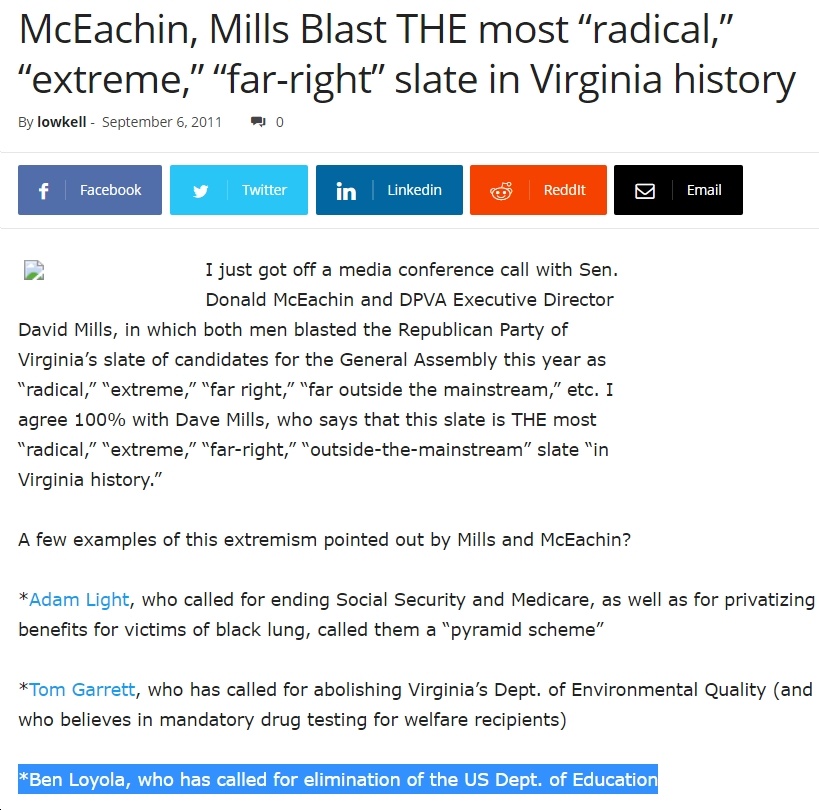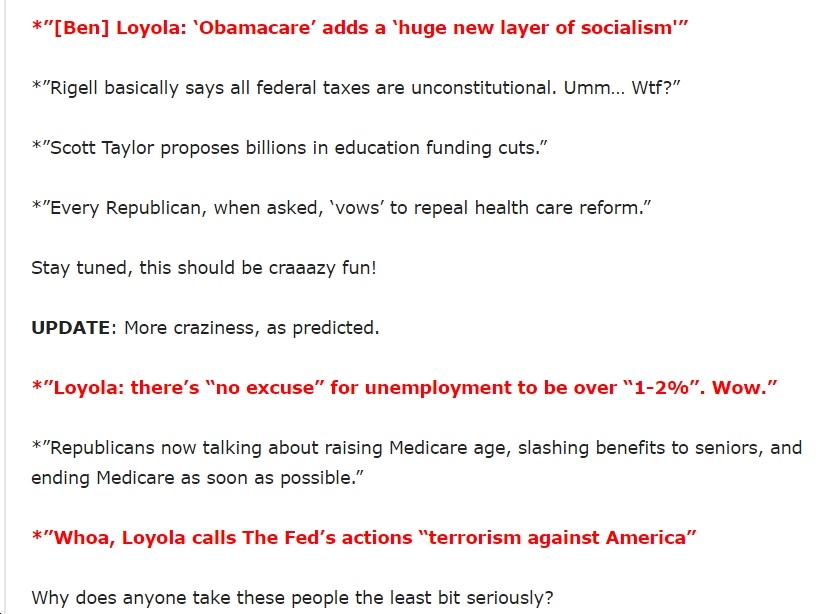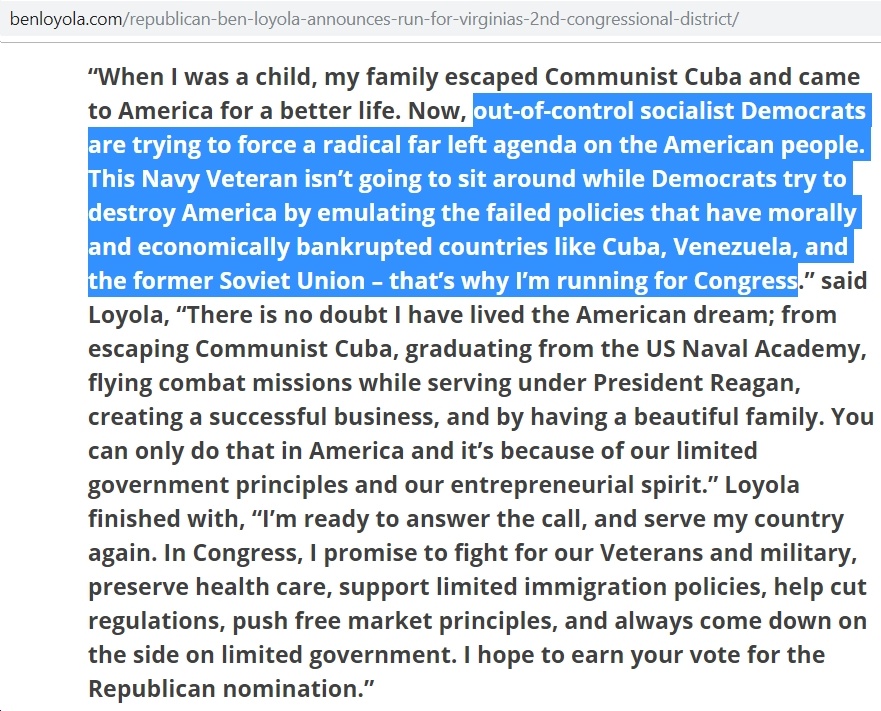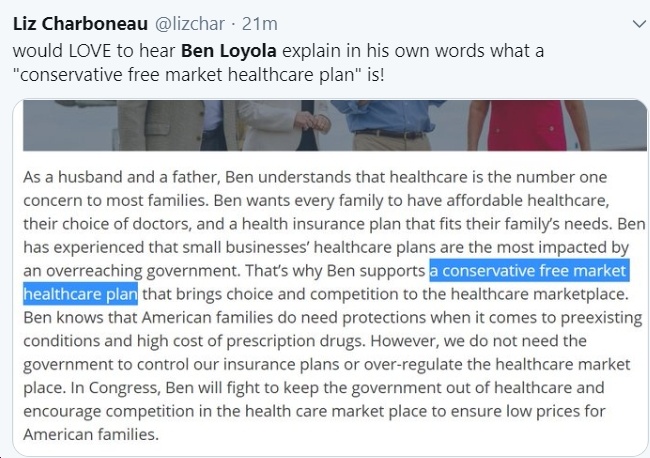 this video has EVERYTHING:
-support for Ken Cuccinelli
-fear mongering about the ACA
-an extreme lack of blinking
-eminent domain https://t.co/qVnN4BzVTg

— Liz Charboneau (@lizchar) November 12, 2019
do you think he and his wife go to the range every Sat. after church pic.twitter.com/bDHVicXwZQ

— Liz Charboneau (@lizchar) November 12, 2019