by Cindy
UPDATE 12/3: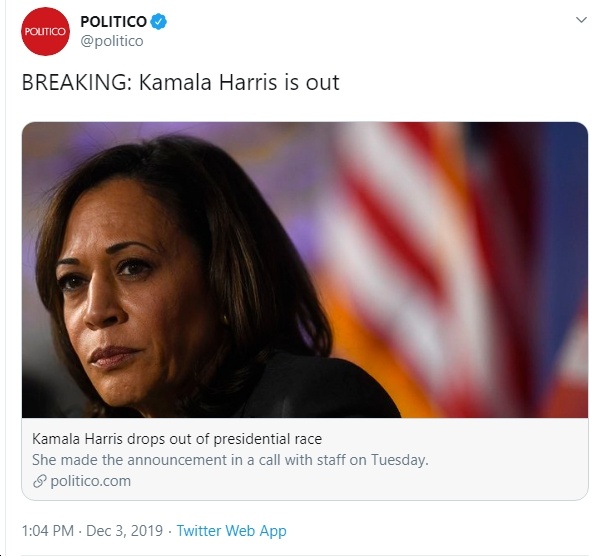 I've had a political crush on Kamala Harris since the Fall of 2016, when I unintentionally caught a radio broadcast of a debate between her and Loretta Sanchez in their race for Barbara Boxer's U.S. Senate seat. Harris' intelligence, eloquence and debating skills were evident. So when she jumped into the 2020 race, I was pretty excited. I have to say, on a personal level, I like Kamala very much—I connect with her personally more than maybe any other candidate. And she brings a lot to the field. But at the same time, her record and her campaign have a number of weaknesses that need to be considered.
Prior to serving in the Senate, Kamala Harris served as California's Attorney General from 2011 to 2017, and before that as San Francisco's District Attorney from 2004 to 2011. She was born in Oakland, California to a Tamil Indian immigrant mother and a Jamaican immigrant father—exactly the kind of melting pot that makes America. She attended Howard University, part of the Historically Black College and Universities system, and Hastings Law. Her gender, relative youth (she's 55) and her demographic background are especially appealing considering the scant diversity of the first 45 US presidents, and she has the potential to build a broad coalition of support especially from women and African-American voters.
In the early stages of the campaign, Kamala positioned herself as a kitchen-table realist, fighting for those issues that keep middle class America up at night—how to pay their bills, worrying about rent or drug prices skyrocketing, worrying about whether their kids will be safe from gun violence when they're at school. To some extent, she may have shared this turf with Kirsten Gillibrand, and even Amy Klobuchar, and perhaps it felt crowded, because I haven't heard her use that phrase lately.
Her policies focus largely on such issues though. Her LIFT (Livable Incomes for Families Today) plan would give a $6,000/year tax credit to Middle Class families. She has plans to address wage discrimination, requiring companies with more than 100 employees to obtain certification from the Equal Employment Opportunity Commission, or be fined. And her Rent Relief Act would give a refundable tax credit to those who spend more than 30% of their gross income on rent plus utilities. These are pragmatic, specific plans to address the real struggles of ordinary folks.
Under a Harris presidency, all state laws that limit a woman's access to abortion would be unenforceable until they had first been reviewed by her Department of Justice and it had been determined that they met the constitutional standards of Roe v Wade.
On climate change, her plan receives a B+ rating from Greenpeace, downgraded slightly for not committing to phase out fossil fuels for good. Her Medicare for All plan is modest, with a ten-year phase-in period, and allowing private insurers to offer Medicare if they adhere to Medicare cost and benefit standards. She would tax certain Wall Street transactions to pay for all households making <$100,000/year to pay no premiums.
Kamala likes to say that we will need someone to prosecute the case against Donald Trump when he is out of the White House, and who better to do that than a prosecutor? Indeed, one of her most memorable moments in the US Senate came during the nomination hearings for Brett Kavanaugh, when she grilled him about his position on abortion, on whether he would ask for an FBI investigation to clear up the sexual assault allegations, and on whether he had been in contact with anyone involved in the Mueller investigation into President Trump. Certainly, her prosecutorial experience stands her in good stead during such hearings and during debates as well. She has sued large corporations for polluting, has sued banks and lenders over predatory lending and foreclosure fraud, and has prosecuted countless criminal cases.
At the same time, she is dogged by her inconsistent record on criminal justice issues. She has said "it is not progressive to be soft on crime," and that is reflected in many of the positions on criminal justice reform that she held until recently. She currently supports reforming the cash bail system, but when she was District Attorney said that San Francisco's low bail meant criminals traveled to the city to commit crimes (where it was less costly). In 2018, Kamala announced her support for marijuana legalization, but she did not support legalizing as recently as 2014. She opposed the use of body-worn cameras by police officers, and opposed the early parole release of nonviolent prisoners proposed due to prison overcrowding. Although Kamala took a bold (politically difficult) stand in refusing to seek the death penalty in the 2004 case of murdered police officer Isaac Espinoza, she also appealed a 2014 district court ruling declaring California's death penalty unconstitutional, a move that kept California's death penalty alive.
These inconsistencies in her criminal justice record may explain why someone with such otherwise strong qualifications is struggling in the polls. She has yet to really focus her campaign on a signature issue, has struggled to win Black voters away from Joe Biden, trailing him not only in her home state of California, but also in South Carolina. The campaign – about which a recent Politico article reported that it had "No discipline. No plan. No strategy." – recently announced that it was pulling their resources out of New Hampshire to focus on Iowa which is not a good sign. All in all, it feels like Harris has many of the right pieces to be one of the strongest 2020 Democratic presidential candidates, but she has yet to show she can put those pieces together into a strong, coherent whole ready to win this primary and take on Donald Trump.
P.S. It's also worth pointing out that Harris helped campaign for Virginia Democrats leading up to the 2019 elections, and that her National Press Secretary, Ian Sams, formerly worked for Tom Perriello for Governor 2017 and Sen. Tim Kaine's 2018 reelection campaign.