Advertisement

I believe there were (well) over 100 speakers signed up to speak at this morning's Fairfax County delegation legislative briefing – which is still going on, and by the looks of it, could be for a while! Here's a VERY short sampling of what folks were talking about for the time that I was watching. I'll try to add some more video later, including speakers opposed to the badly flawed redistricting amendment.
P.S. Someone who was there told me that about "80% of people [in the audience] had [Guns Save Lives] orange stickers."

P.P.S. Also, here are some tweets by Cindy: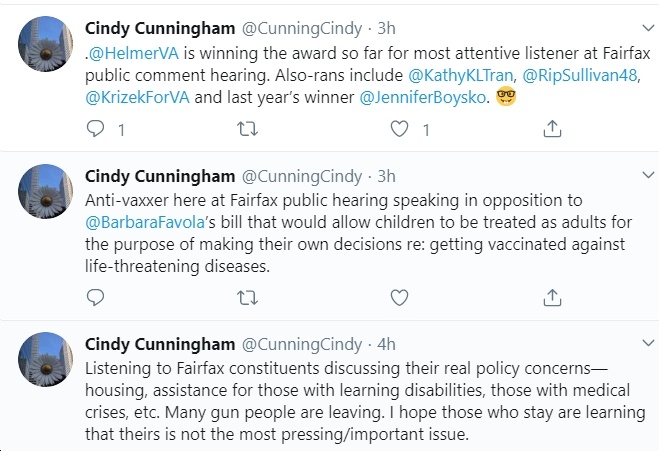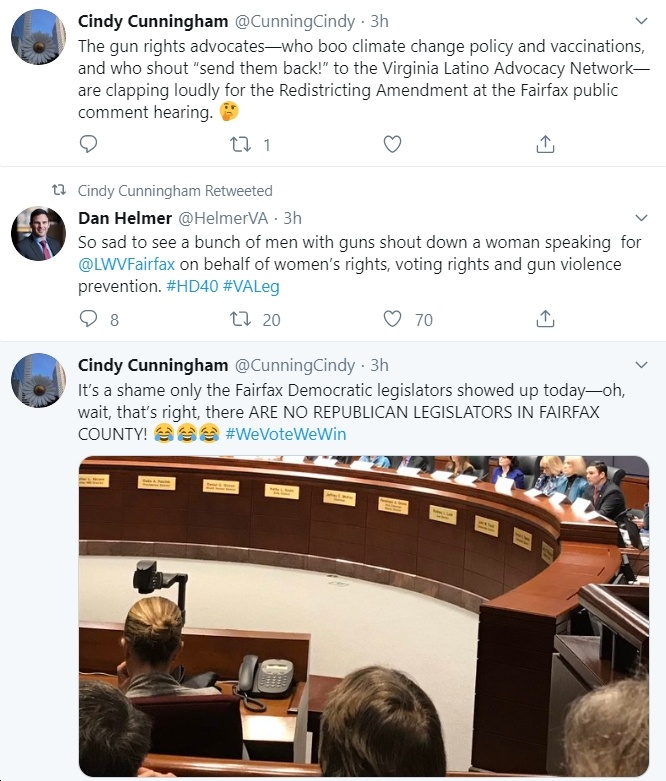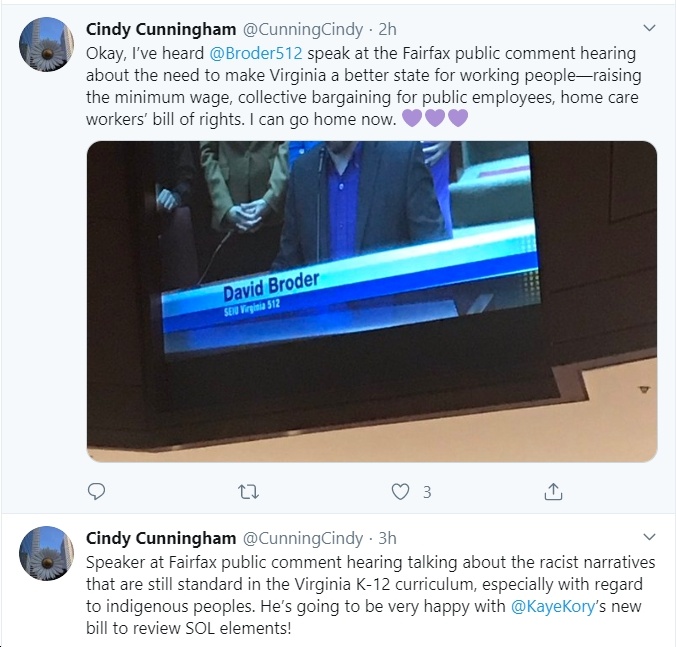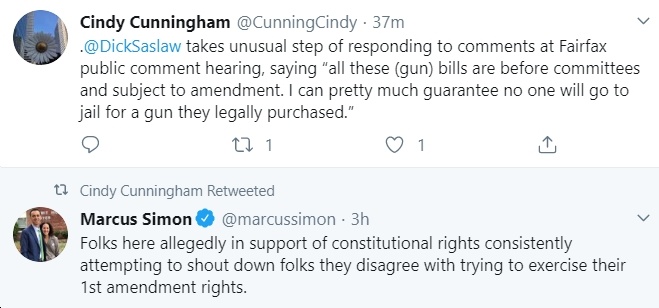 Former Fairfax County School Board member Pat Hynes on the need for climate action, arguing that "incrementalism is our enemy," as is "any further public investment in fossil fuels."

Scott Petersen of the Faith Alliance for Climate Solutions on the "moral imperative" of addressing the climate crisis. Petersen specifically expressed support for the Solar Freedom Act.

Rebecca Mordini of the Faith Alliance for Climate Solutions on the need for climate action, including encouraging solar power installation on buildings.

David Kepley of the Faith Alliance for Climate Solutions speaking for "creation care."

Robert Rigby from FCPS Pride in support of transgender student bills SB161 by Sen. Jennifer Boysko and HB145 by Del. Marcus Simon

David Broder and other SEIU members speak in support of working people
#Union members are out in force at #Loudoun delegation hearing, calling on the General Assembly to fight for economic and racial justice, and make Virginia the best state for all working families! pic.twitter.com/jPy4Rh9z2b

— SEIU Virginia 512 (@SEIUVA512) January 4, 2020
PTA member speaks in support of public education…

Today we're telling @VAHouse @VASenate @EFillerCorn @DickSaslaw it's ? to fully fund public education, #Raisethewage, grant #collectivebargaining rights to public employees, #repealrighttowork, ⬆️ mental health support, ⬇️ student debt & make college affordable. #FundOurFuture pic.twitter.com/hqQtRN6LKI

— Fairfax County Federation of Teachers (@FCFTcares) January 4, 2020
Animal welfare advocate (Morgan Miller of "Bailing Out Benji") speaks against problematic, inhumane pet stores and FOR allowing localities to take action
Still need to graph the video, but here's the League of Women Voters (Fairfax Advocacy Chair, Wendy Fox-Grage) on the "five issues [that] are high priorities for our League"
· Redistricting Reform: We support the constitutional amendment that was passed during the last legislative session. We believe that new strong enabling legislation can specify the criteria for drawing districts and selecting citizen members of the Redistricting Commission. We urge action from the General Assembly to adopt this reform in time for the new Congressional and General Assembly maps to be drawn based on the census numbers.
· Equal Rights Amendment: It is time to ratify the ERA to guarantee equal legal rights for all American citizens regardless of gender.
· Voting Rights: Let's guarantee voting rights for all citizens ages 18 and older. We strongly support participation in elections by allowing for no-excuse absentee voting and additional funding for voting equipment, elections modernization and security, and elections administration at both the state and local levels.
· Gun Violence Prevention: We support legislation to address gun violence including universal background checks, strong extreme risk protection orders, child access prevention laws, stronger protection orders, and state and local authority to regulate firearms in public spaces.
· Affordable Housing: We need more funding and action to increase the availability of affordable housing options, specifically in high cost areas such as here in Fairfax County.
There's no paywall on Blue Virginia, and we definitely want to keep it that way! If you want to help support our work, you can donate here - thanks!
Also, you can
sign up for our weekly email list here
.