Yes, elections really do have consequences – see below for what's happened already this afternoon in the Virginia State Senate, now under Democratic control and busy churning out progressive legislation on a variety of issues.
First, here's the vote for Sen. George Barker's "Red Flag" bill (SB240), which "advanced to third reading for likely final vote in Senate on Weds," on a party-line vote unsurprisingly.
Superb job by Sen. Scott Surovell (D) this afternoon, defending the "Red Flag" bill from Republicans' questioning and, in Sen. Bill Stanley's case, hysterics.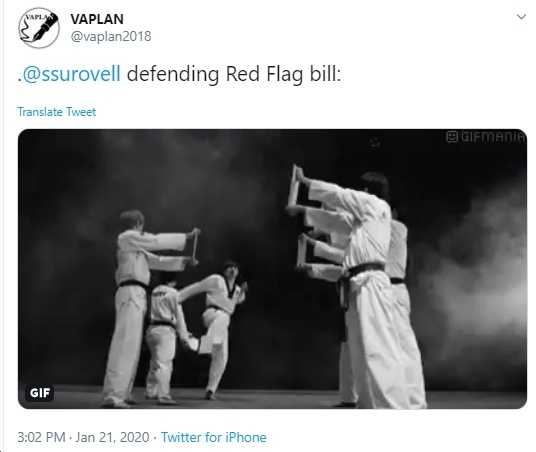 Yep, this was appalling.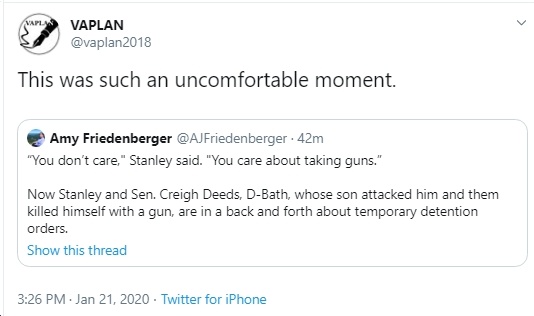 This was an awesome BURN of the odious, far-right Sen. Mark Obenshain (R) – again, great job by Sen. Scott Surovell (D) in calling out Obenshain's hypocrisy!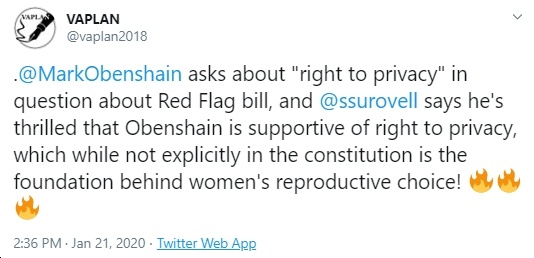 I'm generally not a fan of Sen. Joe Morrissey (D), but there's no question he is super-smart and is *great* on his feet. Plus, he knows the law, no doubt. This afternoon, he did a super job explaining how the "Red Flag" bill works, and also how Republican arguments made no sense.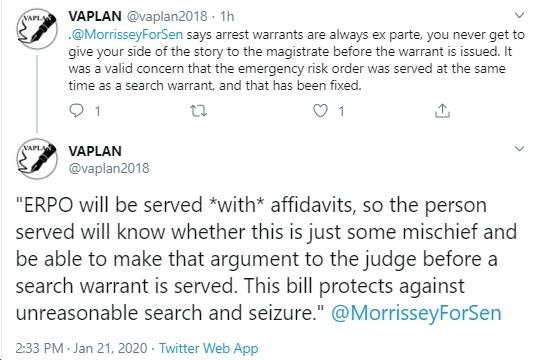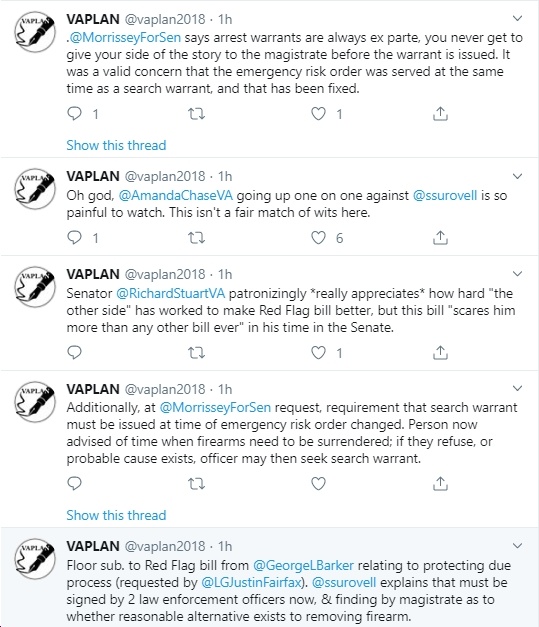 I very much like and support the intent of this bill by Sen. Jennifer Boysko (D), but it really should be funded and not an "unfunded mandate!"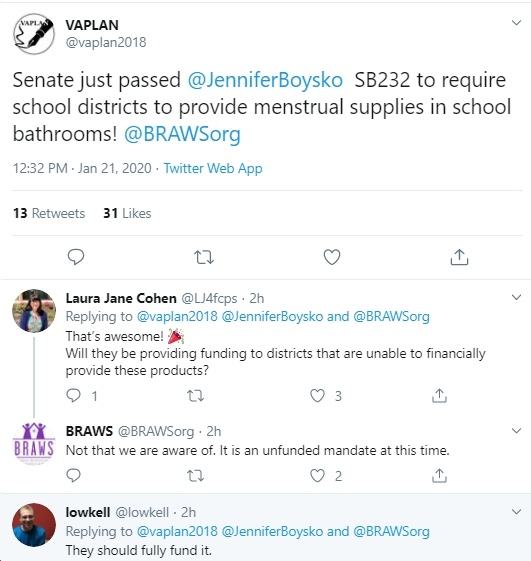 Good bill by Sen. Jennifer Boysko (D).
This is so telling about Republicans…and not in a good way, of course.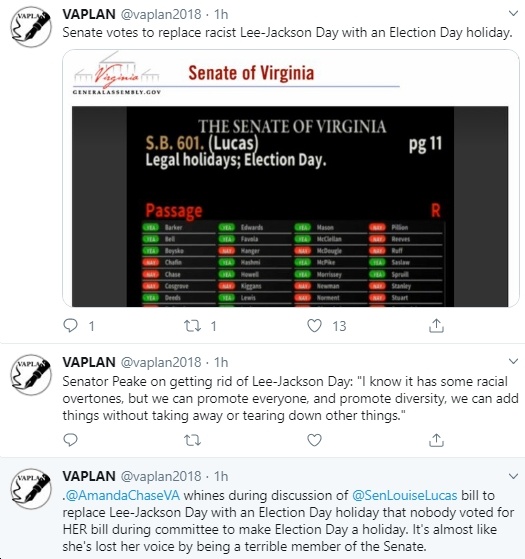 It looks like a few Republicans actually voted yes on this bill – amazing, although most still voted "no," because…who the hell knows what possible reasoning they might have?!?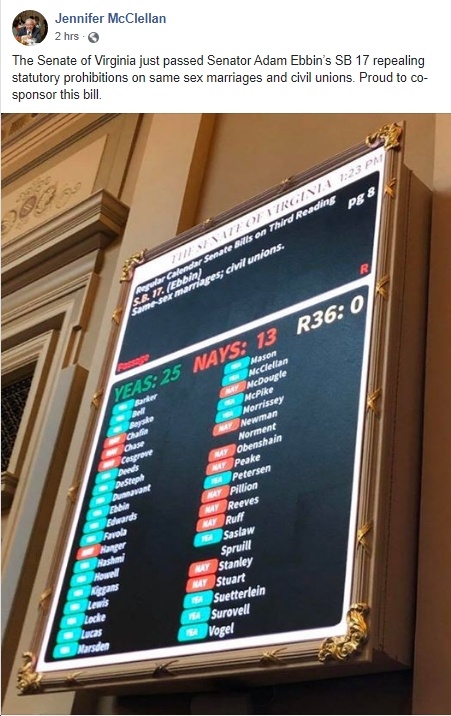 Again, very telling that only Democrats voted for this bill by Sen. Scott Surovell (D) on discredited, absurd "conversion therapy."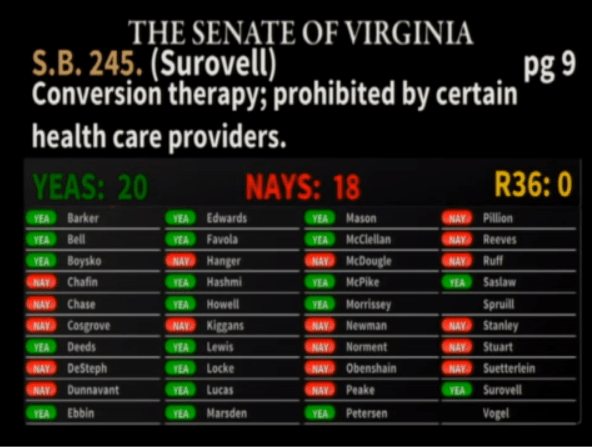 This is excellent as well, by Sen. Scott Surovell.
The Virginia State Senate has passed my Right to Charge legislation which prohibits HOAs and condo associations from stopping the installation of electric vehicle chargers on your own property! @VirginiaLCV @VaCleanCities @VCNVAorg @pluginamerica @plugshare @pluginsites pic.twitter.com/N930xg1SKh

— Scott Surovell (@ssurovell) January 21, 2020
Also good by Sen. Scott Surovell, although I'm not clear on why it's only *east* of I-95 and not the entire state.
The Agriculture and Natural Resources Committee just passed my bill to ban fracking east of I-95! Thanks to the committee members and advocates who came out to support it. @VirginiaLCV @VCNVAorg @vasierraclub @VA_Clinicians pic.twitter.com/JXkF1UCR9y

— Scott Surovell (@ssurovell) January 21, 2020
P.S. Earlier today, there was action over on the House of Delegates side too, where a Dem-controlled subcommittee was busy "wiping out GOP gun bills this morning." Also, see below for some discussion/debate, including a superb speech by Del. Chris Hurst (D), on this topic.