Advertisement

For anyone who denies that white privilege is a real thing, I present to you…the following video of this afternoon's debate, in the Virginia State Senate, over Sen. Mamie Locke (D)'s bill (SB65) to repeal Virginia's unnecessary, discriminatory voter photo ID requirements.
As you can see from the video, Republican Senators Mark Obenshain, Jen Kiggans and Bill Stanley all, in their own (not) charming ways, denied and/or minimized the impact/difficulty of mandatory photo ID on the ability of minorities, poor people, elderly people, etc. to vote. As if that wasn't bad enough, Republican Senators Obenshain, Kiggans and Stanley also wildly overstated the degree of in-person voter fraud. Pathetic.

As both Senators Barbara Favola (D) and Mamie Locke (D) correctly responded, the rates of such fraud are tiny – according to the Brennan Center for Justice, "between 0.0003 percent and 0.0025 percent" (note: both Favola and Locke overstated those infinitesimal numbers by a factor of 1,000). And perhaps most revealingly, check out how angry Sen. Obenshain gets, as Sen. Locke delves into the real reasons behind Republicans passing photo ID laws in the first place. Not only won't Obenshain admit the discriminatory motivations behind these laws, but he's deeply, deeply in denial about his own role in doing so – and offended that anyone would dare question is totally pure motives! LOL
With that, here are some strong arguments – by Senators Scott Surovell, Barbara Favola, Adam Ebbin, Dave Marsden and Mamie Locke – for passing this bill, as well as the video of the debate and vote. Nice job by the Democrats in the Senate, particularly bill patron Mamie Locke, and shame on the (white) Republicans, who continue to be willfully oblivious and ignorant of the discriminatory roots of policies like photo ID laws.
Sen. Surovell argued that it's "nonsensical" to believe that people are going to fake somebody's ID to vote. Sen. Surovell added that photo ID laws make it harder for people whose driver's licenses are suspended; for the elderly – who often don't drive or have photo IDs – and even for nuns, who also don't drive or have photo IDs, to vote.
Sen. Marsden noted that Gov. McDonnell spent $3.5 million to send out voter ID cards to everyone, then Republicans turned around and required photo ID anyway, which is "curious."
Sen. Saslaw said there was no evidence of voter fraud and that we don't need photo ID.
Sen.  Favola made the great point that "we don't know how many people actually never showed up at the polls because of this requirement for photo ID." Sen. Favola also noted that the U.S. has the lowest rate of voting compared to any other industrialized democracy, and that we need to pass policies to *encourage* more voting, not to make it more difficult.
Sen. Ebbin said, responding to Sen. Kiggan's cluelessness: "I don't know what it's like to be African-American…not having a birth certificate…further, I don't know what it's like to live in a nursing home…so while we may have photo IDs that are used on a daily basis, there are plenty of people who don't, and I don't want to make it hard to vote, so with that, I hope that we do pass the bill."
Sen. Locke said: "I *do* know what it's like to be an African-American, and I certainly know what it's like to be under voting laws that repress the vote. When I registered to vote, I had to register under dual registration, which was designed to repress my vote as an African-American. And I know why this bill was passed…in 2012…Shelby vs. Holder was going before the Supreme Court, so it went into effect *immediately* following the Supreme Court's ruling in Shelby vs. Holder…which gutted the Voting Rights Act…states that were under the Voting Rights Act did not have to go to the Justice Dept. any longer to have their voting laws approved by the Justice Dept. So what immediately goes into effect? Photo identification laws passed by Virginia for non-existent or limited fraud…Any fraud is bad, yes, but we're going to pass a repressive photo identification law? But we know what it is was for, and we know why…Since 2007, there have been 17 convictions of voter fraud in Virginia…What I would like to see is more people voting in Virginia…Why don't we want more rather than putting in front of people obstacles to voting, like this law." (that really set off Obenshain, who frothed at the mouth, basically, about what Sen. Locke had "accused" him of – sad, huh?)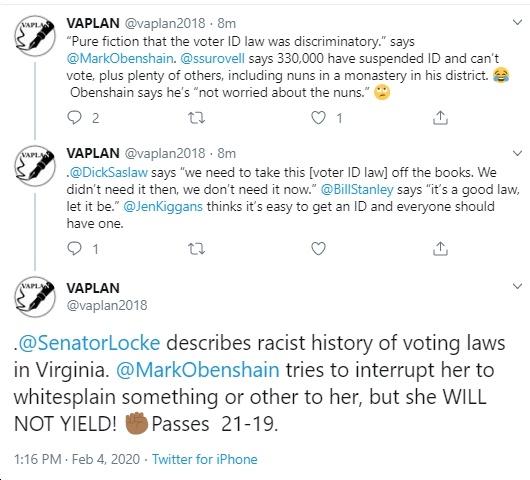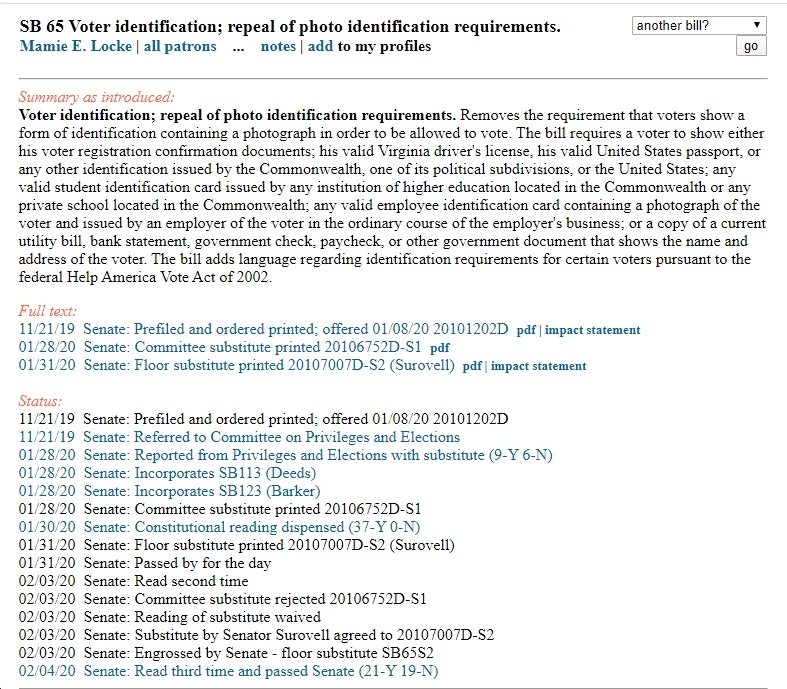 There's no paywall on Blue Virginia, and we definitely want to keep it that way! If you want to help support our work, you can donate here - thanks!
Also, you can
sign up for our weekly email list here
.