UPDATE 9:23 pm – See Liberty University's response to the NY Times article, which it calls "false and misleading," at the bottom of this story and in the comments section.
**************************
As you are probably aware, Liberty University president, Trumpster fanatic and all-around nutjob Jerry Falwell, Jr. recently got into a back-and-forth with Virginia Gov. Ralph Northam, the Mayor of Lynchburg, and others about his decision to keep his school open and even to invite students back to campus. For some background, see:
Well now, Falwell's irresponsible behavior has led to 100% predictable (very) bad consequences. Check this out from the NY Times, followed by a few reactions:
…Falwell — a staunch ally of President Trump and an influential voice in the evangelical world — reopened the university last week, igniting a firestorm. As of Friday, Dr. Eppes said, nearly a dozen Liberty students were sick with symptoms that suggest Covid-19, the disease caused by the virus. Three were referred to local hospital centers for testing. Another eight were told to self-isolate.
…For critical weeks in January and February, the nation's far right dismissed the seriousness of the pandemic. Mr. Falwell derided it as an "overreaction" driven by liberal desires to damage Mr. Trump.
Brilliant, huh? Let's hope Falwell and his school face serious consequences – legal, economic, whatever – for this recklessly irresponsible behavior. Meanwhile, I'm not clear as to why Liberty wasn't shut down either by Gov. Northam or the Mayor of Lynchburg.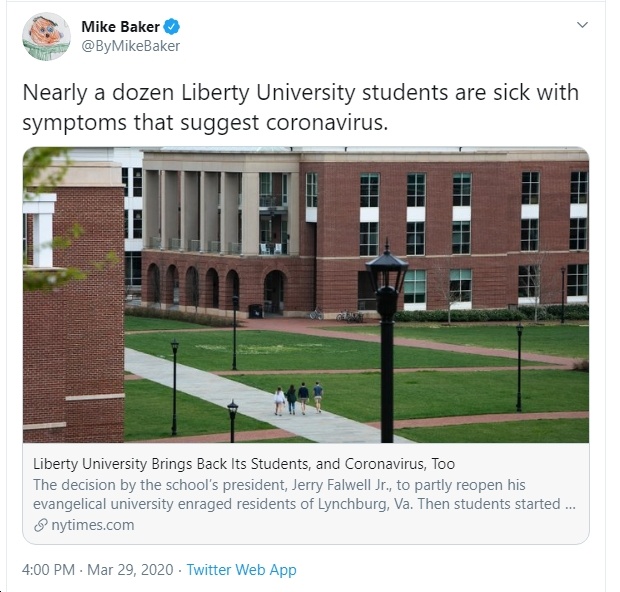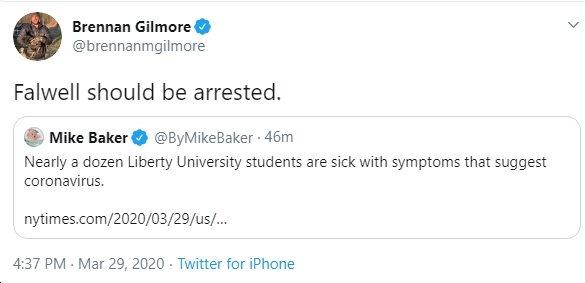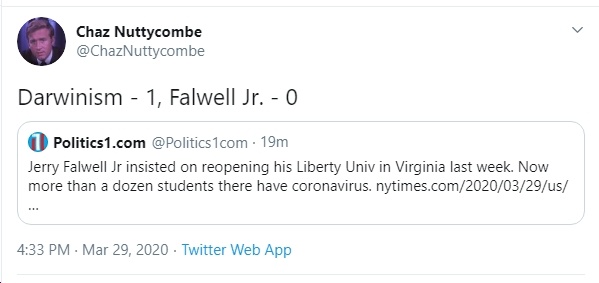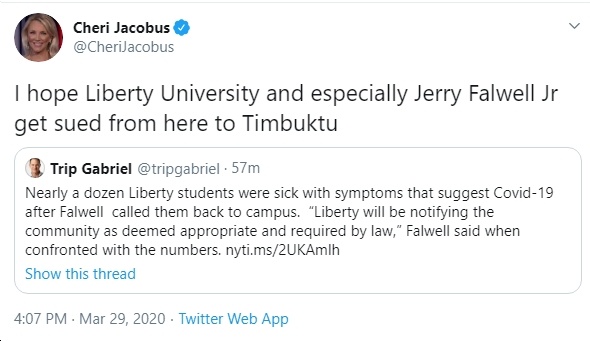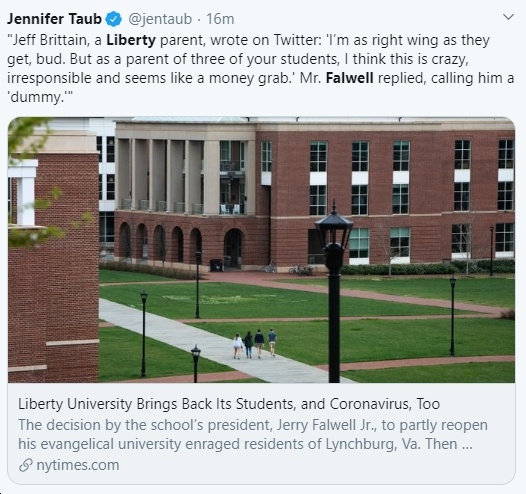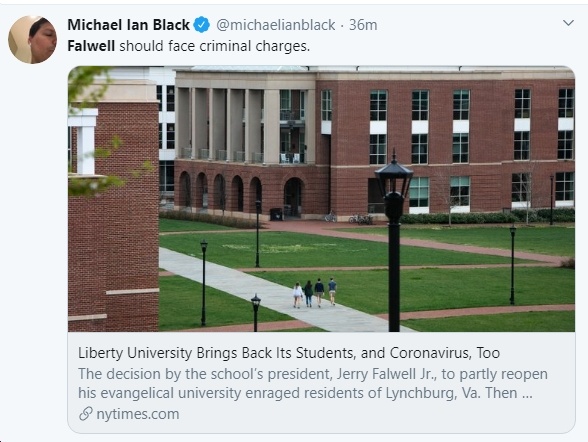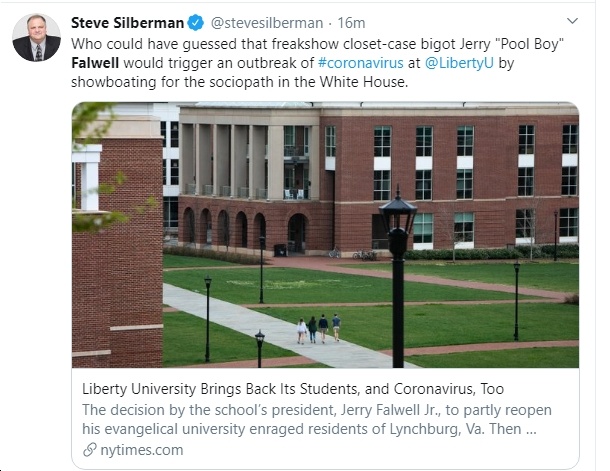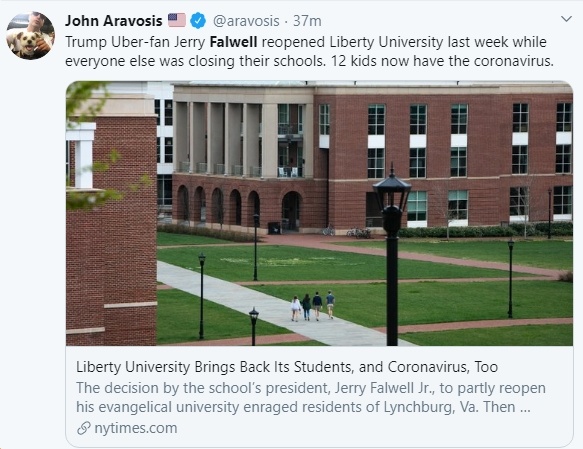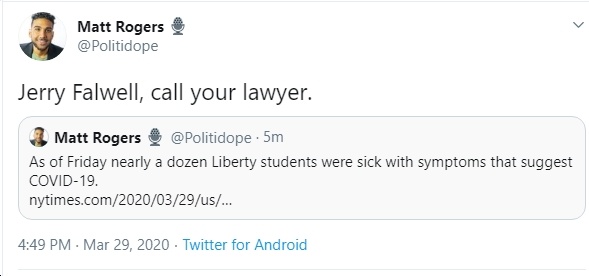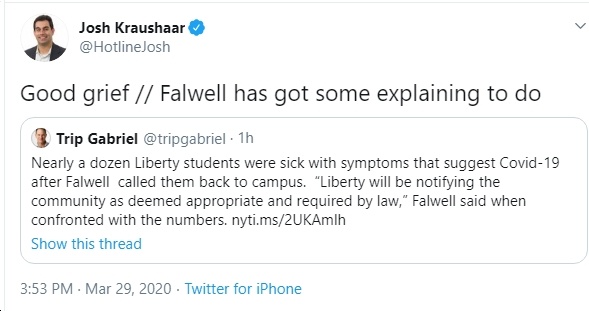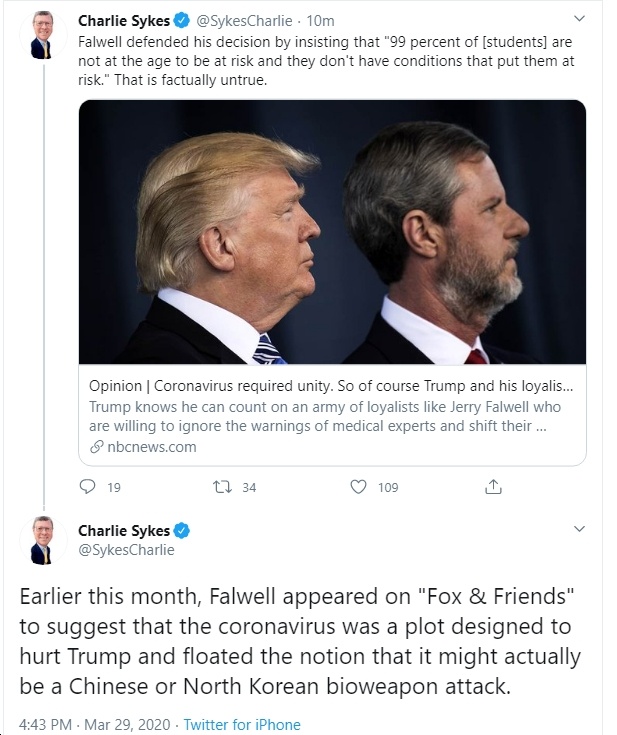 UPDATE: 
Liberty U statement says the "New York Times published a false and misleading story," that "Contrary to the Times' reporting, Liberty is not aware of any students in its residence halls testing positive for COVID-19 or, in fact, being tested at all, much less any residence hall students having sufficient symptoms of COVID-19 prompting the need to get tested based on current CDC guidelines."