Another day, another large Virginia Democratic local committee weighs in…*overwhelmingly* against the  fatally flawed, Republican-backed redistricting amendment. On Tuesday night, it was the largest local Democratic committee in the state, the Fairfax County Democratic Committee, voting 77%-16% to recommend that voters oppose the amendment. Last night, it was the Arlington County Democratic Committee's Steering committee, voting by a nearly 4:1 margin (79%-20%) to also *oppose* the amendment. Also, check out the comments by Arlington Democrat Matt Royer at last night's meeting, making a strong argument for why the committee should urge voters to reject this amendment. Nice job, Matt!
P.S. Note that the Democratic Party of Virginia (DPVA) also overwhelmingly recommended rejecting the Redistricting Constitutional Amendment.  Now, it's time for every other local Democratic committee in the state to do the same, for reasons outlined here, here, here, here and here.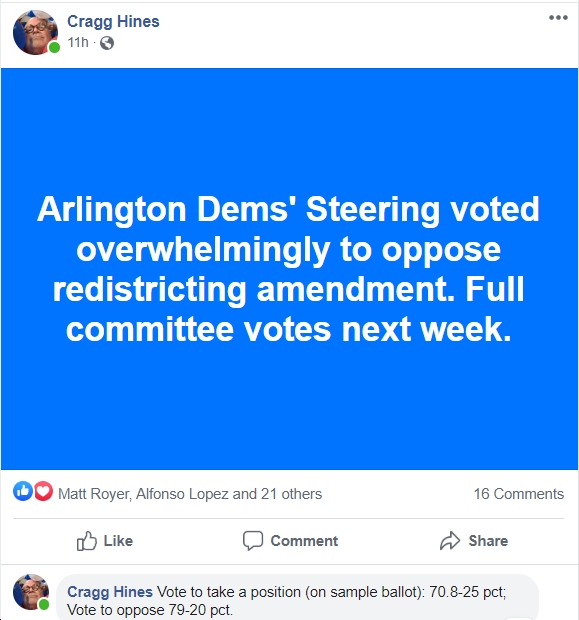 **********************************
From Matt Royer:
My arguments from tonight's ArlDems Steering Committee against the proposed Redistricting Constitutional Amendment.
Side note: hat tip to all of those who advocated on either side in the most respectful and cordial way possible and Jacki Wilson for leading that effort. This is an obvious divisive issue and there are great Democrats on both sides of it that I have tremendous respect for:
We are all in favor of non-partisan, independent and transparent redistricting, I don't think that there is any denying that from those who oppose this amendment. Freer, and fairer elections are the ultimate goal from where we all stand as Democrats. However, this proposed amendment is none of those.
A major flaw is the inclusion of elected officials in the committee itself. Actual, independent redistricting reform has the ultimate goal of allowing voters to pick their representatives and not for representatives to pick their voters. Including members of the General Assembly on this commission is inherently contradictory to that goal.
I also want to push back on something that I have heard time and time again over the past couple weeks. This notion is that somehow our party being against this constitutional amendment is hypocritical. However, when we spoke in support of non-partisan independent redistricting, we didn't sign up for a bipartisan, elected official-influenced commission enshrined in the Virginia constitution.
We asked for an independent, meaning exclusively civilian led and civilian membership, non-partisan, meaning no party influences in their positions, transparent redistricting commission so that our maps could be the fairest that they can be. Yes there is a citizen chair that proponents of this amendment call on to signal whatever lack of influence the elected officials have. However, I do not believe that that chair would defy those who have been elected to office and are in power. And for that matter, the elected officials should not even be in the room for the redistricting process.
Redistricting led by elected officials only allows people who are in power to stay in power for as long as they want to, and that goes for Republicans and Democrats alike. We do not need to enshrine this flawed amendment when there is proposed legislation, in place of this bad amendment, is ready to go. It would establish an independent commission that will not hand over to SCOVA but will ensure fair maps in 2021. And a new version of the amendment could move quickly. Several excellent bills did not survive the winter session but they are written and ready. So we have options and this is not the end of the road.
I urge you all to vote to oppose this Constitutional Amendment.