UPDATE 8:37 pm – WOW! With absentees and everything else in (55/55 precincts reporting), Takis Karantonis won with 62.4% of the vote vs. Susan Cunningham with 32.6% and Bob Cambridge with 4.8%. In the end, turnout was 19,866, which is a bit below the 2014 Arlington County Board special election…and not too shabby.
UPDATE 7:54 pm – With 50/55 precincts (90.9%) reporting, it's now Karantonis 53.9%-Cunningham 38.5%-Cambridge 7.4%.
UPDATE 7:45 pm – With 45/55 precincts (81.8%) reporting, it's now Karantonis 53.2%-Cunningham 39.2%-Cambridge 7.3%.
Great news – Democrat Takis Karantonis has been projected by Ben "Not Larry Sabato" Tribbett (see his tweet, below) to win the special election for Arlington County Board. Currently (7:40 pm), with 39 out of 55 precincts (70.9%) reporting, Karantonis has 54.7% of the vote, with Independent Susan Cunningham at around 37.6% and Republican Bob Cambridge at about 7.4%.

Turnout looks low; we'll see what the final numbers look like. When they come in, we can compare them to the John Vihstadt (I) vs. Alan Howze (D) special election in April 2014, which had turnout of around 22,264 (about 16% of registered voters at the time) and to other Arlington County Board special elections (see table, below, from the Arlington Electoral Board). Anyway, congratulations to Takis Karantonis; I'm very much looking forward to seeing his work on the County Board!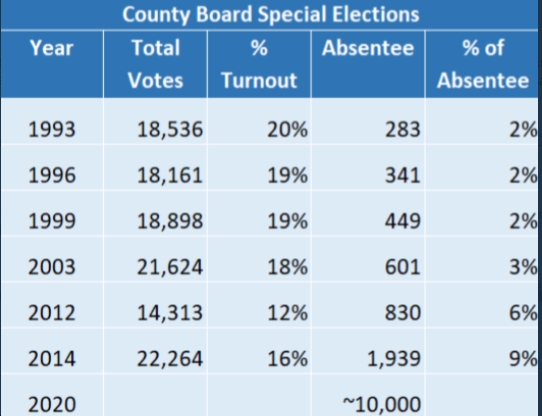 BACKGROUND:
Democrat Erik Gutshall resigned from the Arlington County Board on April 6 as he battled brain cancer, a condition that would take his life just ten days later.  On May 7, Gutshall's friend and former campaign manager, Takis Karantonis, won the Arlington County Democratic Committee's nomination for the seat, with 60.3% of the vote in the final round of "Instant Runoff Voting." Also running in this election were Republican Bob Cambridge and Independent Susan Cunningham. I strongly supported Takis Karantonis, for the reasons outlined here – basically, that he'll make a superb, progressive County Board member and is the right person specifically to replace Erik Gutshall's skillset. In short,  it's going to be almost impossible to replace Erik Gutshall on the Arlington County Board, but if anyone can come close to doing so, I believe it's Takis Karantonis.