Advertisement

UPDATE 2:37 pm – According to the WaPo, " Former House Speaker Kirk Cox confirmed Monday that he is 'seriously looking' at running for Virginia governor next year, adding his name to a relatively small list of Republicans eyeing the Executive Mansion in a longtime swing state that has been steadily trending blue."
My initial reaction to this morning's VA Political Memes tweet – that former VA House Speaker Kirk Cox (R-Colonial Heights) "is seriously considering a run for Governor" in 2021 – was laughter, largely because Cox only raised a pitiful $7,127 in the first half of 2020. Plus, Cox mostly disappeared from view – dropped out of leadership and barely uttered a peep – during the 2020 Virginia General Assembly session. Needless to say,  none of these things are the signs of someone gearing up to run for governor in 2021. Also, as I emailed to a plugged-in Virginia (Republican) politico a few minutes ago:

The first question would be whether Cox could win the VA GOP gubernatorial nomination. I'd argue that would be very, very difficult, if not impossible, given where the VA GOP's collective "head" is at these days. Also, again, Cox raised basically no money in the first half of 2020 and kind of disappeared from the House of Delegates debate/conversation for long stretches. Plus, he ended up supporting Medicaid expansion, which is anathema to the hard right of the VA GOP, and also might be blamed for losing the House GOP majority…
On the other hand, Cox is in serious jeopardy of losing his House of Delegates seat (HD66) next year, given that Tim Kaine won HD66 by 14 points in 2018, Hillary Clinton won the district by 4 points in 2016, Cox only held on by 4.6 points in 2019, etc. So, at 62 years old, why not take a shot – probably the one and only shot – at statewide office, "leave it all on the field," and win or "die (politically) trying?" Note that, according to VAPLAN's 2020 scorecard, Cox ranked as the most right-wing (or least progressive, whichever way you want to look at it) member of the Virginia House of Delegates. Which, sadly, these days might actually be a *plus* for Virginia Republicans.
Speaking of far-right, how about State Senator Amanda Chase, who's the only declared GOP candidate for 2021 governor right now. Clearly, she's got a ton of passionate grassroots supporters (e.g., 95k Facebook "likes"), but clearly, there are also a lot of Virginia Republican Party "establishment" folks that hate her. For instance, check out this broadside by State Sen. Mark Obenshain (R), who said, "Amanda just doesn't have a level of substance, maturity or seriousness that Virginians expect in a gubernatorial candidate."  Plus, Chase has said many times that she will only run as a Republican *if* the VA GOP selects a primary as its method of nomiation; she will likely run as an Independent otherwise. So there certainly could be an opening in 2021 for Republican gubernatorial candidates not named Amanda Chase. Who might those be? Names that have been raised or rumored include:
Businessman Pete Snyder
Rep. Rob Wittman (VA01) – note that Wittman said last July that he wasn't seeking statewide office in 2021.
Rep. Denver Riggleman (VA05), who is going to be out of Congress after losing the nomination to Bob Good. Although Riggleman might be more likely to run as an Independent candidate…
Fairfax County Supervisor Pat Herrity
Former Del. David Yancey
FERC Chair Neil Chatterjee
Fairfax County Republican Party Vice Chair Sean Rastatter
I'd also throw former House Majority Leader Eric Cantor's name into the mix, because…heck, why not? 😉 Seriously, though, I do wonder if Cantor wants to get back into elective politics. Plus he kinda randomly popped up at a Republican dinner this past Friday night, so…who knows? Of course, given that Cox and Cantor are reportedly close, would one run if the other did? Doubtful.
Anyway, those are a few of my musings on a possible Cox candidacy. Now, here are some thoughts from political analyst Chaz Nuttycombe and 2018 "VPAP Pundit" winner Christian Heiens (R). Basically, Chaz thinks that Cox "would be a formidable opponent for Democrats in a statewide election" in 2021, putting the Virginia governor's race "closer to the Toss-Up column" (assuming Joe Biden wins the White House), while Heiens argues that the Democratic nominee will win by "at least 5 points." Of course, there's also the possibility that there could be one or even two independent conservative candidates on the ballot – Amanda Chase and/or Denver Riggleman – which would almost certainly guarantee Democrats the Governor's Mansion yet again. But then again, maybe that won't happen, and *maybe* a President Joe Biden will have very low approval ratings in the fall of 2021, and *maybe* Republicans will run a competent statewide campaign with decent/electable candidates for a change, and *maybe* cows will start flying and hell will freeze over and…LOL.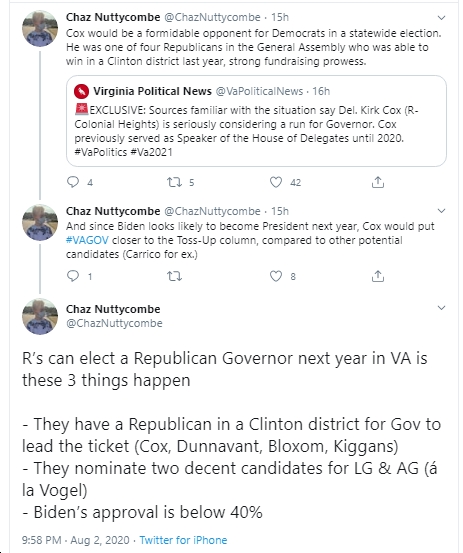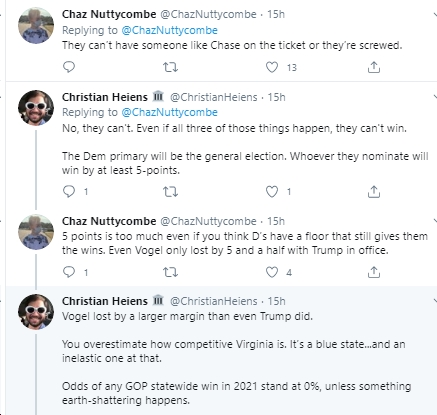 There's no paywall on Blue Virginia, and we definitely want to keep it that way! If you want to help support our work, you can donate here - thanks!
Also, you can
sign up for our weekly email list here
.