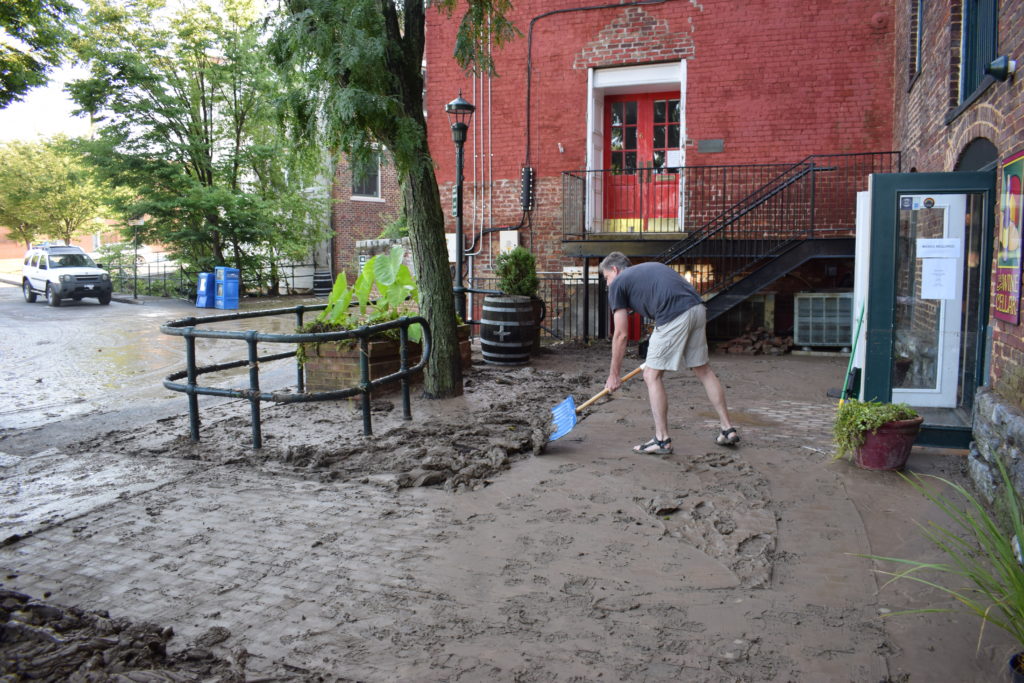 UPDATED (from the Staunton government website): "The City of Staunton continues to actively respond to the flooding resulting from severe rainfall last night.  Please follow the City's social media platforms –  https://www.facebook.com/CityofStaunton/ and https://twitter.com/StauntonCityVA – for the most up to date information."
***************
by Dan Sullivan; video by Rodi Crow Sutherland
Last night a torrential downpour that formed and stalled over Staunton for the better part of 90 minutes resulted in a flash flood downtown in the area known as The Wharf and along surrounding residential streets. This morning, building and business owners were assessing the damage  –without assistance from the new majority Republican City Council and Mayor.
An inch or more of silt, undoubtedly contaminated by raw sewage, covered the streets, sidewalks and parking lots. Until a single police officer (the police department is 100 meters away) appeared at about 9 am, the streets had not been marked or blocked off.
One property owner described the businesses in his five buildings as complete losses. These include a wine store, hair salon, restaurant, coffee shop, among others above and below ground level.
The fire department had been present through the night, but departed, while no city government cleanup had begun by mid-morning, leaving business owners and employees to start the cleanup on their own.
Yes, as everyone loves to say, elections have consequences. Staunton is learning that lesson this morning.