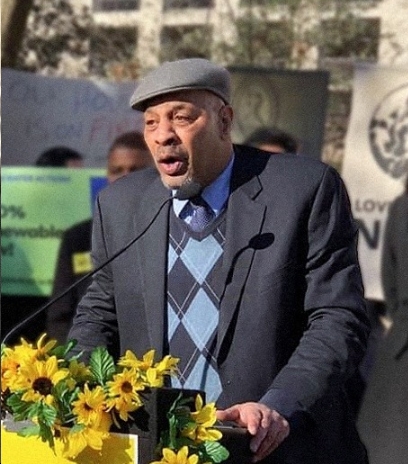 Looks like another incumbent Democratic House of Delegates member has a primary challenger…in this case, Del. Jeff Bourne in HD71, an overwhelmingly "blue" district in Richmond City. According to the candidate, "community advocate and mental health professional" Richard Walker, "constituents of HD 71 deserve a delegate who is beholden to the people, not corporations."
Community Advocate Richard Walker announces candidacy as the "People's Delegate" for the 71st District of the Virginia House of Delegates 
Richmond, VA – Community advocate and mental health professional Richard Walker today announced his candidacy for the 71st District of the Virginia House of Delegates. Walker is seeking the Democratic nomination for the City of Richmond District, currently held by Jeff Bourne. Walker shared his vision of a Virginia government free of corporate influence, changing the narrative and creating a Commonwealth built on the rights of all people. He emphasized that those rights for Virginians must include: economic stability, clean air and water, and having their voices heard. 
Walker said: "I am running to stand up as a voice for my community and others who do not feel like their interests are being represented in the General Assembly. The system has been working for too few, for too long, the constituents of HD 71 deserve a delegate who is beholden to the people, not corporations. I will fight for a fair and equitable Virginia as the people's delegate."
Walker is the Founder and CEO of Bridging the Gap in Virginia, a non-profit established in 2009 with the mission to empower ex-offenders, veterans, persons in alcohol and substance abuse recovery, and those impacted by chronic homelessness.  Through his work to help individuals overcome the societal and personal obstacles that hinder an effective transition following substance abuse treatment, active military duty, juvenile detention or supervision, and incarceration, Richard has assisted approximately 1,200 Virginians with employment. 
As a formerly incarcerated individual himself, Walker has been instrumental in getting the rights restored of over 10,000 formerly incarcerated Virginians. He has helped pass fair chance hiring policy in over 20 municipalities and ultimately helped influence the signing of Executive Order 41, which banned asking about criminal history on job applications. In partnership with the Office of Community Wealth Building and Inspire Work Group, Richard has also organized solar panel installation training to uplift young adults ages 18-24 in rural Buckingham County and the City of Richmond.  He also successfully worked to get wi-fi access to the community of Union Hill in Buckingham.
Walker knows firsthand the need for criminal justice reform, environmental justice, and policies addressing the intersecting issues of access to jobs, housing, education, and healthcare and is excited to serve the people of the 71st District of the House of Delegates.