Advertisement

See below for some Google Trends information for the Virginia governor's race (note: I played around a bit with the LG and AG races, but basically there's minimal interest in those candidates, at least from a Google Trends perspective, at this point). Keep in mind that "The graph that appears after you have looked up a certain topic or query does NOT represent the actual search volume numbers, but rather an index ranging from 0-100. The numbers represent the search interest relative to the highest point on the chart for the selected region and time. A value of 100 is the peak popularity of the term, whilst a value of 50 means that the term is half as popular."
Over the past 90 days, looking at Google Trends for Virginia (see graphic, below), interest in Amanda Chase (14) was MUCH higher than in her rivals for the Virginia GOP gubernatorial nomination – Glenn Youngkin (5), Pete Snyder (1) and Kirk Cox (1).
Google searches for Chase spiked, not surprisingly, around the 1/6/21 insurrection at the U.S. Capitol, followed by the Virginia State Senate's debate on expelling or censuring her. The question is whether, as the old showbiz/Hollywood saying goes, "no publicity is bad publicity?" My guess is that the publicity probably HELPS Chase to win the VA GOP nomination, but HURTS her in the broader electorate and in November, if she's the VA GOP nominee.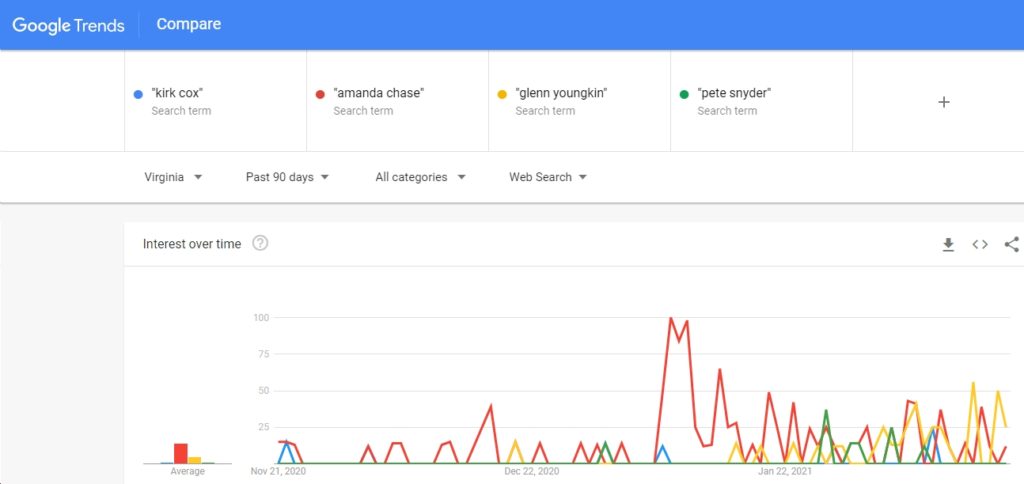 Over the past 90 days, looking at Google Trends for Virginia, interest in Democratic gubernatorial candidates was in a narrow/low range – Terry McAuliffe at 3, Lee Carter at 2, Justin Fairfax at 1, Jennifer McClellan at 1 and Jennifer Carroll Foy at 1. I'm not sure to what degree the fact that Lee Carter is a relatively common name might have impacted his score, but the other candidates all have fairly unique names – certainly for Virginia – so they should be fairly representative…
The biggest spike for anyone was for McAuliffe, at the time of his announcement (12/9/20). Lee Carter also got a bump at the time of his announcement (1/1/21).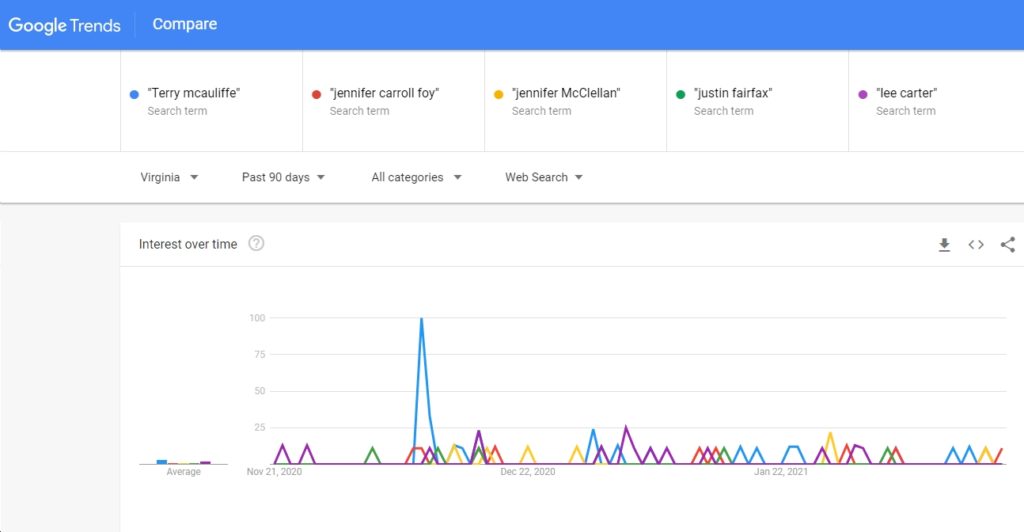 Comparing the Google Trends gubernatorial frontrunners for Rs and Ds and Amanda Chase (12) is well ahead of Terry McAuliffe (3).
Narrowing it down to the past 30 days, Chase is ahead of McAuliffe in Google Trends by a 14:1 margin.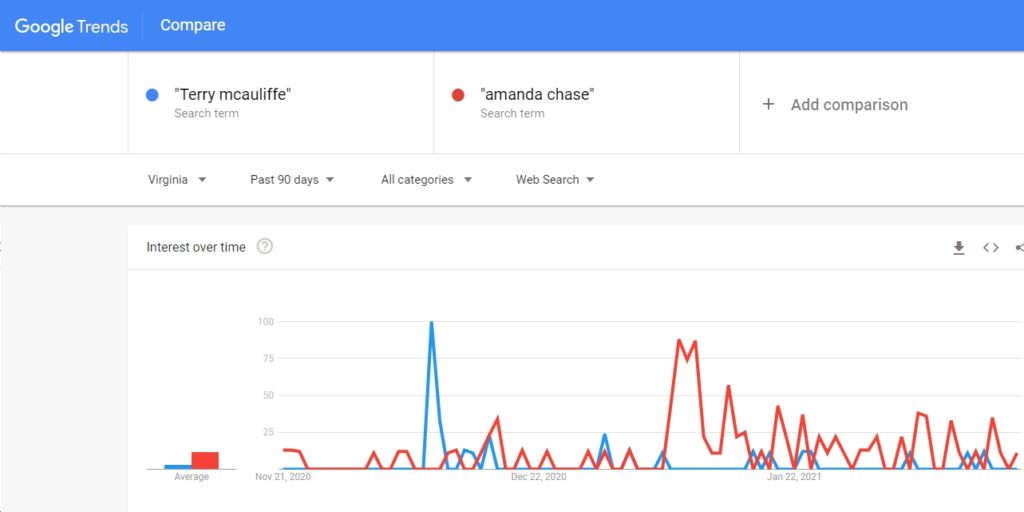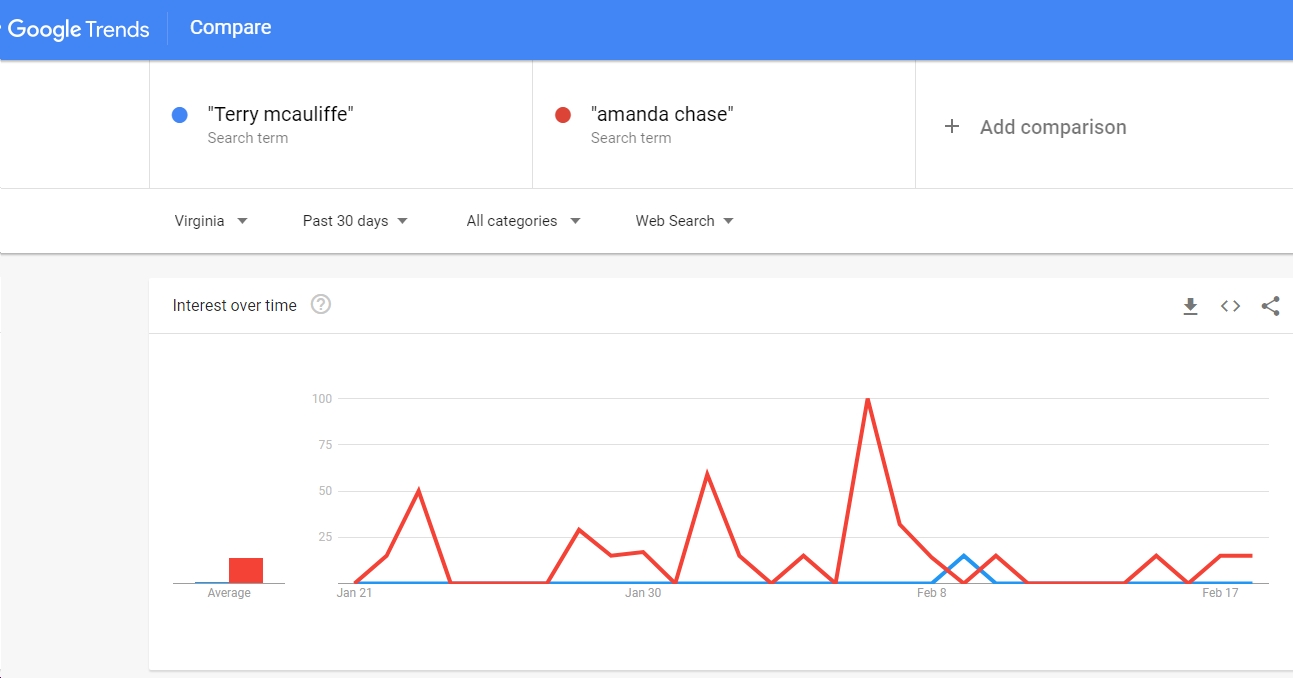 Just for some perspective on these numbers, here are comparisons of Amanda Chase to Gov. Ralph Northam, Sen. Tim Kaine and Sen. Mark Warner the past 90 days. Northam leads Chase 6-4; Chase leads Kaine 14-6; Chase leads Warner 14-9. Remember these are all relative scores within each Google Trends search…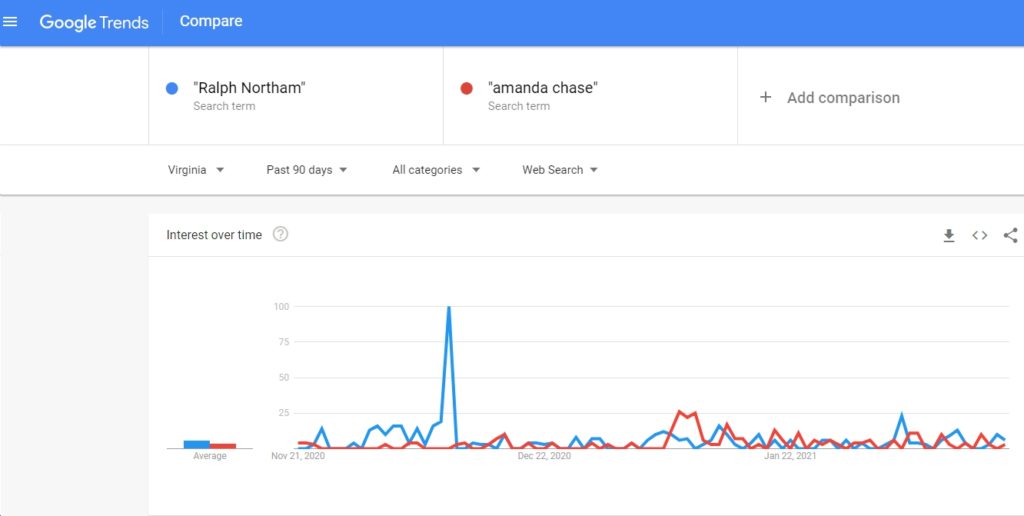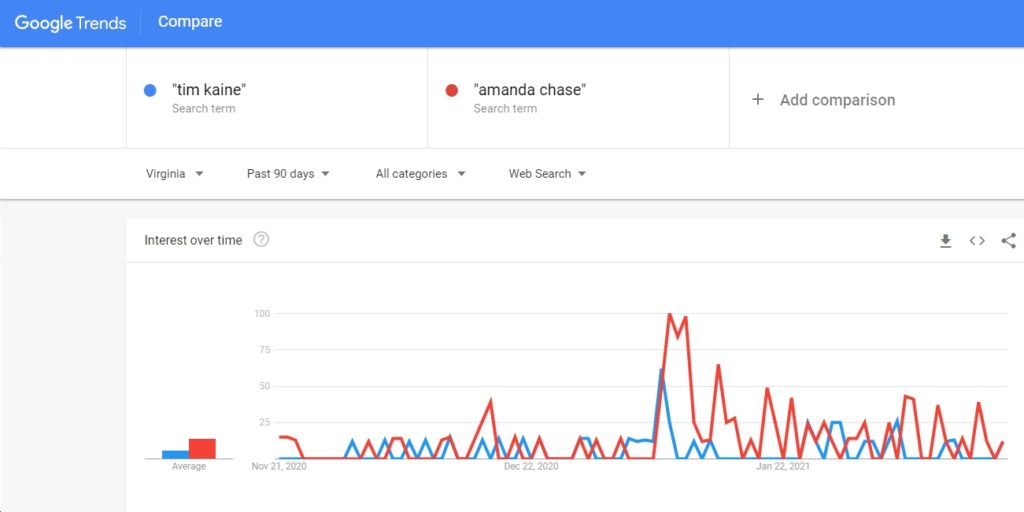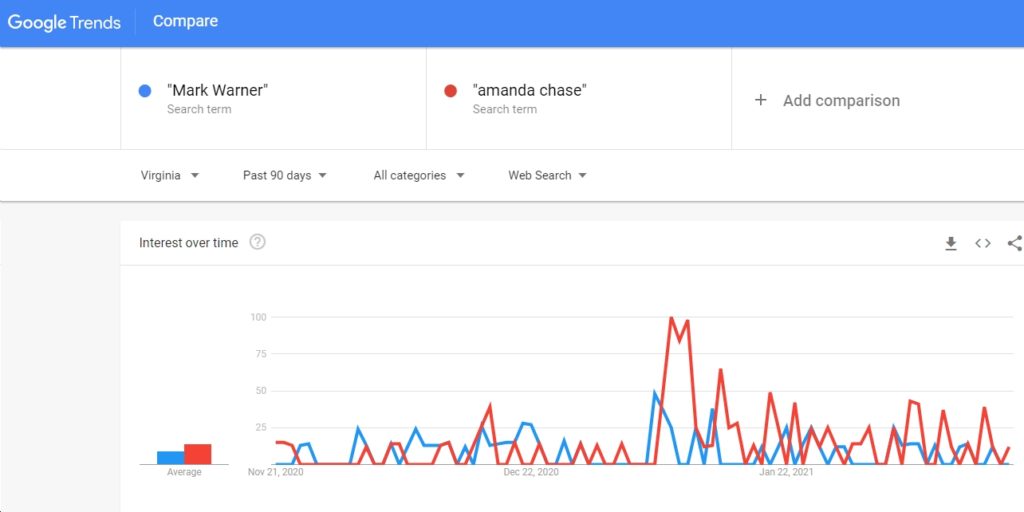 There's no paywall on Blue Virginia, and we definitely want to keep it that way! If you want to help support our work, you can donate here - thanks!
Also, you can
sign up for our weekly email list here
.