Wow, very cool!
.@VP is on board and we're wheels up to @_HamptonU as part of National HBCU Week to discuss the importance of STEM education. pic.twitter.com/6AMYeZBxx7

— Vincent Evans (@VinceEvans46) September 10, 2021
Before she arrived @_HamptonU, @RepElaineLuria & @DonnieTuck greeted her @NewportAirport @WAVY_News https://t.co/VigbfZKrVL

— Brett Hall (@BrettHNews) September 10, 2021
👋🏾…hey Hampton University. #HBCUWeek pic.twitter.com/Fi9qg9LHhH

— Vincent Evans (@VinceEvans46) September 10, 2021
They see her and know anything is possible. pic.twitter.com/IwV7eaIokY

— Vincent Evans (@VinceEvans46) September 10, 2021
"HBCU's are not only competing, but they are also leading," –@KamalaHarris says during a round table with STEM @_HamptonU @WAVY_News pic.twitter.com/Fj3Rlc6UWQ

— Brett Hall (@BrettHNews) September 10, 2021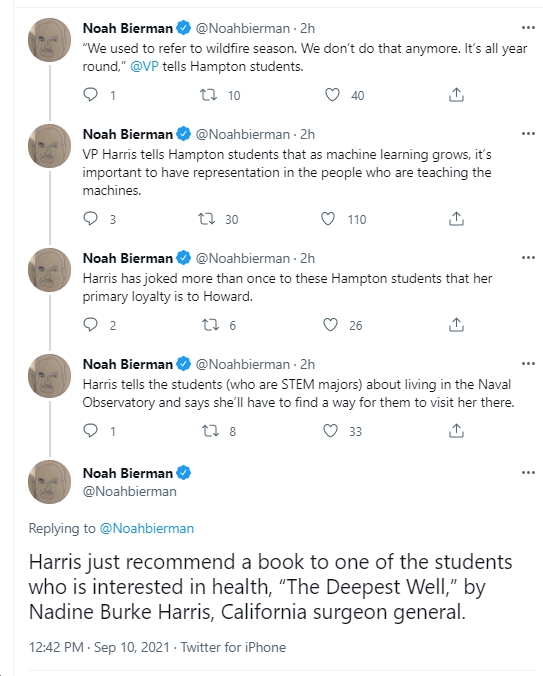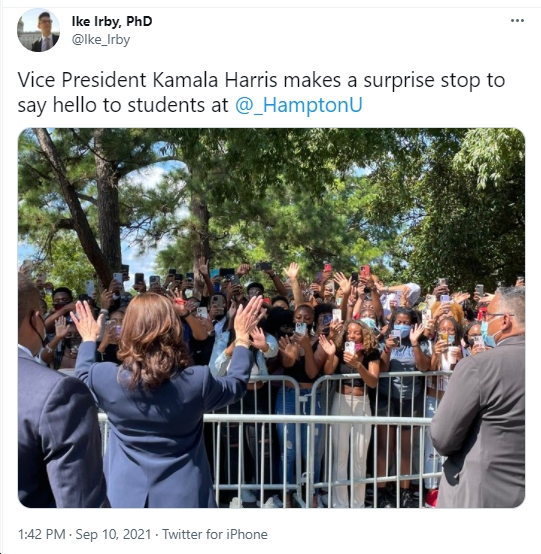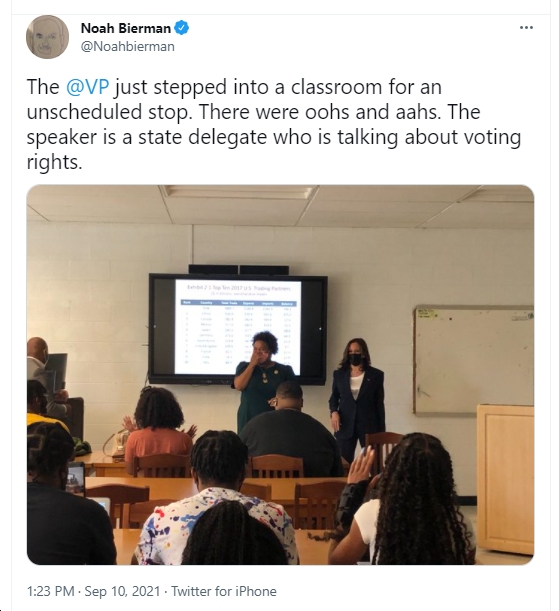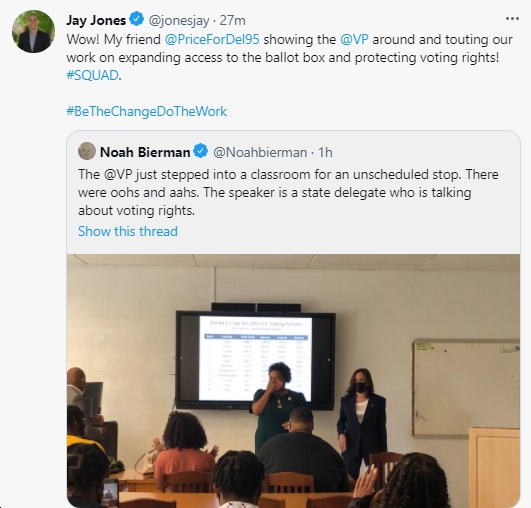 "Oh my goodness — I think this was my freshman bio class!" – Brittany Carmon, having a homecoming moment at @_HamptonU in our staff hold room https://t.co/8kA52jvEhr pic.twitter.com/DaS4SJ9NXT

— Peter Velz (@PeterVelz46) September 10, 2021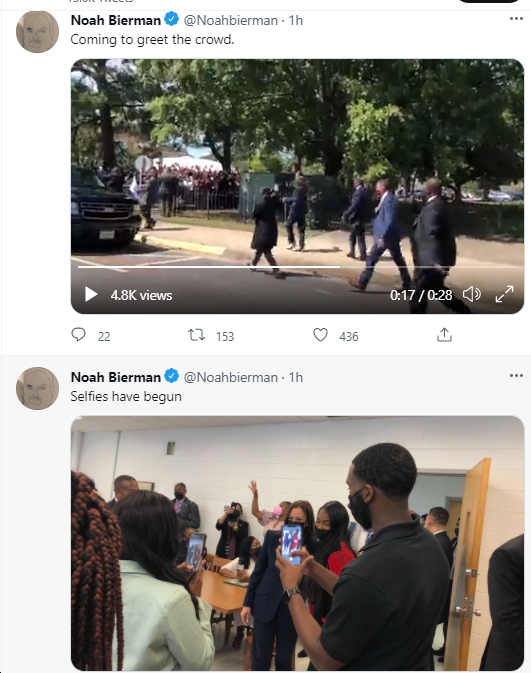 Enjoyed my time touring @_HamptonU with @VP in honor of National #HBCUWeek pic.twitter.com/bYML8nc9c0

— Rep. Elaine Luria (@RepElaineLuria) September 10, 2021
Before leaving @_HamptonU today the @VP stopped by a crowd of students outside to offer some words of encouragement. pic.twitter.com/5r7nRZkaAb

— SDS (@SymoneSanders46) September 10, 2021
The @VP thanks her Hampton advance team before 🛫 to DC pic.twitter.com/ddZ9qJ5vrj

— Peter Velz (@PeterVelz46) September 10, 2021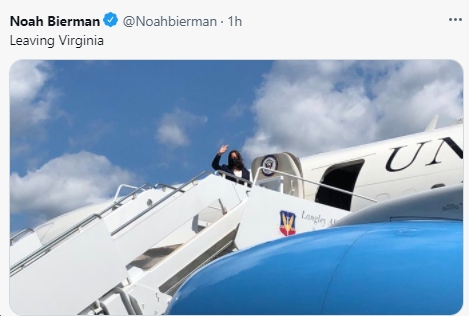 REMARKS BY VICE PRESIDENT HARRIS
DURING CLASSROOM VISIT
TO DISCUSS VOTING RIGHTSHampton University
Hampton, Virginia
THE VICE PRESIDENT:  Well, hello.  You know, I was over in the other area of campus to meet with some of the extraordinary fellow classmates of yours who are studying STEM, and I wanted to just come by — obviously, a surprise visit — to talk with you all real quickly about voting, as the State Delegate said.
Professor, thank you for allowing us to interrupt, briefly, your class.  Marketing, right?
STUDENT:  Yes.
STUDENT:  Yes, ma'am.
THE VICE PRESIDENT:  And let me add — I'll just tell you, quickly, because I didn't realize that this is what you'd be doing at this moment.  (Laughter.)
But my last trip, as your Vice President, was actually just a couple — a week and a half ago to Southeast Asia.  I went to Singapore and Vietnam.  And a big part of the trip was exactly what you all are studying, but in particular, around the issue of supply chains and also the relationship between the United States and all of our neighbors and partners around the world.
And what you all are studying right now is so critically important.  I'm sure the professor has been covering it.  You all have lived through this pandemic in a way that when you come out of school — and your role in leadership is going to be informed by the realities of the importance of what you're learning right now, because the importance of what you're learning right now is about the interconnection, the interdependence that has increased exponentially as these few years have gone by.
And you all are going to come out of school and leapfrog over the people who have been doing this for this whole time, because you have lived what it means to be a part of a global community.  Think about what we now know in terms of global health: that if somebody is sick around the world, how that can impact your neighbor next door.  Right?
How we are realizing — on the issue of the climate crisis — that the greenhouse gas emissions, in a place you've never been, can impact the quality of the air in the neighborhood in which you (inaudible).  Right?
So what you're learning right now is really about the interconnection in a way that is not only about national security, public health, but also about the economy of our country.
So, I'm so excited about your leadership.  And that's part of why I wanted to come by, to tell you what you already know as an HBCU student: You are a part of a strong and important legacy of leadership in our country.  And to be an HBCU student is a point of pride and distinction.  And you stand on the shoulders of people who dreamed that you all would be in this classroom right now taking on the role of leadership you are taking on.
So, I know now you're trying to push through and stay awake in class, and it's kind of warm outside.  (Laughter.)  And I (inaudible) what it feels like right now, but I'm telling you, you're looking at yourself years later and you're going to reflect on this moment knowing that you are sitting next to people who will be your lifelong friends.  You will be godparent to their children.  You will run into them in places you never believed you'd travel, just seeing them on the sidewalk.  What you're doing right now is going to lead to all of that, including your role — your rightful role as leaders in our nation.
So, specifically then, we came by to visit to quickly talk about voting, because that's also about your role in leadership right now.
In 2020, young voters made the difference in that election.  I would not have been elected the first Black woman to be a President or Vice President of the United States were it not for the turnout of young leaders like you.  In fact, here at Hampton, incredible leadership by every sector of the student community, including the athletes who were very public about it. You all did that.  It's your power.
And so we have around this country right now — in Texas, in Georgia — any of you from Texas or Georgia?  Right?  You know what I'm talking about.  Extraordinary attacks on our right to vote.
And I know you all learned and you know about the blood that was shed by John Lewis and so many others on the Edmund Pettus Bridge.  You know about the sacrifices that were made.
But I want you to think about it in an additional way.
When you all turned out the way you did in 2020, that's when we passed the Child Tax Credit, which is going to lift half of America's children out of poverty.  That's when this administration put billions of dollars into HBCUs.  That's when we started to say that people should get compensation when they're out of work for a pandemic not of their choosing, and $1,400 checks.
You all said that's what you wanted, and that's what you (inaudible) happening.  You showed your power.  And you know what happens sometimes when you show your power?  It scares people, and then they might want to take your power from you.  They might want to take your power from you.
And when people saw what you all did after that — we saw what was happening in Texas and Georgia and all those other things — do not ever let anybody take your power from you.  Do not ever let anybody take your power from you.  And know your power in your heart and your soul and in your brain.
And part of your power is your power to vote.  It really does make a difference.
So I wanted to come by to say that because you've got a lot coming up, but this is something we cannot let slip through our hands.  And it's under vicious attack right now; it's around our country.
I'm working on passing the John Lewis Voting Rights Act and what we need to do — the For the People Act — to make sure that we push back against these bans on early voting.  Any of you vote early or you got relatives who vote early?  People who are working two and three jobs — they need time.  Not everybody can vote on Election Day and take time off or have paid leave, right?
Vote by mail.  The people we know may be your aunts and uncles and your parents who've got three kids in the backseat who don't have time to stand in line with those three kids, but can drive through and drop their ballot off in the drop box, right?
These are the measures that have put in place been put in place to make it easier for people to vote.  And there are states around our country that are trying to make it harder for people to vote because they're scared when you vote.
Because when you vote, things change.  And when you vote, we win.
So, I just wanted to come, Professor, to just make that point, to emphasize that point that you already know.  You are extraordinary leaders right now.  I cannot wait to see what you will do next.
And thank you, Professor, for allowing me to interrupt your daily business.  You're really fantastic.  Because I'm telling you — look at these (inaudible).  This is — this is telling us something about the role that each country plays and our role in the context of the world.
END
REMARKS BY VICE PRESIDENT HARRIS
IN A DISCUSSION WITH STEM STUDENTS
AT HAMPTON UNIVERSITY
Hampton University
Hampton, Virginia
12:00 P.M. EDT
THE VICE PRESIDENT:  Thank you, Vince.  Well, it is an honor to be here at Hampton University with all of you.
I want to thank the President who — Dr. William Harvey, who warmly greeted us on our arrival.
Congresswoman Luria, thank you for your leadership, for Hampton, for HBCUs, for the state of Virginia, and for our country.
Mayor, thank you for the warm welcome as well and for all the work that you have done.
I also want to thank Chairman Bobby Scott, the congressman who represents Virginia.  He is a huge supporter of our HBCUs and actually is in a committee hearing, I believe today, advocating for the infrastructure bill that we are proposing.  And that includes a significant contribution that we intend to make to our HBCUs around infrastructure, as well as research.
I believe we are at the beginning of a new era.  I believe that we, in this new era, are more interconnected and interdependent than ever before, as highlighted by the things that you, as our young — our nation's young leaders have witnessed in just this last year and a half.
We've seen a pandemic, which has really emphasized the significance of our mutual investment in the issue of global health.  We have seen cyberattacks, which tells us the role and the use of technology not only for good, as we know it in our everyday lives, but can be weaponized.
We know it when we think about climate and the extreme weather we've been experiencing — Ida — in terms of the hurricanes; the floods that have happened; in my home state of California, the wildfires.  We used to refer to "wildfire season."  We don't do that anymore.  It's all — year-round.
You all are the leaders in this new era because, in particular, our nation and our world will require the smart people that you are to lead on issues that require dedication, and a development of skills around science and technology and engineering and math.
And Hampton University is one of the leaders — I say, as a Howard graduate.  (Laughs.)  Couldn't let that go, guys.  (Laughs.)  I say that knowing, as Vice President, what you're doing here at Hampton University: The partnership between Hampton and NASA — the fact that, I believe, there are four satellites because of Hampton that are right now orbiting, giving us valuable — invaluable information that allows us to not only predict, but to analyze what is happening in our world and in our — and atmosphere.
This is extraordinary work that is happening.  And I'm here to say, as Vice President of the United States, that our HBCUs are some of the great leaders in this vital work that must happen in the new era that not only is an era for our country, but for the world.
So I'm very proud to be here.  And I think about the world — of the challenges, but I think about it in the context of HBCUs.  And I am reminded Hampton University educated Mary Jackson — NASA's first Black female engineer.  It is from Hampton University that we have Dr. Cooper, who is working on the current Mars mission at NASA right now.
Today, Hampton is the first and only HBCU to fully control a NASA mission.  I was just upstairs getting the most recent information on the AIM Satellite, as an example.
And so, when we talk about the role of HBCUs on this issue, let's be very clear that HBCUs are not only competing; HBCUs are leading.  And it is for that reason that it is in the best interest of our nation, including our national security, to invest in our HBCUs.  So, that's why I'm here today, including the fact that this is a week that most of us — year-round, but this week — formally celebrate the role of our HBCUs in our nation.
So, the agenda for the President and me includes not only doing everything we can to lift up our HBCUs, but to know that if we are to invest in the strength of our nation, we must invest in our HBCUs.  And that is why, through our Build Back agenda, that we are making a historic investment in research and development.
One of the things that you all know is that, historically, our HBCUs have done extraordinary research work.  But over the years, some of the facilities have experienced the wear and tear, and we need to invest in allowing our HBCUs to do what all universities should have the ability to do, all education facilities should have the ability to do, which is to upgrade.
I was upstairs, on the roof, admiring that impressive telescope.  And one of the points that was made by the professor is that as technology evolves, pieces get smaller, they get less expensive.  It makes it more easy for HBCUs to adapt to, then, the new technology and to bring it in, but they need the support.  So that's the other point of our emphasis.
And then, the point also is about the impact on all of this on our economy.  Right?  So the demand for STEM workers is high throughout our nation and, frankly, throughout the world.  STEM occupations are expected to grow at twice the rate of all other occupations in the next decade.
For women in the workforce, for women of color in particular — for Black women — STEM careers will help narrow the pay gap.  And we must ensure that all people are represented in the fields of STEM.
And I'm reminded and think of, for example, the issue of what I call "machine learning" — AI — and what that means. Because artificial intelligence is fueling so much of how our systems are analyzing information.
But understand: Artificial intelligence is, at its core, machine learning.  What do we know about any kind of learning?  What you learn will likely be a function of who's teaching you
and what their life experience and perspective is.
So, we want to make sure that in this era, where AI is informing so many decisions, that the people who are teaching the machines represent the full gamut of those who will be affected by what the machines decide to do.
So all of these are critical and important aspects of why I am here today and why the work here at Hampton University, and at so many of our HBCUs, is critically important to all people in our country.
And the last point I will make is that, for me, at the core of this is also the importance of self-determination, understanding that this is about ensuring that when we invest in our HBCUs, that we have full participation in our society and in these systems that have an impact on a broad range of people.
And that is why the dedication and the investment of our administration and all people should understand the significance of our HBCUs.
So with that, I am so happy and proud to be with these leaders — with these young leaders.  And, Vincent, why don't we start our discussion.
(The roundtable discussion begins.)
(The roundtable discussion concludes.)
THE VICE PRESIDENT:  Well, again, I think it's very important that we highlight in a way that each of you leaders and young leaders has done today, and the role of our nation's HBCUs, and the biggest issues that challenge our nation and the globe, historic role that our HBCUs have played, and the current role — and the current role in terms of producing the leaders that are prepared to take on this new era and emerging challenges for which we may not have been prepared and certainly for which we need to develop the skillsets to figure out the solutions to the challenges we face.  And our HBCUs play a critical role in that work.
And this in-depth conversation, I think, highlights, without any question, the role of our graduates of HBCUs — and, therefore, the HBCUs that challenge and educate them — to our nation's security — we talked about DOD; to our nation's development; to our nation's — we talked about the global impact, partnerships around the world.
And so I want to thank you all for the representation that you have provided today about the role of our HBCUs — again, historically, presently, and in the future.
Thank you all very much.
END                 12:46 P.M. EDT
The White House · 1600 Pennsylvania Ave NW · Washington, DC 20500-0003 · USA · 202-456-1111