Today is election day in Virginia; polls are open from 6 am to 7 pm, and you can vote at your regular polling location. Obviously, the three statewide contests – for Governor (Terry McAuliffe vs. Glenn Youngkin vs. Princess Blanding), Lt. Governor (Hala Ayala vs. Winsome Sears) and Attorney General (Mark Herring vs. Jason Miyares) – are getting a lot of attention, but there are also a bunch of hotly contested House of Delegates seats as Democrats fight to hold their 55-45 majority and prevent right-winger Todd Gilbert from becoming Speaker (shudddderrr).  The races I'll be watching most closely today include:
House of Delegates races in HD10 (Del. Wendy Gooditis vs. Republican Nick Clemente), HD12 (Del. Chris Hurst vs. Republican Jason Ballard), HD27 (Debra Gardner vs. incumbent Republican Del. Roxann Robinson), HD28 (Del. Joshua Cole vs. Republican Tara Durant), HD40 (Del. Dan Helmer vs. Republican Harold Pyon), HD66 (Katie Sponsler in an open seat, being vacated by former Speaker Kirk Cox, vs. Republican Mike Cherry), HD68 (Del. Dawn Adams vs. Republican Mark Earley, Jr.), HD73 (Del. Rodney Willett vs. Republican Mary Margaret Kastelberg), HD75 (Del. Roslyn Tyler vs. Republican Otto Wachsmann), HD83 (Del. Nancy Guy vs. far-right Republican Tim Anderson), HD84 (Kim Melnyk vs. Republican Del. Glenn Davis), HD85 (Del. Alex Askew vs. Republican, HD100 (Finale Norton vs. Republican Del. Rob Bloxom)…also HD13 (Del. Danica Roem in a 57% Northam district in Prince William County/Manassas Park City), Paul Siker against far-right Republican Del. Dave LaRock in HD33 (a 45% Northam district in Loudoun/Frederick/Clarke counties), HD50 (Michelle Maldonado in a 58% Northam district in Prince William County/Manassas), HD51 (Briana Sewell in a 55% Northam district in Prince William County), HD63 (Del. Lashrecse Aird in a 56% Northam district in Petersburg City, Dinwiddie County and Chesterfield County), HD72 (Del. Schuyler VanValkenburg in a 54% Northam district in Henrico County), etc.
Also, check out this "model of the vote" by Dave Wasserman of the Cook Political Report – very helpful.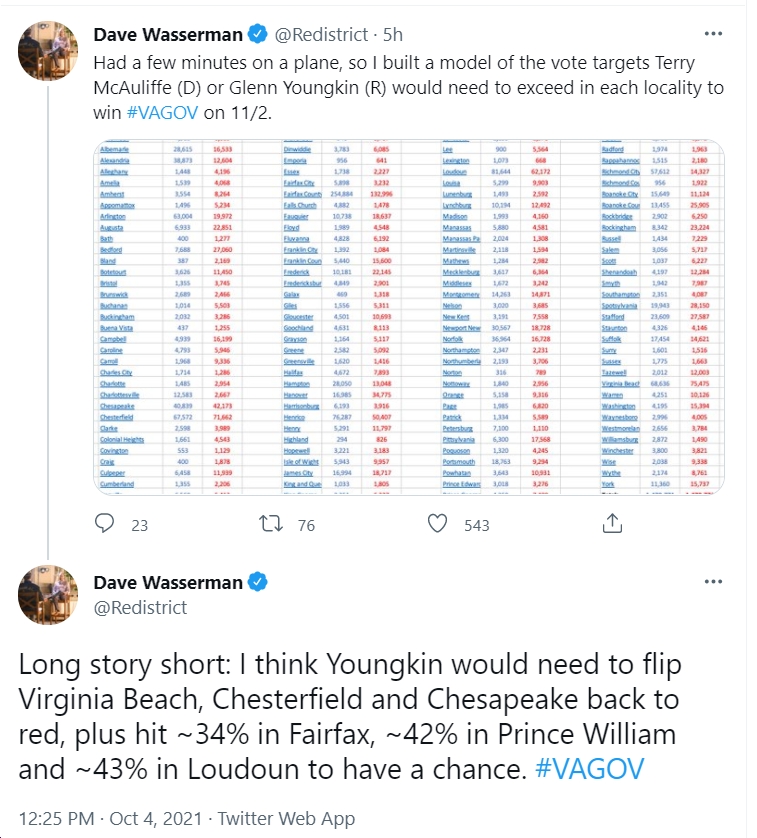 And also very helpful by Ryan Brune…
Finally, check this out by Sam Shirazi, who has done excellent work the past couple weeks keeping close track of the early voting numbers here in Virginia, and explaining what they all might mean…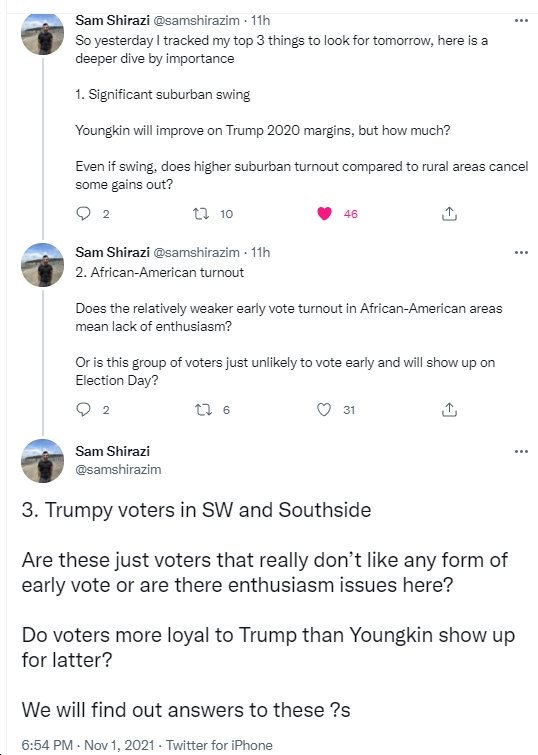 Thanks appreciate kind words

1. Does significant suburban swing happen?

2. Do African-Americans vote more on Election Day as compared to their early vote turnout?

3. Do Trumpy voters in SW show up or does Youngkin focus on suburbs not bring them out? https://t.co/GZ57P6sSzz

— Sam Shirazi (@samshirazim) October 31, 2021
Hoping this is right…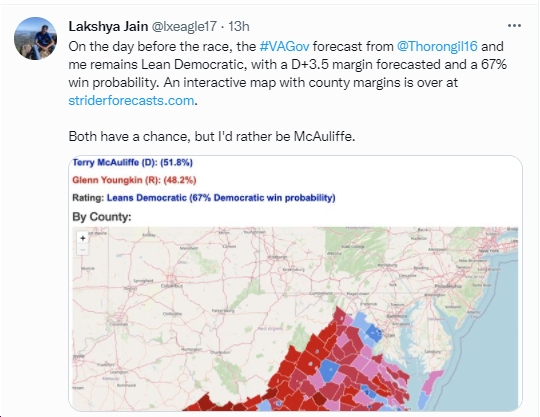 With that…what are you seeing and hearing out there? What's turnout like in your neck of the woods? Who did you vote for and why? Feel free to add your observations in the comments section.