As you're aware, Democrats currently control the Virginia State Senate by a slim, 21-19 margin, leaving no margin for error to stop the Trump-style agenda of Glenn "Trumpkin" Youngkin and his fellow right-wing ideologues. So far, fortunately, Senate  Democrats have been holding the line and stopping a rollback of progress from the past four years, but on the issue of abortion, there's some question whether they'll be able to do that, given that there's at least one member of their caucus (Sen. Joe Morrissey) who says he's "pro-life" (aka, anti-reproductive-freedom) and has even stated his possible support for a bill that "prohibits an abortion after 20 weeks."
Which makes the fact that Democrats don't have more than 21 seats even more frustrating, given that there were expectations leading up to the November 2019 General Assembly elections that Democrats could end up with 23 seats (or even more, with some optimistic Democratic insiders hoping for 24 or 25). One of the seats that Democrats were hoping – or even expecting – to pick up in November 2019 was the 12th district, a "purple" district located mostly in increasingly "blue" Henrico County, and which Ralph Northam won by 5 points in 2017. Unfortunately, in the end Democrat Debra Rodman lost that race narrowly (50.76%-49.06%) to incumbent Sen. Siobhan Dunnavant (R), an OB-GYN physician who is the sister of former Delegate Chris Stolle (R), former State Senator and current Virginia Beach Sheriff Ken Stolle (R), Virginia Beach Commonwealth's Attorney Colin Stolle (R), and Virginia Beach Commissioner of Accounts Edward Stolle.
With new district lines having been approved, following the 2020 Census, Dunnavant will be running for reelection next year in the new 16th State Senate district, located 100% in Henrico County, and which went narrowly (52.3%-47.6%) for Democrat Mark Herring in the 2017 Virginia Attorney General's race. Bottom line – this is going to be a tough-but-competitive seat next year, one which Democrats definitely need to win if they want to hold – or have any hope of increasing – their State Senate majority.
All of this brings us to Dunnavant's record, which increasingly has been hewing to the hard right. Recently, for instance, Dunnavant voted *against* killing legislation by far-right Sen. Amanda Chase that would have allowed licensed healthcare providers to "prescribe, administer, or dispense hydroxychloroquine and ivermectin to a patient with a clinical diagnosis of COVID-19." Yikes. And then there was this, as reported yesterday by VAPLAN (the Virginia Progressive Legislative Alert Network)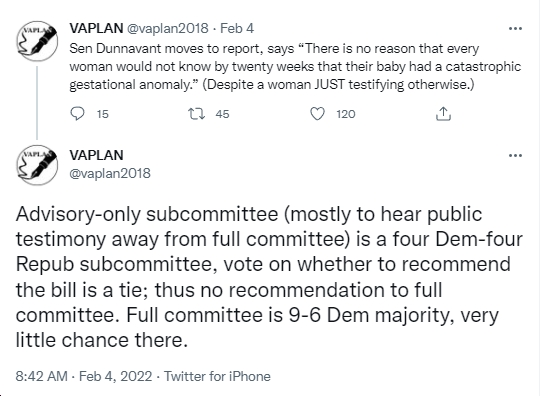 The bill in question was SB710 ("Pain-Capable Unborn Child Protection Act"), by Sen. Chase, which "prohibits an abortion after 20 weeks gestation unless, in reasonable medical judgment, the mother has a condition that so complicates her medical condition as to necessitate the abortion to avert her death or to avert serious risk of substantial and irreversible physical impairment of a major bodily function." In the end, as VAPLAN reported, the subcommittee made no recommendation to the full committee on this bill, as the vote was a tie, along party lines  (Democrats voting not to report; Republicans, including Dunnavant, voting to report). Also note VAPLAN's tweet:
"Sen Dunnavant moves to report, says 'There is no reason that every woman would not know by twenty weeks that their baby had a catastrophic gestational anomaly.' (Despite a woman JUST testifying otherwise.)"
Oh, really? What about if she had not had access to the expensive screening and invasive testing that permit early detection of most (but not all) anomalies?  While very few seek abortions after the first trimester, those who do are among the most vulnerable in our society, with the least access to healthcare – a fact still true today despite improvements to healthcare access (improvements that Dunnavant opposed).  Dunnavant, in fact, was an ardent opponent of the Affordable Care Act and Medicaid Expansion, even putting out an ad that called their advocates "crybaby politicians."
So what has Dunnavant's record on abortion been? Dunnavant raised eyebrows when (as reported in Greg Schneider's Washington Post article) she opposed allocating federal dollars to make IUDs accessible to lower-income women because "There are constituents who strongly believe these are abortifacients.  I believe that we don't have any definitive data that says they're not."  She took this position even though she acknowledged that access to IUDs can help to reduce unwanted pregnancies and abortions.
Dunnavant was a signatory (along with Sen. Bryce Reeves, Del. Nick Freitas, Sen. Amanda Chase and other right-wing Virginia Republicans) to this 2016 amicus brief to the US Supreme Court in support of a Texas law that required abortion clinics to meet the criteria of ambulatory surgical care units; required that physicians have privileges at a hospital within 30 miles; banned abortions at 20 weeks or later, with exceptions only for life of the patient or severe fetal anomalies – but not for rape or incest; and added restrictions to medical abortions.  Despite the best efforts of conservatives, SCOTUS struck down the Texas law in a 5-3 vote on the grounds that it placed undue burdens on women's constitutional right to an abortion.
It is no wonder, then, that according to Vote Smart, Dunnavant got a 25% score from NARAL Pro-Choice Virginia in 2021. And according to iVoterGuide, Dunnavant got a zero score from NARAL in 2019 and a zero "cumulative multi-year" score.
Which brings us to this audio, from a house party fundraiser for Siobhan Dunnavant back in May 2019. The conversation portion of the audio's a bit hard to listen to, because of all the background noise, but fortunately, Dunnavant's stump speech is very clear, and the person who took the audio also provided notes about what Dunnavant had to say, such as:
"In her stump speech, Dunnavant says that 'in Europe, there is no abortion allowed after 12 weeks except for life of the mother and severe fetal anomalies'. In fact, depending on who's counting, there are 44-50 countries in Europe and not surprisingly, their laws vary; details can be found at the Center for Reproductive Rights. This source notes that 95% of European women of reproductive age live in countries that allow abortion on request or on broad social grounds, with time limits ranging from 12 weeks to 18-24 weeks.  So Dunnavant is wrong on the facts here, too.  It's worth pointing out that women in these countries, regardless of income, have the means to get healthcare whether or not they choose to have an abortion and they will be able to get the screening and invasive testing done early in their pregnancy so that, if they choose an abortion because of a severe fetal anomaly, they can do it in the first trimester."
"When asked if she'd like to work for a 12-week limit, Dunnavant says bluntly, 'I'd rather do 22 weeks.'  She goes on to explain in a rather pragmatic way, how she thinks that that's a compromise that could be reached and that 80% would agree with it"  Dunnavant is wrong on the facts again.  A recent Gallup poll shows that only half that number would favor a ban on abortion after 18 weeks; in fact, numbers don't rise to 80% for third-term abortions even when there are no medical complications and the reason is simply that the woman wants to terminate the pregnancy.
"When asked if she would support a fetal personhood bill, Dunnavant hedges and says, 'I haven't had to take a vote on it.'  She adds that if someone causes a car accident and a viable fetus dies in the accident, that's a person. This seems to contradict the transactional nature of the compromise position she had voiced just a moment earlier, because her tone of voice then was of someone haggling over the price of corn, not of someone discussing the artificial – and in her mind presumably criminal – end to the life of a person."
"Dunnavant THEN says we shouldn't bring this issue (not sure if she means fetal personhood or abortion in toto) to laws because 'it should be social.'  She says that while she herself is pro-life, others have other views and so laws are not always the answer.  She proceeds to accuse Democrats of bringing people to discuss abortion who had what she called 'extreme stories.'"
"Dunnavant says she wants to 'stop this nonsense about third-term abortion. That's Planned Parenthood.'  She says there was never a crisis that required a third-term abortion and she expressed hope for incremental change."  "Never" is a big word and Dunnavant is wrong on the facts here, too.  While such crises are rare, they do exist as the testimony alluded to above and other heartbreaking anecdotes attest.
"Dunnavant acknowledges that abortion is an emotional issue and, in a rather shocking statement, says that  'we're all twisted up [with emotion] and…a lot of people who have an opinion about it shouldn't, that is, based on that emotion.'"
"Despite what she had said earlier in the conversation about pushing for a 22-week limit – not to mention how we shouldn't be turning to laws on this issue, Dunnavant remarks that she'd love to bring the limit of elective abortion to 12 weeks.  She articulates no exceptions for rape or incest or to save the woman's life."
"Dunnavant then talks up adoption and mentions a TV series that was about adoption and how great it was and that everyone was happy.  She says the show was cancelled after two seasons because of a desire 'not to let people know [about
adoption].'  I found myself wondering if Dunnavant truly believed that people didn't know that adoption existed."
"In her stump speech, Dunnavant describes herself as an OB-GYN doctor and mom and not a politician"  This is disingenuous, given that, as noted above, every one of her five siblings was at the time in public office, four elected and one appointed to a well-padded sinecure (only four still hold office:  Democrat Nancy Guy flipped Chris Stolle out of office in 2019).
 "She goes on to describe the path to perdition if Democrats won: 'right-to-work will go away and we'll be a union state,' and 'we'll have third-term abortion.'"  Dunnavant claims that Democrats lie about Republican candidates, and she encourages people who hear lies about her to take a photo of the liar and send it to her."
"Having said all those divisive things, Dunnavant then says she's all for doing things without acrimony and claims that she arrives at consensus positions with Democrats."
Got all that? Yeah…no. Anyway, just keep all this in mind as we watch Sen. Dunnavant's votes in the 2022 and 2023 Virginia General Assembly sessions, and as we work to defeat her in November 2023!