See below for reactions by Virginia leaders to the historic confirmation of the superbly qualified Ketanji Brown Jackson to the US Supreme Court. There's been a LOT of bad news the past few years, but today the U.S. Senate and America (despite racist, unhinged opposition by many Republicans) got it right!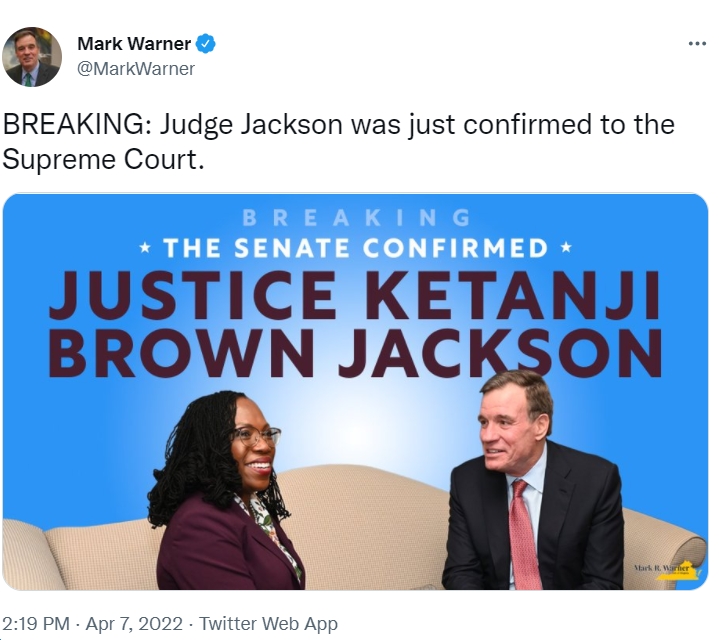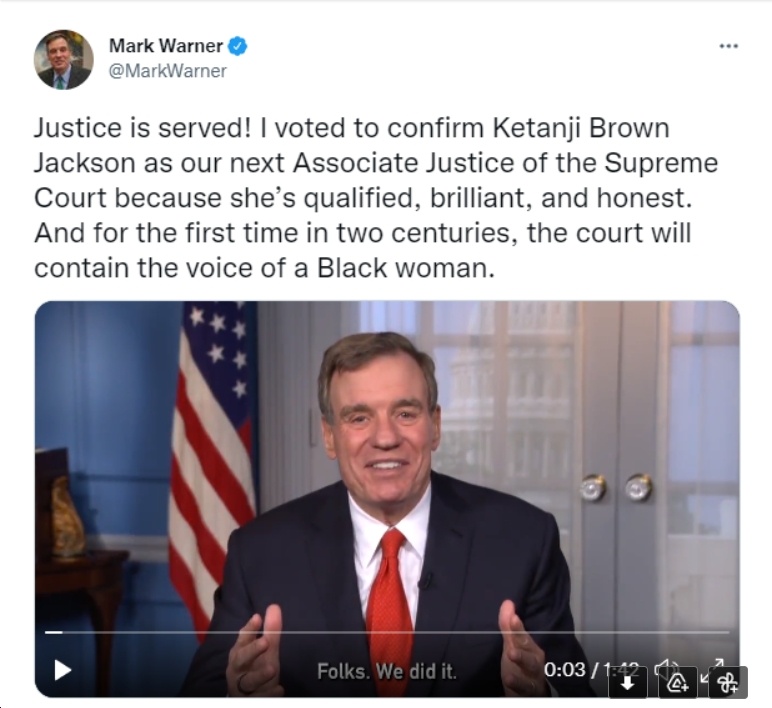 *****************
KAINE STATEMENT APPLAUDING SENATE CONFIRMATION OF SUPREME COURT JUSTICE KETANJI BROWN JACKSON
WASHINGTON, D.C. – Today, U.S. Senator Tim Kaine released the following statement after voting to confirm Justice Ketanji Brown Jackson to the Supreme Court:
"I am so glad to have helped confirm Judge Jackson to the Supreme Court and to now be able to call her Justice Jackson. Justice Jackson's dedication to liberty and justice for all, her impressive list of achievements, and her excellent legal expertise will be of great value to the Court.
"Justice Jackson will also be the first African American woman on the Court, and she will bring a Court that had never had a woman member when I started law school to a Court where four of the nine members are women. Her confirmation is powerful evidence of the capacity we have as a nation to come closer and closer to the ideal of equality articulated as our moral North Star in the opening phrase of the Declaration of Independence and engraved over the Court's entrance as 'equal justice under law.'
"Justice Jackson is superbly qualified for this important post, and I believe that her knowledge, skills, and background – especially her work as a trial judge – will be invaluable in deciding cases that have an immense impact on all Virginians and Americans."
Kaine practiced as a civil rights lawyer for 17 years with cases in state and federal trial and appellate courts, including the United States Supreme Court. He also taught constitutional law and legal ethics at the University of Richmond Law School.
*********************************
McEachin Statement on Jackson's Nomination to Supreme Court
"This is a historic moment for our nation"
Washington, D.C. – Today, Congressman A. Donald McEachin (VA-04) issued the following statement after Judge Ketanji Brown Jackson was confirmed as an Associate Justice to the United States Supreme Court:
"Throughout the confirmation process, Judge Ketanji Brown Jackson has demonstrated her legal acumen, breadth of experience, and a true mastery of the law. She maneuvered ugly partisan attacks from Republicans on the Senate Judiciary Committee with poise and grace, and she proved at every step that she has what it takes to serve our nation as a justice. She is one of the brightest legal minds in our nation and is eminently qualified to serve as an Associate Justice on the U.S. Supreme Court.
"Judge Jackson has broken barriers for African American women throughout her expansive career. With today's confirmation, she has shattered yet another glass ceiling for Black women and girls across the United States. This is a historic moment for our nation. We all stand to gain when the highest court of our land reflects the diversity of our country. She will bring new perspectives and lived experiences to the court, and I am confident she will do everything in her power to defend the U.S. Constitution and continue to demonstrate a commitment to equal justice under the law."
************************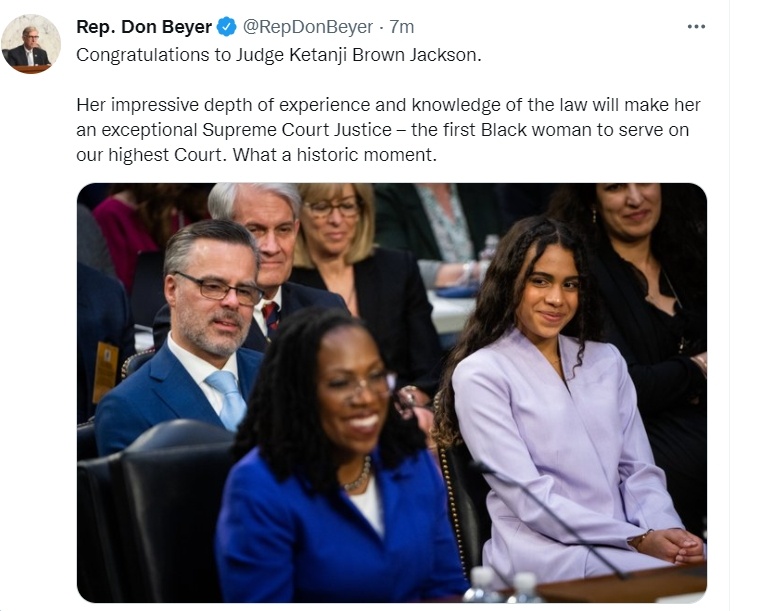 Beyer Statement On Confirmation Of Judge Ketanji Brown Jackson To The U.S. Supreme Court
April 7, 2022 (Washington, D.C.) – Rep. Don Beyer (D-VA) issued the following statement today after the Senate confirmed Judge Ketanji Brown Jackson to serve as the next Associate Justice of the United States Supreme Court:
"It is a significant moment in our nation's history to have confirmed the first Black woman to serve on the Supreme Court. Throughout her nomination process Judge Jackson personified grace, integrity, and the utmost commitment to uphold our Constitution. Her impressive depth of experience and knowledge of the law make her an exceptional addition to our nation's highest Court. I congratulate Judge Jackson on her confirmation, and look forward to her continued public service and commitment to ensuring justice for all."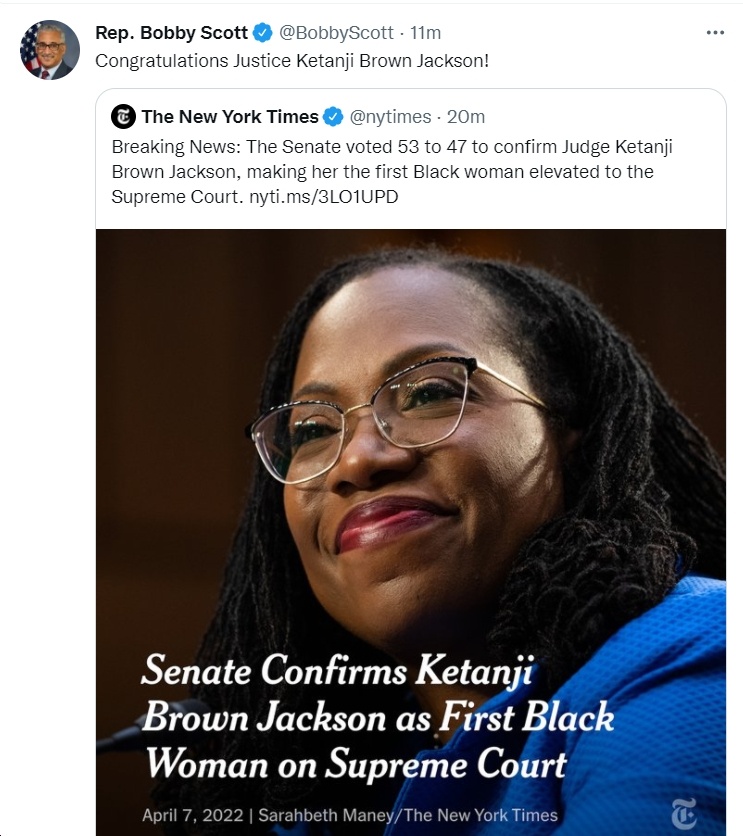 ******************
 McClellan Statement on Confirmation of Ketanji Brown Jackson
RICHMOND, VA – Today, Sen. Jennifer McClellan (D-Richmond) released the following statement regarding the U.S. Senate's confirmation of Judge Ketanji Brown Jackson to the United States Supreme Court:
"Today, Ketanji Brown Jackson shattered another glass ceiling for Black women in America: the highest court in the land. Judge Jackson will bring her impeccable legal experience and her invaluable lived experience to strengthen the Court for all Americans. When we bring more perspectives to the table, our nation is stronger.
"I thank Senators Mark Warner and Tim Kaine for their votes and steadfast support for Judge Jackson. This confirmation process has shown how far we've come as a country, and how far we still have to go. The vitriolic rhetoric from some Senators against a highly qualified nominee demonstrates the challenges that women – and especially women of color – face in breaking barriers in our nation. Generations forward will remember Judge Jackson's tremendous strength and courage to get to this historic day.
"Today, there are millions of girls across America watching Ketanji Brown Jackson, and thinking 'that could be me.' The history made today isn't just about breaking a glass ceiling for Black women, it's about building a ladder to lift up those who follow. This is a momentous day for our nation that will be remembered for years to come."
Sen. McClellan is the Chair of Virginia's Dr. Martin Luther King Jr. Memorial Commission, and the Vice Chair of the Virginia Legislative Black Caucus. She was the first woman to give birth while serving in the Virginia House of Delegates.