As the saying goes, elections have consequences. Both good ones and bad ones. And voting REALLY matters. For instance, in 2021, Virginia Republican voters were more energized than Virginia Democratic voters, and the result was that Republicans won – albeit narrowly – all three statewide races, plus flipped control of the House of Delegates from "blue" to "red."  That's how we ended up with Gov. Glenn Youngkin instead of Gov. Terry McAuliffe, LG Winsome Sears instead of LG Hala Ayala, AG Jason Miyares instead of AG Mark Herring, and House Speaker Todd Gilbert instead of House Speaker Eileen Filler-Corn. And now, it's also how we've ended up with a brand-new, far-right Virginia Supreme Court Justice. As the AP reports:
"The Virginia General Assembly on Friday elected two new justices to serve on the state Supreme Court…The new Supreme Court justices are: Thomas Mann, who has served as a Circuit Court judge in Fairfax County since 2016; and Wesley G. Russell Jr., a Virginia native who has served on the Virginia Court of Appeals since 2015…Russell, 51, worked as a deputy attorney general in the civil litigation division of the Virginia Office of the Attorney General [under AG Ken Cuccinelli] before being elected to the Court of Appeals."
So great news about Thomas Mann being elected to the Supreme Court, and congratulations to him on the well-deserved promotion (as former Speaker Eileen Filler-Corn says, "After a distinguished career, including 10 years of honorable service on the JDR District Court and 6 years on the Circuit Court, I can't think of someone more qualified.").
As for Wesley G. Russell, Jr., the bottom line is that he is "uber right-wing" (as one Virginia legislator described him to me), having worked for extremist AG Ken Cuccinelli – arguably the worst Attorney General in Virginia history, although Jason Miyares is giving "the Cooch" a run for his money – which pretty much says it all about Russell. Specifically, note that Russell was part of the infamous lawsuit/witch hunt by climate-science-denying Ken Cuccinelli, who was then Attorney General of Virginia, against then-UVA Prof. Michael Mann, one of the leading climate scientists in the world.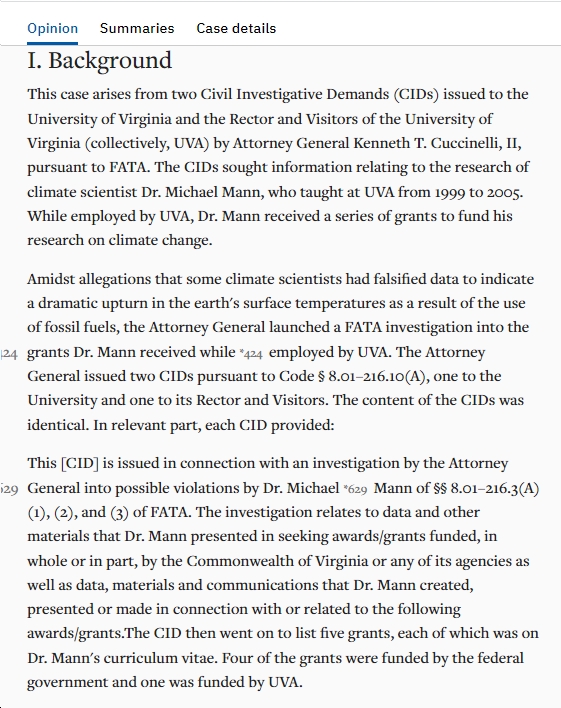 For some more background on the case (really a climate-science-denying witch hunt) against Professor Michael Mann by Cuccinelli's office, including Cuccinelli's Deputy AG Wesley G. Russell, Jr., see below. And remember, next time anyone tells you that elections don't matter, that you don't need to vote in every election, blah blah blah – the difference between having Cuccinelli's former deputy on the VA Supreme Court and instead having a serious, non-extreme Justice named to that powerful body, is a few hundred votes in 2-3 *very* close House of Delegates races last year, which resulted in Democrats going from a 55-seat House of Delegates majority to being in the minority with 48 Democratic delegates.  And now, we will all suffer the consequences for many years to come…both on the VA Supreme Court and also on the powerful State Corporation Commission.