From the Rural GroundGame:
This year, Rural GroundGame has covered thousands of miles, connecting with rural Democrats across Virginia, providing resources, training opportunities, engaging in  collaborative messaging projects and participating in and hosting events.
Our virtual and in person events over the past year have actively engaged thousands of
rural community members.

Stronger, more effective messaging for Democrats in rural areas will come from rebuilding trust through authentic connection and supportive relationships. Check out our recently updated website for more.
We are more determined than ever to roll up our sleeves and continue to expand on the work we started in 2019 through year round engagement with local Democratic  committees, advocacy groups and campaigns.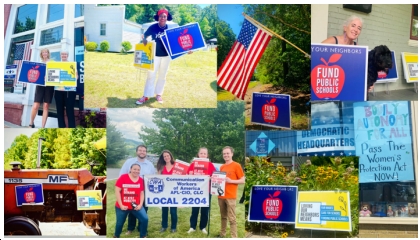 To finish strong in 2022, we will continue our work supporting the field efforts of local races in a number of rural localities in addition to our final independent expenditures for
Congressional candidates.
We are grateful to have connections with local Democrats like our friends in Rockbridge County who kicked off our billboard campaign this year with their ideas, research, and funding. We currently have billboards set up in 3 congressional districts that will be seen at least 1.5 million times by Election Day. Each of these have been created in partnership with local Democrats in these districts.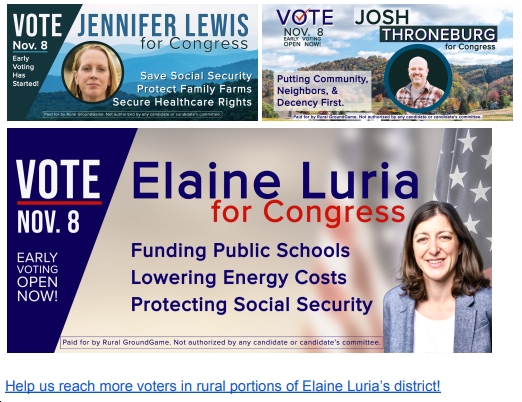 With radio, newspaper, and additional forms of voter contact, we will continue to amplify the values and message of our party and candidates through November 8. Races and committees that RGG has partnered with have already made nearly a million direct voter contact attempts, and it's full steam ahead until Election Day.
But as Virginia Democrats, we know that the moment one election is over, we must prepare for the next. In 2023, the nation will turn its focus to Virginia looking for an indication of our strength as a party. Immediately following the midterms, we will be rolling out multiple messaging and organizing efforts. No time for rest and empty talk, it's time for action.
Rural GroundGame is poised and ready to take our years of experience and work in rural VA to rebuild trust. We can no longer afford to sit back and wait to engage with rural communities in the final days of an Election. Our ability to maintain an effective presence in rural Virginia depends on our collective will to take this work seriously and invest in it. If you agree that this work is important, and see value in a long-term strategy to rebuild our relationship with rural communities, we would greatly appreciate your financial support.