by Cindy
Although Virginia law allows parties to nominate candidates for the General Assembly by a variety of methods (with incumbents having the first choice of method), the Democratic Party of Virginia made a statewide decision for 2023 that these offices in the newly-drawn districts will be nominated by state-run primaries. For constitutional offices, local Democratic committees choose the nomination method—many chose state-run primaries for these offices as well. Seems fine, but here's the wrinkle:
Because voters do not register by party in Virginia, anyone can vote in these primaries. As a result, in many races, Republicans could have a significant impact on who Democrats choose as their party's nominee.
And this year, Republicans seem to be doing so to a greater extent than normal. They are donating to candidates in Democratic primaries, like this 3rd highest donor to candidate for Fairfax Commonwealth's Attorney Ed Nuttall, this top donor to Senator Chap Petersen, or all these donors to candidate for Arlington Commonwealth's Attorney Josh Katcher.
They are hosting meet and greets for candidates in Democratic primaries, like this one hosted by a member of the Bush Administration.
Their leaders and public figures are explicitly or implicitly encouraging their Republican members to "cross over" and vote in Democratic primaries. For example, Virginia Trump Chair John Fredericks and former Republican Del. Chris Saxman over the weekend encouraged Republicans to vote for State Senator Joe Morrissey (in a Democratic primary against former Del. Lashrecse Aird), while implying that Republicans could do the same in support of Sen. Chap Petersen (in a Democratic primary against Saddam Salim), Sen. George Barker (in a Democratic primary against Stella Pekarsky), etc.
Meanwhile, the Arlington GOP is giving mixed messages about their support for crossover voting, both on their social media and in emails to their members and at their meetings, where one member showed up making a pitch for challenger Josh Katcher in the Commonwealth's Attorney race. The Loudoun County Republican Women's Club tweeted information about the Democratic primary, and made sure to clarify that anyone can vote.
In some cases, the Democratic candidates are actively soliciting participation in our primaries by Republicans. Here's a campaign mailer from Senator Petersen, a "letter to our neighbors" from a handful of "Independent" elected officials (some of whom are quite obviously Republicans). Note the bold-faced affirmation that "All voters are eligible to vote."
Similarly, Fairfax Commonwealth's Attorney candidate Ed Nuttall, in this response to a Republican voter on his Facebook page (since hidden), points out that "any registered voter can vote in a primary regardless of political affiliation."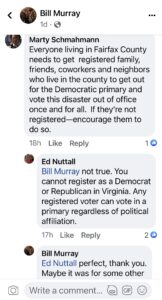 This is, of course, entirely legal, as voters in Virginia do not register by party, and so can vote in any primary they choose – although not both (a moot point in many Northern Virginia races where the Republicans don't even bother to field their own candidate for the general election). The local parties themselves may threaten with sanctions (for those who are active members of their local committees) etc. for those who vote in the other party's primary; but legally, there's nothing to prevent this. It feels like a failure on the part of the local party, however, if their nomination procedure leads to an outcome that is not supported by the majority of their members—if Democrats nominate candidates that a majority of local Democrats don't support, for example. And I have to wonder, if this becomes prominent enough to occur, whether the parties will (should?) change their nomination method to one that they are better able to protect from outside influences. Or whether Virginia might begin to require registration by party.
Currently eighteen states in the US have open primaries where voters do not register by party, and can cast a ballot in any party's primary. While historically, the impact of such "cross over voting" has been small, it is certainly something to keep an eye on.