by Kindler; cross-posted at my Substack, "Saving the Future"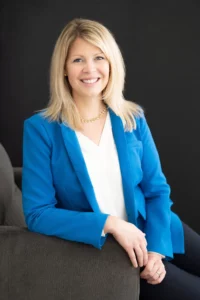 The road to preserving basic American liberties and democratic traditions runs through Virginia in 2023.  If Glenn Youngkin wins the General Assembly control he craves, he'll be free to become the next DeSantis-style state level tyrant. If that happens, say goodbye to Virginia's status as the last state in the South where abortion remains fully legal and the first state in the South with an 100% clean energy mandate – and much, much more.
So I urge every progressive everywhere to pay close attention to Virginia from now through November 7th and to please lend Virginia Dems a hand where you can.  But the truth is that an election in which every seat in the Senate and House of Delegates in up for grabs is not an easy one to follow. So, I plan on highlighting a few interesting, inspiring and critical races to focus on as our election season hums to life.
So let's start with a doozy: Senate District 31, in which highly capable, accomplished public servant and Democrat Russet Perry faces off against Republican Juan Pablo Segura, whose main qualification appears to be that…he's the son of a billionaire who'll plow obscene amounts of money into the race to win.
Russet Perry is the kind of top-notch candidate not easy to find in local politics.  Her background includes a decade of public service as a Loudon County prosecutor, where she ultimately rose to the position of Senior Assistant Commonwealth's Attorney. She has focused on using the law to help people in distress, working at Georgetown University Law Center's Domestic Violence Clinic when she was a student and championing better treatment of people with mental health issues, including serving as an instructor at the Loudoun County Sheriff's Office Crisis Intervention Team (CIT) on how to handle law enforcement interactions with residents suffering from mental illness.
She also did a stint at the CIA. So it's hard not to think of the ways in which she is reminiscent of two of Virginia's Democratic Congressional stars, Reps. Abigail Spanberger (former CIA agent) and Jennifer Wexton (former local prosecutor).
In contrast to Perry's sterling record of service to her community, Segura represents the type of candidate that a lot of Americans have had their fill of already – the wealthy businessman who got a head start with Daddy's money, which he's now trying to use to buy his way into office.
Segura may be a skinny guy, but his record of public service is even skinnier. He served on a Fairfax County Community Service Board and was appointed a little more than a year ago by Gov. Youngkin to the Virginia Innovation Partnership Authority (VIPA) Board of Directors.
Coincidentally, Segura's dad, Enrique Segura, donated $25,000 to Youngkin's gubernatorial campaign in 2021, while the younger Segura also gave $25,000 to Youngkin's inaugural committee. Small world!
The issues section of his website devotes a whopping single sentence to each topic addressed, e.g., "Political Renewal: Senators and governmental officials who devote themselves to worthy causes, not personal gains." Um, okay, great. But considering the centrality of abortion to the Virginia General Assembly race, it is noteworthy that he does not even mention the word.
This raises another issue about which I think he should be questioned. He highlights his role founding a tech company, Babyscripts, that provides apps for pregnant women and new mothers, connecting them and their data to healthcare providers. I have no reason to dispute his or the company's claims to have helped women manage their healthcare through these tools.
What I'd like to know is: what would be his stance if a state that has banned abortion demands the company turn over women's reproductive data as part of a law enforcement investigation of a suspected illegal abortion? The company's data privacy page does not answer the question in any satisfactory way, and you have to wonder how the calculus might change if he becomes an elected GOP official.
While some other Republicans in swing districts are aiming to appeal to middle-of-the-road voters with broad appeals, Segura is clearly pitching himself more to the Trump base. His announcement speech sounded like a MAGA Buzzwords Greatest Hits album, in which he accuses Democrats of "tyranny", "ideological insanity" and of "maniacally imposing equity that ends up systematically oppressing minority students" and says "the radical left doesn't fight for you, it fights to control you."
He attributes his right wing politics to his family's having escaped "socialism" in Argentina, though in fact the reign of Juan Peron and his successors there was marked by a unique blend of fascist, socialist and other elements. Just calling every government you don't like "socialist" is not an adequate excuse to peddle reactionary policies to others.
Alas, Virginia is the Wild West when it comes to campaign finance, so a billionaire family can literally dump as much money as they want into a race – and with so much riding on it, you can be sure they will.  So please follow Russet Perry on social media and sign up to help her out at https://russetperry.com. Let's make sure the actual public servant in this race wins.