Home
Authors
Posts by pontoon
pontoon First, Gov. Terry McAuliffe
ducked into a restaurant in Charlottesville
last fall to avoid anti-pipeline protestors. Now, just this past Saturday at the Governor's Mansion, McAuliffe did a tight circle dance attempting to avoid grassroots anti-pipeline activists yet again (see the video).
The Democratic Party of Virginia (DPVA) held its quarterly meeting Saturday. DPVA central committee members were also invited to a reception following the meeting at the Governor's Mansion. In support of a resolution Democrats were to present regarding climate change, members of anti-pipeline groups Free Nelson and Friends of Augusta went to the DPVA meeting and the reception hosted by the governor which followed.
The climate change resolution was deferred until DPVA's quarterly meeting in June, said Second Vice Chair of Rules and Resolutions, Fred Hudson. LG Ralph Northam, AG Mark Herring and Governor McAuliffe all spoke at the meeting about the accomplishments they had made on behalf of Virginians during their first year in office. Governor McAuliffe touted his success in job creation and the 325 "deals" and $6.1 billion in economic activity those deals will generate to help create Virginia's new economy.
McAuliffe spoke eloquently about climate change and its effects on rising sea levels and the naval bases in our Commomwealth. He noted that heavy rains lasting only an hour in duration force road closures in the Norfolk and Hampton areas on a regular basis. He told us that climate change is real and that we must act to counter its effects on our Commonwealth. McAuliffe didn't, however, mention his support for the proposed Atlantic Coast Pipeline. McAuliffe did tell those assembled that he wanted to hear from them, to talk to them, that his door is always open. Those in Nelson, Augusta and other counties across the Commonwealth fighting Dominion's proposed Atlantic Coast Pipeline are appalled the chair of the Commerce and Labor Committee, Senator John Watkins, would write
this Resolution commending Domminion Power
and take it to the Senate Floor for a vote [Lowell's note: where it passed by voice vote; same thing in ths House of Delegates], even after he heard the testimony of landowners regarding the aggressive, bullying tactics Dominion has used in its efforts to secure survey of private property against the will of landowners.
This is just another example of our elected officials bowing to Dominion, portraying Dominion as a good corporate citizen, while continually passing legislation benefitting those legislator's largest corporate contributor against the best interests of the citizens of the Commonwealth! Senator Watkins was very much in favor of the "Ratepayer Ripoff Bill" (SB 1349) which shields Dominion from reviews of its books, while thwarting legislation which would have repealed the survey law (SB 1338). Nelsonians couldn't be happier that Watkins is retiring!
General Assembly
2015 SESSION
SENATE JOINT RESOLUTION NO. 323
Offered February 3, 2015
Commending Dominion Resources, Inc. The Virginia Senate's Commerce and Labor Committee is Exhibit A in a case which exemplifies the influence of Dominion on the Virginia General Assembly. In its Committee hearing Monday, lawmakers first questioned whether Dominion Transmission is a "public service corporation" under Virginia law, during a brief discussion regarding SB 1166, which would have required Dominion to open its books if they used eminent domain in its projects.
Friends of Nelson President Joanna Salidis, during her remarks, held up Code Section 56-49, even offered copies to the Senators, and said if Dominion Transmission is not a public service corporation, then why are we here, why are they getting these special carve outs only utilities receive? Attorney Henry "Hank" Howell 111 told the Committee during his remarks that these companies are not public service corporations. SB1166 was referred to a committee studying the FOIA statute.
About 50 landowners and community activists (some who brought teenage children) from Nelson, Buckingham, and Augusta Counties made the trek to Richmond Monday morning to lobby all 40 senators regarding SB 1338, which would repeal a law Senator Frank Wagner introduced in 2004, known as the Wagner Act. Code Section 56-49.01 purportedly allows natural gas companies to send "survey" crews onto private property to complete surveys, borings, etc. without landowner permission. There is no time limit for these "surveys," nor notification of a specific date to be given the landowner for when these teams of contractors will appear on their private property. This special exception is allowed only to natural gas companies and no other "public service companies" in Virginia.
The citizen lobbyists had previously set up morning appointments with legislators. When they arrived, they broke up into eight groups to ensure contact and discussion with each Senator. They ate lunch and then made their way to Senate Room B where the hearing was scheduled to begin at 1 pm.
After a lengthy two-plus-hour delay because the Senators were in session in the Capitol, the hearing finally began. Senators continued to saunter in after the hearing had been gaveled into session by Chair Senator John Watkins. Watkins, when meeting with one citizen lobbying group Monday morning said, "We need electricity, this isn't going to happen," referring to the repeal of SB 1338. Citizens group Free Nelson, which opposes the proposed Dominion pipeline through Nelson County, Virginia, has sent the following letter to Attorney General Mark Herring sharing residents concerns about the legislative process in Richmond and its bias in favor of Dominion.
Dear Attorney General Herring,
We are residents of Nelson County opposing Dominion's Atlantic Coast Pipeline and organized as a group called Free Nelson. As you might imagine, the current Virginia Legislative Session is of great interest to of us.
We attended the first meeting with Dominion representatives and the Nelson County Board of Supervisors on August 12 and felt dismayed to hear Dominion External Affairs Manager Emmett Toms threaten eminent domain fifteen minutes into a meeting that was to have been informational in nature. "Pin-dropping" silence would have been deafening in comparison to how the nearly 600 residents reacted. When interviewed after the meeting, Toms made arrogant, flip remarks, telling us to go home and put solar panels on our roofs. He also stated that they "would only use as much dynamite as they need" on our slopes. This was the beginning of Dominion's relationship with Nelson County.
Our open houses have been, frankly, less than informative. Representatives have given vague answers or no answers at all, when questioned about impact on water sources, construction on slopes damaged by more than 100 slides in 1969, and proximity to houses (they have told us that by law, they only need to be 50 ft from our homes). And when family members questioned the proposed route through an area where the bodies of some 17 residents were never recovered after the flood, they simply responded that they have a policy in place for dealing with human remains. They have knocked on residents' doors who have denied survey with veiled threats and served lawsuits on landowners at 9 o'clock at night. And as widely reported in the news, they have supplied incorrect maps and filed suits against landowners in error. This event has been postponed until FEBRUARY 9, 2015
Jeff Schapiro's article today in the Richmond Times Dispatch very clearly outlines the cozy relationships Dominion has with elected officials across Virginia. Those fighting the pipeline have known about Dominion's "contributions" to General Assembly members and other elected officials for many, many months. The opposition has attempted to make those facts known through posts here on Blue Virginia, and in other coverage of the fight to stop the proposed destruction and desecration of both public and private property by the proposed Atlantic Coast Pipeline project.
The determination of landowners and advocates is actually bolstered because of Domimion's money, lobbyists, and well-connected executives. All of that adds proof to the claims of injustices being heaped on landowners and communities. Dominion's attempts to thwart the grassroots only strengthens the resolve of the opposition, as illlustrated by Friends of Nelson President Joanna Salidis' statement last week: "Bring it on Dominion. The more you force your way, the more we will fight the injustice."
The grit and determination of the people in the continued fight for property rights, and to prevent the damage the proposed Atlantic Coast Pipeline would have on cultural, historical and environmental resources will not be diminshed by Dominion's money and power. On Monday, February 2, Free Nelson and Friends of Nelson will return to Richmond for a "Stop the Surveys" lobby day being co-sponsored by both groups and the Virginia Sierra Club. Senate Bill 1338, introduced by Sens. Hanger and Deeds, is to be brought before the Senate's Labor and Commerce Committee Monday afternoon. SB 1338 would repeal the statute which now purportedly allows the ACP's contractors to legally trespass on private property.
The groups are well aware Dominion's lobbyists are currently in Richmond pushing to kill Senate Bill 1338 in Committee. Landowners and activists, however, will show up to lobby Committee members on Monday morning, asking them to stand on the side of the people by voting Monday afternoon to allow Senate Bill 1338 to reach the floor of the Senate. Like-minded supporters are encouraged to join the groups in Richmond to participate in the Lobby Day!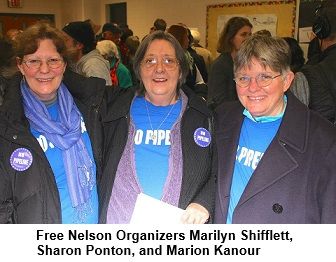 Please help Free Nelson and Friends of Nelson Get Support to Repeal the Survey Law!
Today in the Roanoke Times, Dominion's Chief Environmental Officer, Pamela Faggert attempts to justify Dominion's bullying, abusive tactics to use lawsuits to force unwilling landowners to submit to the survey of their private property. She refers specifically to an article written by Michael Martz of the Richmond Times Dispatch, which ran in many papers across the state. The article outlined the historical and cultural treasures in southeastern Nelson County, referring specifically to the Monocan tribe villages located along the James River that would be in the path of the proposed ACP, as well as an African-American community known as Union Hill.
Union Hill was established after emancipation when previous slaveholders gave the ancestors of current Union Hill residents land on which to live and farm. Many in this community have worked tirelessly to keep their legacy intact, but Dominion believes it simply has the right to desecrate these properties by running its 42" behemoth through the center of this community. Union Hill also includes the first African-American Church in Nelson County, St. Hebron Baptist Church. This church was at one time a white-only church, but was deeded to African-Americans in the 1840's. The deed includes a statement allowing both whites and blacks to preach and worship within its walls. We imagine this was there to protect the African-American worshippers since slaves were not legally allowed to own property before emancipation.
Ms. Faggert justifies the lawsuits saying "over 3,000 miles of potential routes have been considered." From the reports filed with FERC, it is obvious lines on maps may have been drawn for other possible routes, but Dominion gave them no serious consideration. They simply tallied the miles of forestland, wetlands, pasture and state and national properties the other "proposed routes" would traverse and summarily dismissed. They did no environmental, cultural or historical studies of those proposed routes; none at all.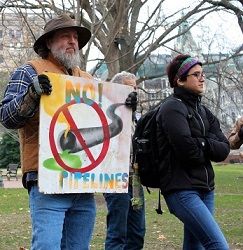 Anti-pipeline grassroots groups Free Nelson and Friends of Nelson, and the Sierra Club held a rally Friday at the Bell Tower protesting the proposed Atlantic Coast Pipeline. They were also there to seek support for a bill Senators Emmett Hanger (R-Mt. Solon) and Creigh Deeds (D-Milboro) are cosponsoring which would repeal what has been dubbed the Wagner Bill. The Wagner bill purportedly gives natural gas companies the right to trespass on private property without landowner permission to survey and do other testing needed as they choose the best possible route for a pipeline.
About 60 landowners and residents of Nelson County made the trek to Richmond to share their frustration with the bullying and abusive tactics used by Dominion in its attempts to pressure landowners into allowing it to survey. Approximately 70% of landowners in Nelson have steadfastly refused to allow surveyors onto their properties. Dominion retaliated with letters threatening lawsuits, and in December began filing those suits, making its actions public on Christmas Eve. Since December, they continue to file suits in dribs and drabs, with the latest 6 suits being filed January 21, one of which is against John Ed and Ruth Purvis, seventh generation farmers. (See earlier post.)
The protesters recognized Hanger and Deeds for their efforts to protect their property rights, as well as Richard "Dickie" Bell for legislation he introduced requiring public service corporations to meet the Freedom of Information statute should they use eminent domain while completing a project. Sharon Ponton, a Free Nelson organizer, spoke about her frustration with elected officials within the Democratic Party, making specific reference to Governor Terry McAuliffe's first energy policy action as being to "stand at a podium beside Dominion and call a 42" fracked gas pipeline a game changer" after running as a green renewable energy candidate. She continued by asking if the Governor thought an African American community known as Union Hill whose ancestors had received their land from their previous slaveholders after emancipation would think it was a game changer when the pipeline destroyed their community". The crowd bellowed, "No'" in response. She gave other examples of private property being desecrated and each time the crowd answered empathetically no. At the end of a country lane in Nelson County, Virgiinia, you will find one of Dominion's sacrifice zones. Approaching the home , built in 1904, there are acre upon acre of fertile rolling pasture; in the background, you see only steep mountain slopes. The views are commonplace in this area, but are breathtaking still. The 400-acre property is owned by John Ed Purvis and his wife, Ruth. John Ed has lived in Nelson his entire life on this farm with the exception of the four years he spent in the Air Force. His wife Ruth grew up in Nelson too...in the Tyro and Roseland areas of Nelson County. He and Ruth married in 1954 and will celebrate their 61st anniversary in February. They have four children, and they both worked outside the home, while farming the land, and raising their family.
John Ed is the seventh generation of his family to own and farm this land. He has traced his ancestry back to 1739 when 3 Purvis brothers arrived in America from England. One of those brothers, George Purvis, settled in Nelson County in 1768, the beginning of the line which begat John Ed Purvis. The Purvis' have had a good life here. John Ed and Ruth are good neighbors and friends. John Ed has been known to show up on one of his big tractors at a neighbor's home after a big snowfall, plow the drive, and leave quietly acknowledging his neighbor's thank you with a smile and a slight wave of his hand. He served on the Nelson County School Board for 18 years. Ruth spent 20 years as a secretary in various positions including a stint in a Veterans Affairs office while John Ed was serving our country, and later in the Nelson County Circuit Court Clerk's office.
John Ed and Ruth, just as their ancestors were, have been good stewards of the land, raising cattle, growing hay and harvesting timber. One day last May, John Ed and Ruth received a certified letter from Dominion Resources telling them a pipeline was coming through. Dominion needed to survey the Purvis farm because it wanted to construct its 42" natural gas pipeline on their family farm. John Ed and Ruth were surprised like other Nelsonians and were even more surprised when they learned about a law the Virginia General Assembly passed. "This law they passed in Richmond in 2004 alllowing survey without permission isn't right. It has gotten everybody riled up," he stated. He continued, "Eminent domain is for building schools and roads--things that benefit the community." The couple is keenly aware they and other landowners, nor the community will receive any benefit from Dominion's attempted land grab to build its pipeline. After we reported here on Blue Virginia this week Dominion had sued Sheriff David Brooks and his cancer stricken wife, Sherri, Charlottesville's Channel 19 interviewed the Brooks and the piece aired Thursday night. Oddly, on Friday Dominion sent out a statement to some media outlets saying they had given their attorneys, McGuire Woods, incorrect maps. The firm used the incorrect maps as the basis to file lawsuits against Virginia landowners who have refused to allow Dominion onto their properties to survey for the proposed Atlantic Coast Pipeline. A total of 59 lawsuits were filed in Nelson County as of January 9th.
Free Nelson, a grassroots anti-pipeline group in Nelson, had run two human interest posts on its Facebook page early last week, one on the Brooks being sued, and a second about another landowner, Pearl Miles, who had also been sued by Dominion. Free Nelson learned during the Dominion Open House Wednesday night, landowner Pearl Miles had been told by Dominion her property was no longer in the proposed path of the pipeline. They also told Mrs. Miles the suit against her was being withdrawn and she would be receiving a confirmation letter from Dominion outlining those facts. She was not told she was sued in error.
A statement released Friday by Jim Norvelle, Dominion's Communication Director announces:
"We have identified 14 landowners in Nelson County whose properties were on the original proposed route, but were removed by a reroute that occurred in October. However, the maps were not updated in a timely fashion. We are working to understand how that happened so it won't happen again. The reroute has removed the Brooks's property from consideration; their property is no longer on the proposed route. Obviously, we are also dropping the lawsuit against them.

The incorrect maps were used in preparing the lawsuits. We are removing the 14 landowners, including the Brookses, from the list of lawsuits and apologizing to them for our mistake. While the lawsuits had been filed with the Nelson County Circuit Court clerk, they had not yet been served. Nevertheless, we are notifying them that their properties have been removed from the proposed route." The day after Dominion sued an additional 39 landowners to include Nelson's Sheriff David Brooks, it hosted one of its dog and pony shows in Nelson County. Hundreds of landowners and citizens schooled Dominion on what it means to live in and be a part of a community.
Standing shoulder-to-shoulder, attendees broke out in song, singing the chorus from Robin and Linda Williams anti-pipeline song, "We Don't Want Your Pipeline." Later during the event, in support of an African American community which will be devastated if the ACP is ever built and whose ancestors were given land by their slaveholders after emancipation, citizens and landowners stood arm-in-arm belting out a revised version of the old hymn, "We Shall Overcome."
Dominion's tax projections given to the media and local governments were questioned. How Dominion would deal with the landslide propensity of Nelson's thin soils on steep slopes; water quality protection; fire protection; and many other concerns were shared. Because of a natural gas pipeline explosion in Mississippi early Wednesday morning, many residents were quick to question Dominion's safety record. The canned responses from Dominion were mostly unsatisfactory to landowners and community members alike.