by Rev. Charles Swadley, a retired United Methodist Pastor and former board chair of the Virginia Interfaith Center for Public Policy On Monday, the full...
by Malaika Mitchel of Accomack County, Virginia I'm writing to thank Delegate Lamont Bagby and all of the members of the House of Delegates who...
More good stuff from the Democratic-controlled Virginia House of Delegates, in this case the Labor and Commerce Committee on Del. Lamont Bagby's HB789 dealing...
Leonard A. Bennett, Newport News; Consumer Litigation Associates, P.C., VSB Pro Bono Law Firm of the year, 2019 Virginia's consumer protection laws are amongst the weakest...
Not a fan of predatory lenders? Also not a fan of Virginia's bought-and-paid-for-legislature? Well, then, you'll enjoy - ok, maybe "enjoy" isn't the right... Hey, I just thought of a great way for Virginia Democrats to motivate the base to turn out and vote for a Democratic Senate. It occurred to me as I was listening to the first in a series of reports by Michael Pope on WAMU radio on
the rip-off artists known as "car-title lenders
."
After discussing how one poor victim took out a loan for $2,600 and ended up paying a whopping $5,515, Pope then shifts to a staunch defender of the industry:
"It's not predatory," says Senate Democratic Leader Dick Saslaw, who has taken about $37,000 from TitleMax in the last decade. He says if people like Waverly didn't have access to businesses like TitleMax, they would find other ways to get the money.

"Well they borrow it on the street," he says. "Borrow $100 on Monday, pay back $200 on Friday, 10,000 percent APR. That's where they were borrowing money. And if they didn't pay it back they got the hell beat out of them and they still had to pay it back."
The report then cites the Center for Responsible Lending, which indicates no evidence of such a black market for loans, but reports that car-title lenders in 21 states are "costing borrowers about $3.6 billion each year in interest on $1.6 billion in loans."
In other words, Sen. Saslaw is doing here precisely what we see conservatives on Fox do every single day: make an utterly ridiculous argument, contrary to all known facts - but in concert with his donors' economic interests.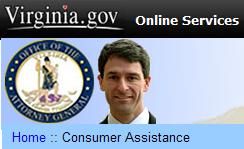 He'd take the lead on combating the fraud of the new "professional" credit cards. There'd be a hard look at lending practices that allow the payday and refund lending industry to exceed the maximum interest limits. The Attorney General's website would show him instead of
Bob McDonnell as Attorney General
.
The last Consumer Alert of the Month wouldn't be December 2009. The link to the "Nigerian Bank Account Scams" would not take the user to a Securities and Exchange Commission (SEC) webpage where another link must be selected; it would link to the SEC page for the Nigerian Advance Fee Fraud. The link to FAQs on Consumer Fraud would not navigate to a general page that includes one on "Why Virginia is suing the federal government over the new health care law" (a political statement on a state website). The Virginia Consumer Guide would be updated with a cover letter from the current rather than the former Attorney General. It would contain links to relevant online resources. It would include warnings about debt relief schemes, their effects on income tax, and the outcomes of bankruptcy. There would be a mortgage foreclosure step by step for after it happens rather than "Prevention Tips." No one who thinks about foreclosure in time to prevent it comes looking for foreclosure prevention help.
By the way, those new "professional" credit cards also known as small-business or corporate credit cards, aren't covered under the Credit Card Accountability and Responsibility and Disclosure Act of 2009 (Card Act). There is a The Wall Street Journal article this morning that provides plenty of information about this scheme that allows the predatory practices that the Card Act was designed to stop: hair-trigger interest rate increases, shortened payment cycles and inactivity fees. Suddenly anyone qualifies as a small business. But the Attorney General is oblivious to this scheme that will defraud thousands of Virginians. And he doesn't have a clue about advising the legislature concerning leaks in the payday lending law. It has to do with numbers and math, so maybe he ought to contact the ABC Store vultures for some crafting of the formula for annual percentage rates; or not.