Rep. Dave Brat (R-VA07) voted "nay" on approving the conference report on H.R. 6157, which included the Continuing Appropriations Act for 2019. (Roll Call...
Probably not. Yesterday a 17 year old girl,
Malala Yousafzai, shared the Nobel Peace Prize
; the winners cited "for their struggle against the suppression of children and young people and for the right of all children to education." How many girls in America struggle? Far too many.
"Empowerment of and investment in girls are key in breaking the cycle of discrimination and violence and in promoting and protecting the full and effective enjoyment of their human rights" - United Nations Resolution 66/170
A simple truth is that gender inequality begins at conception. Is it simply culture? No, I don't believe so...it is rooted in physiological differences and procreation roles; these are natural facts that have influenced the paths of social Darwinism. Where there has been philosophical advancement, social enlightenment has neglected the value and role of women for the sole purpose of maintaining a dominance that serves the interests of the "haves." Somehow, somewhere, long, long ago, women became chattel. And the luster of that property is diminished by the exercise of "ownership rights" by men.
Women are diminished by patriarchal attempts to protect that ownership. These are clearly manifest in laws restricting women's sovereignty over their own bodies. This would be comical if it were not so tragic. While those who would protect the status quo focus on the emotional issue of abortion, they refuse to effectively ameliorate the more pervasive crimes and trespasses against girls and women, most of which create the circumstances that force the tragic choice they would not allow.
That the abuses of girls and women in other cultures and countries are often far worse than the general condition in America does not excuse their social position and condition here. Board voted 13-2 to prioritize political agendas over evidence-based medicine after shutting the doors on hundreds who wished to attend meeting
Richmond, VA - ProgressVA today strongly condemned the decision by the Virginia Board of Health to prioritize politics over evidence-based medicine and bow to bullying from Attorney General Ken Cuccinelli by removing the "grandfather clause" from proposed clinic regulations. Even though hundreds of citizens told the Board they wished to attend the meeting and the ACLU of Virginia requested the Board accommodate all those who wished to submit public comment and witness the debate, the Board limited attendance in the meeting to 100 and cut public comment to only 1 hour. In response, ProgressVA and the Virginia Coalition to Protect Women's Health held a public hearing in the parking lot for those who were shut out to make their voices heard.
"We absolutely condemn this outrageous decision by the Board of Health to prioritize politician's political agendas over evidence-based medicine and women's health," said ProgressVA Executive Director Anna Scholl. "This Board should be ashamed that they have ignored and shut out the voices of Virginians and the advice of countless medical and legal professionals. It is simply disgraceful that the Board would bow to right-wing bullying and shut down women's access to comprehensive reproductive care and safe and legal abortion in order to cater to a politician who has proven time and again that he will twist the law to suit his own agenda." Thousands of Virginians have taken action to urge regulators to rely on evidence-based medicine, preserve access to safe and legal abortion.
Women's health advocates delivered over 17,324 petitions and comments to the Virginia Board of Health Thursday, opposing proposed regulations that could shut down women's health centers and endanger access to safe and legal abortion in the Commonwealth. Virginians from across the state have took action to express outrage over new, burdensome regulations that prioritize ideological agendas over evidence-based medicine. In July, the Board voted to amend the proposed regulations, the most repressive in the nation, to "grandfather in" existing clinics from draconian building regulations unrelated to patient safety. That amendment would allow clinics to remain open and continue to provide thousands of Virginia women life-saving cancer screenings, STD testing, family planning services, and safe, legal first trimester abortions. Attorney General Ken Cuccinelli is misrepresenting the law and misguiding the Board of Health in an attempt to bully them into shutting down clinics against their will. By threatening to refuse to "certify" the Board's authority, the Attorney General has forced the Board to reconsider legally sound and medically correct regulations in order to advance a political agenda.
"Political agendas have no place in the doctor's office or governing decisions that should rely solely on evidence-based medicine," said ProgressVA Executive Director Anna Scholl. "The Board's mission statement declares they are the 'primary advocate and representative of the citizens of the Commonwealth', not agents of politicians' political agendas. Virginians have made their voices clear: base the regulations on evidence-based medicine. We hope the Board chooses to represent the will of the public and votes to uphold the grandfather amendment."
(More below) Bob McDonnell Akin-izes Republican platform, Paul Ryan returns to VA to tout backwards policies
Putting to rest any doubt about conservatives' anti-woman agenda, Bob McDonnell's platform committee today approved language opposing abortion even in the case of rape or incest. The move brings the official party position in line with Todd Akin and Paul Ryan's radical anti-woman, anti-family ideology. According to news reports, McDonnell, chairman of the platform committee, applauded the move as "affirming our respect for human life." The move fits squarely with McDonnell's own radical record, best exemplified by his support for the widely condemned "vaginal probe" ultrasound bill.
Virginians would be right to wonder whether conservatives are vying for some "Grand Poobah of Anti-Woman Conservatives" prize. Tomorrow, Paul Ryan returns to the Commonwealth, hoping Virginia voters won't pay much attention to his decidedly anti-family record. Never mind Ryan's support for federal personhood legislation, his refusal to support the Lily Ledbetter Fair Pay Act, or his scheme to end Medicare as we know it. A new report from the Center for American Progress Action Fund lays out that the Romney-Ryan ticket would be a disaster for women across the board.
Details below: This week, access to safe and legal abortion in Virginia is at stake.
Behind-the-scenes maneuvering by Attorney General Ken Cuccinelli and Governor Bob McDonnell is risking the health of Virginia women.
This Friday, June 15, the Virginia Board of Health will vote on whether to move forward with the McDonnell administration's proposed permanent regulations of women's health care centers. The regulations go against the recommendations of medical professionals. If passed, these TRAP (Targeted Regulations of Abortion Providers) rules will become the most restrictive state abortion regulations in the country--threatening to end access to critical cancer screenings, annual care, and access to safe and legal first-trimester abortion for thousands of Virginia women.
To protect women's health the Board of Health needs to hear from you. Tell them now not to restrict women's access to health care. After you contact them--please also tell your friends and family to take action on Facebook and on Twitter.
If the right-wing ideological duo of Governor Bob McDonnell and Attorney General Ken Cuccinelli have their way, Virginia will soon step back into 1972, placing access to legal, safe abortion out of reach for thousands of women. This has national implications far beyond Virginia, and we need your support NOW. Tell Virginia regulators you don't support medically unnecessary and burdensome regulations that would restrict women's access to comprehensive health care services.
Additionally - this Friday: You can join fellow progressives at a silent protest at the June 15th Board of Health meeting to show your opposition.
Today the comic strip Doonesbury kicks off a series lampooning attacks on women that started in Virginia and have spread to states like Georgia and Texas. The series will call out a state-mandated transvaginal ultrasound before pregnancy termination for what it is - a "10-inch shaming wand." I can only hope ringleaders like Gov. Bob McDonnell are called out by name.
As the Washington Post reports, several newspapers like The Oregonian, the Gainesville Sun and the Ocala Star-Banner have decided not to carry the strip. Well, even if their readers won't be exposed to the absurdity of Republican attacks on women, they'll learn that if you want someone to stand up for the First Amendment, you can't trust corporate media giants like Oregonian owner Advance Publications to do it for you.
UPDATE: OrangeDem reports the Fredericksburg Free Lance-Star has also refused to run this cartoon.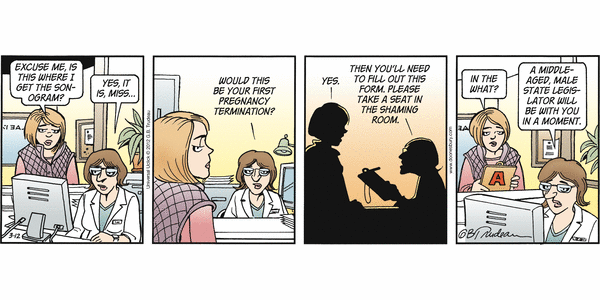 Today,
ProgressVA launched a petition with MoveOn.org
for Virginians to express their opposition to bills before the General Assembly that insert the government into women's private medical decisions. And in just a few hours over 9,000 people signed their name and spoken out - and ,
we need you to join with us.
The two bill are HB 1, which would define a fertilized egg as a person and could outlaw abortion under all circumstances and restrict women's access to birth control, and HB 462, which will traumatize women by forcing some to submit to an invasive, transvaginal ultrasound before seeking an abortion.
Join with us in demanding a Stop to the War on Women in Virginia.
It's simply really: women's medical decisions about her body should be between her, her family and her doctor. Keep government out of it. Make your voice heard. Stand up and tell Virginia's lawmakers to stop the war on women.
Candidate Bob McDonnell's distaste for women's rights was no secret. His
masters thesis
emerged early in the campaign, revealing his opposition to mothers working outside the home and to the use of contraception by unmarried couples.
A majority of women voters supported McDonnell anyway. It's impossible to know the exact percent, but the final Washington Post poll before the election gives us a good idea. Fifty perfect of women backed McDonnell - and McDonnell actually went on to outperform the poll, winning 59% to 41%.
I understand the outrage at watching McDonnell's views actually be implemented in Richmond. But I don't think we can understand how to reverse the damage if we treat this as some completely unforeseen, unwarranted attack by aliens from outer space. The Republican war on women's rights in Richmond is not an "overreach" as some are calling it - Bob McDonnell and his fellow Republicans are doing exactly what we knew they'd do.
Where do you think the failure lies? Were Democratic efforts to highlight McDonnell's views insufficient? Did women choose to ignore McDonnell's views, or to convince themselves he wouldn't actually put his beliefs into action? Do women value these rights less than they value other issues? What can progressives do differently in the future to reach out to women in every corner of Virginia?