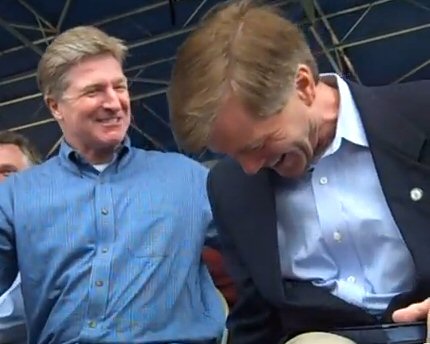 Based on
this new report
, and also the voluminous information we already have about APSCU -- the leading for-profit "education" trade association where DPVA chair Brian Moran works as a top lobbyist, strategist, and (recently) acting president -- Moran needs to be fired as DPVA chair immediately. As in, yesterday. As in, this minute. Check this out.
Republic Report has learned that the Washington Post Company's Kaplan for-profit college division, was, last year, a member of the controversial business advocacy group the American Legislative Exchange Council. Other major for-profit education companies also joined ALEC. Republic Report has obtained a July 2011 document showing Kaplan Higher Education and other for-profits as members of ALEC's Education Task Force...

...APSCU, the for-profit schools trade association, which hires expensive lobbyists like former Senator Trent Lott to pressure Congress, and works hand-in-hand with the House Republican leadership on bills to prevent bad actors in the industry from being held accountable for waste, fraud, and abuse. APSCU members include DeVry, ITT, ATI, Education Management Corp., Career Education Corp., and Mitt Romney favorite Full Sail University, as well as Kaplan, Bridgepoint, and Corinthian.

These affiliations between for-profit colleges and ALEC raise some serious questions.
Not surprisingly, "Bridgepoint, Corinthian, and APSCU did not respond to our requests for comment."
Clearly, it's unacceptable for the head of the Democratic Party of Virginia (DPVA) to simultaneously work as a top officer in the leading lobby group for the for-profit "education" industry. It's even worse that the DPVA is busy denouncing ALEC, at the same time that the head of the DPVA works closely with ALEC. Or, that DPVA is busy attacking George Allen on higher education student loan interest rates - as it did yesterday in a press release - when the head of the DPVA is busy advocating for an industry which saddles veterans, minorities, and many other students with huge student loan debts and degrees of questionable worth. At the minimum, this undercuts the very message DPVA is putting forth on an extremely important, indeed core, issue to the Democratic Party -- EDUCATION
Several of my Virginia progressive friends have forwarded me
this New York Times article
on Willard "Mitt" Romney and his love affair with the for-profit "education" industry/scam, so I thought I'd say a few words about it. First, here are a few key points from the article:
*Romney's receiving a great deal of financial support from the for-profit "education" industry/scam.
*Returning the love, Romney is urging that "students should consider for-profit colleges like the little-known Full Sail University in Florida." Tuition at Full Sail (yes, that's really its name), by the way, is $80,000, "for a 21-month program in 'video game art,'" although it comes with a "spotty graduation rate" (like most of the for-profit "education" industry/scam of just 14% on time and 38% total (see here for more on that subject).
*Romney's enthusiastic support for the for-profit "Education" industry/scam marks a significant difference with the Obama Administration, which "has imposed tighter regulations on for-profit colleges and limited the role of private companies in student lending."
For more on this heinous industry, see For-Profit Colleges Scam Military for $521 Million, Report Says, Passing the Buck on Default Rates, ABC News Investigates For-Profit Education Again: Recruiters Caught Offering Bad Advice, Executives Collect $2 Billion Running U.S. For-Profit Colleges, Report: For-profit colleges cashing in on veterans, The For-Profit Education Cesspool, Blistering FRONTLINE Story on For-Profit Education Industry Features Chief Lobbyist Harris Miller, etc., etc. Also recall that last June, Harris Miller was fired as president and chief executive of the Association of Private Sector Colleges and Universities (APSCU), and was replaced by Brian Moran. Yes, the same Brian Moran who is also chair of the Democratic Party of Virginia. By day, he heads up a scam industry that rips off veterans and poor kids, engages in predatory recruiting practices, scams the taxpayer out of tens of billions of dollars (while rewarding its "university" presidents - not to mention the head of its chief lobbying organization - lavishly). As one of my Virginia progressive friends wrote:

DPVA, heal thyself! When our Chair and Mitt Romney have the same sleazy friends, something is very, very wrong.
As another wrote, "Not good news for Brian Moran when you (or your clients) are being touted by Romney and you are the Democratic chair..." I couldn't agree more. Unfortunately, most Virginia Democrats seem either oblivious or uncaring about this situation. What I fail to understand is why that's the case. Any ideas?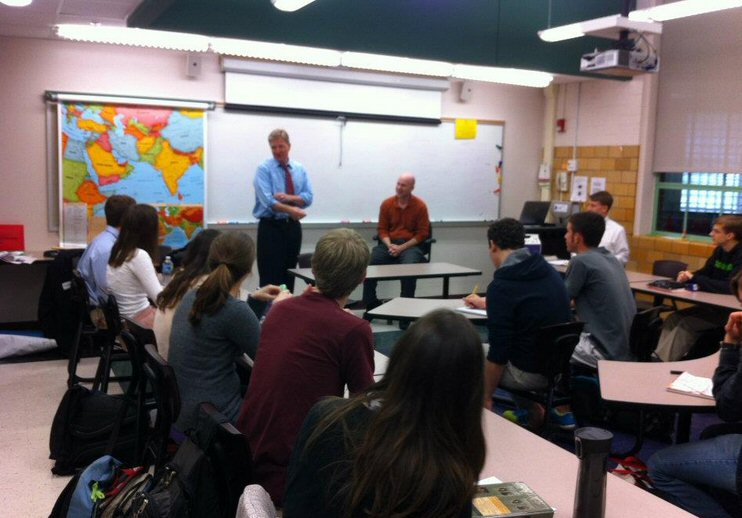 Oh wait, who am I kidding? I mean, it
says
"DPVA GOTV Tour 2011," but it's actually this:
*"Chairman Moran briefs Maggie Walker Governor's School AP Government class on the importance on the 2011 elections here in Virginia."
*"There were a lot of questions for Chairman Moran about all of our great candidates."
*"First rule: 'If you're going to be on TV wear a light blue shirt and a red tie.' -Chairman Moran"
No, this is not a joke. At least not an intentional or a good one. Seriously, with 1 1/2 weeks to go in an absolutely crucial election for Virginia Democrats and for the future of Virginia, DPVA Chair Brian Moran is busy working his butt off to elect Democrats GOTV'ing raising $1 million in one event like Terry McAuliffe's did yesterday speaking to a high school class (future for-profit "college" scam material?) about what to wear on TV, and all about our "great candidates." Yeah, I'm sure that will be a big help in "GOTV" on November 8. (snark/sarcasm) Priorities, priorities I guess. Ugh.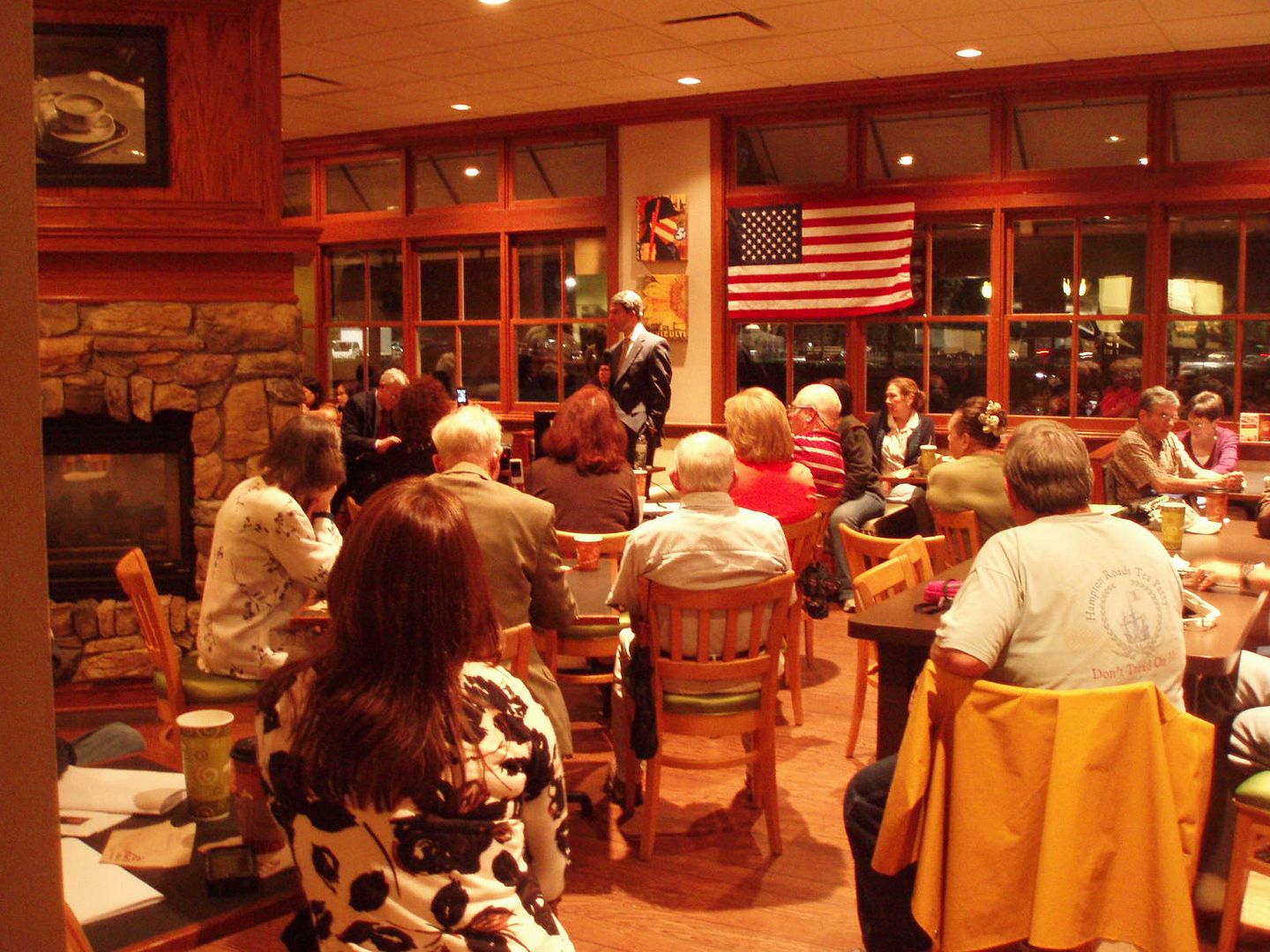 Virginia's reactionary activist Attorney General will continue his Tea Party outreach campaign in Kentucky with for-profit college scam denier and Republican candidate for Attorney General,
Todd P'Pool
. Traditionally AG's don't cross state lines to politic; traditionally DPVA Chairmen don't promote industries that prey on the unwary. A perplexing combination.
When P'Pool is campaigning, Kentuckians are "not asking him about culinary schools," - David Ray, P'Pool's campaign manager
During his dialogue with the Virginia Beach Taxpayer Alliance this weekend, Cuccinelli let it be known that he has his sights on Jack Conway, Kentucky's progressive Attorney General. Tradition be damned, Oklahoma's AG Scott Pruitt, making his mark fighting the EPA, following suit, has also scheduled travel to Kentucky in support of Republican P'Pool. Conway's aggressive criticism and prosecution of for-profit education's consumer practices has apparently motivated campaign finance violations by industry officials; an industry emboldened and enabled by Brian Moran's efforts. We probably won't be hearing much criticism from Moran of Cuccinelli's support for this candidate. Nor will we be hearing much support from Moran of Jack Conway. So maybe P'Pool's campaign can continue to make light of the situation:

When P'Pool is campaigning, Kentuckians are "not asking him about culinary schools," - David Ray, P'Pool's campaign manager DPVA Chairman Moran has proven that 90% of success is showing up; always the beneficiary of someone else's coattails. He knows it and so do his supporters. Projecting their own discomfort with criticism of his hypocrisy, they have labeled his detractors
limousine liberals
. The DPVA hierarchy is chronically delusional.
If Moran were to reveal his compensation from the grifters he represents, his loyal following might not wince. But he probably couldn't get away without a making campaign contribution or two to Democrats (not a one since 2009). It appears he is in good company in this inner party charade. But, Moran is the diametric opposite of, say:
Attorney General Jack Conway (D), who is leading a multi-state investigation into for-profit colleges with top prosecutors from 18 other states, alleged that Daymar Colleges violated state consumer protection laws by engaging in "unfair, false, misleading and deceptive acts and practices" involving financial aid and recruitment of students. The suit seeks damages and restitution for approximately 5,000 students who were allegedly swindled by the schools. - Huffington Post
Conway probably isn't fond of right-to-work laws either. Of course, taking principled, progressive stands in a liberal state is much easier...oh wait, we're talking about Kentucky here. The fact is that Moran and his DPVA are scared of their shadows and this puts the truly principled Democratic candidates in the state at great risk. No one has their backs.
Here's the message to the true limousine liberals: the shoe leather liberals, the ones who showed up on the streets and in the malls for Webb in 2006, the legislature in 2007, and Obama in 2008 are staying home this fall. The Virginia Senate majority is slipping away unnoticed publicly by anyone other than the Washington Times. Quietly and privately, the tents are folded awaiting the worthwhile fight of 2012.
...A DEMOCRATIC CHIEF EXECUTIVE IS TRYING TO HELP POOR KIDS FROM BEING RIPPED OFF BY THE SYSTEM; AND ONCE AGAIN, A TOP DEMOCRATIC OFFICIAL IS SUING TO STOP HIM!
by Paul Goldman (DPVA chair, 1990-1993)
What do the first African-American Governor and the first African-American President now have in common? Let me explain how it may look to strong backers of both men. I have seen this up close; perception is important in politics, particularly today when turnout is so important in close elections. Anyone who thinks this kind of perception can't grow is wrong, especially in today's climate, where the polls show huge cynicism about politics on all sides.
"They've decided that total war is the way to go" the Huffington Post reports, quoting a college association official on the lawsuit that Democratic Party Chair Brian Moran's lobbying organization has filed against the Obama Administration.
No, this isn't an SNL skit, but it will be part of a Republican press release at some point. We know the Virginia GOP is cheering him, since Republicans have attacked President Obama for the same thing.
Let's be clear what's at stake here: The President is trying to protect students, African-Americans, veterans, and single moms from being ripped off by practices the NAACP has said "ruin students' lives," as well as poor African-American communities. Brian Moran's clients disagree with this assessment.

The following letter was sent to Brian Moran on July 12, 2011, by former Director of Nursing Betty G. Kenley and her husband, Dr. James B. Kenley. The letter references
this Richmond Times-Dispatch story
, in which DPVA chair/for-profit "college" industry head Brian Moran claims: that public schools are heavily subsidized, while a for-profit school "pays taxes" (putting for-profits at an unfair advantage, apparently); that students at public schools are more interested in "various and sundry other activities" than specifically in getting an education; and that for-profits are at a disadvantage because they don't have "'wonderful sports teams like Virginia Tech and U.Va.' to attract students." Yes, this guy really is the head of the Democratic Party of Virginia. Hey, don't blame me, I didn't support him! Anyway, with that, enjoy the letter (bolding added by me for emphasis).
The Honorable Brian J. Moran
Chair, Democratic Party of Virginia

Dear Mr. Moran

It is embarrassing to us that our Chairman of the Democratic Party of Virginia appears so ill informed about a serious problem and supports the continuation of some schools that do not meet minimum Virginia nursing standards. "Schools Are Under Scrutiny" in the Richmond Times Dispatch on Sunday, June 26, 2011 is the article we reference.

You spoke as a Democratic Leader. From the article it sounds like most members of the Democratic Party support this view. We caution you in this assumption. Many nurses are democrats and care about the quality of their profession. We believe you may have implied that the Democratic Party supports nursing schools who repeatedly fail to meet the state regulations. Is this a democratic value?

We found your remarks appalling. State colleges do not make profits and therefore can charge less. Furthermore, the University of Virginia receives 6.3% of its budget from the state general fund and most people would not consider that the university is "heavily subsidized" as you stated.

Your remarks centered on cost and we would urge you to become more knowledgeable of the educational programs. Your lack of knowledge about nursing was evident. Value is a function of quality and cost. We have attended the Board of Nursing hearings, which are open to the public, regarding some of these nursing schools. It is shocking. Many lack stable faculty, in addition some lack equipment and supplies. The percentage of graduates passing the licensing exam is low and unacceptable since the minimum standard is 80%. Would you choose these graduates to care for you or your family? As consumers of health care we are concerned about the quality of our graduate nurses in Virginia and hope that you would be too.

We urge you to spend a day at one of these hearings and experience the dedication of these nurses in maintaining standards that were established in order to protect the public.

Sincerely,

Betty G. Kenley, MSN - Director of Nursing, Retired

James B Kenley, MD MPH
P.S. As a Virginia Democratic friend of mine put it, this letter and the comments by Brian Moran in the Richmond Times-Dispatch article "prove that it is untenable for Brian Moran to hold these two jobs simultaneously, and he needs to resign from one or the other immediately." In addition, "By speaking out in this way in Richmond's leading newspaper, he is engaging in what amounts to lobbying the many members of the RTD audience who are part of the Virginia government, thereby violating the spirit if not the letter of the Virginia law that says that the head of a Virginia political party cannot be a lobbyist." It wasn't the centerpiece of the evening, but it might signal that the DPVA intends to conduct outreach. Moran declared the need for a grassroots effort and development of a message that effectively advocates Democratic values and positions. There will be a July Summit to craft that message.
The fete at Crocs in Virginia Beach Sunday evening was billed as the first in a series of DPVA gatherings across the state that are intended to provide casual and affordable venues on a more regular basis than the annual banquets. Senator Mark Warner headlined the evening and was joined by a number of local electeds and a full house of Hampton Roads Democrats.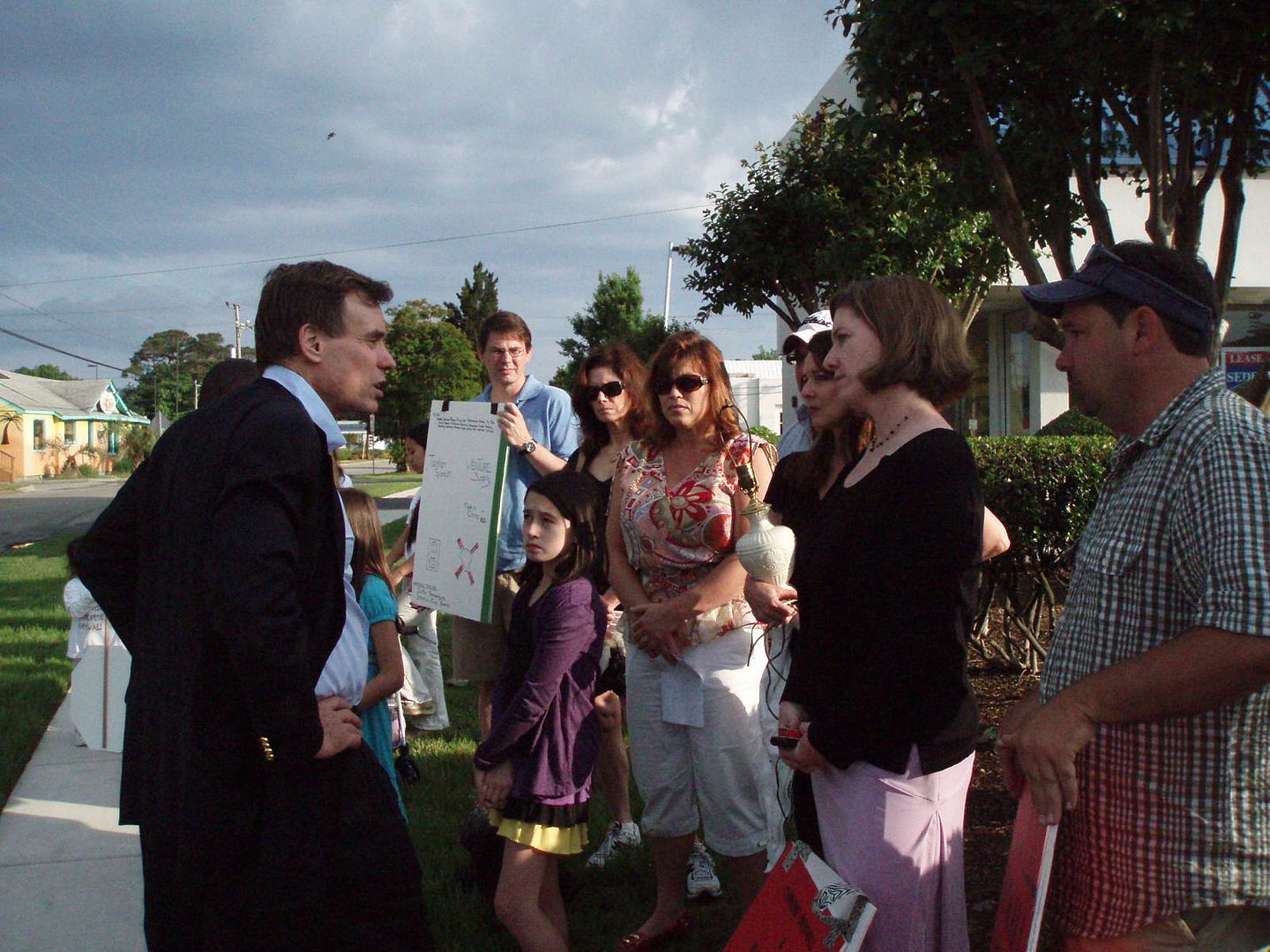 A group of families frustrated with efforts to resolve the plight of homeowners who have been made homeless by Chinese drywall contamination came to make their case outside a DPVA gathering in Virginia Beach yesterday. Senator Warner held up the event 45 minutes, stopping to hear them out first.
The group was approached by Brian Moran, DPVA Chairman, prior to the Senator's arrival as they quietly assembled across the street from Croc's 19th Street Bistro. Both Moran and Senator Warner got an earful from homeowners whose lives have been sent spiraling into chaos as they have spent years seeking relief from the effects of the contaminated construction materials.
They appealed to the Senator for some form of relief from the damage to their lives, allowed to fester by unresponsive state and federal governments. Many of them have had to abandon their homes because of the damage to their families' health. So far there has been no recourse. The properties, some with mortgages in the hundreds of thousands of dollars, are worthless. Contractors have avoided responsibility by reorganizing their businesses then continuing to operate. Insurance companies have side-stepped claims. Some of the families have held on, paying two mortgages, hoping to salvage their credit and financial futures. Some have given up on being made whole, but simply ask for forbearance on their credit ratings if they allow the properties to be taken back by financial institutions that hold the mortgages. Busy investigating college professors at traditional colleges, Ken Cuccinelli is absent from the honor roll of Attorneys General out to put a halt to one of the largest fraud schemes in American history. Bilking the federal government and students out of billions of dollars doesn't appear on his radar screen.
The probe, led by Kentucky Attorney General Jack Conway (D) is focused on bringing attention to potential violations of consumer protection laws by for-profit "colleges". This may finally bring the sort of well-deserved scrutiny to the abuse of federal student-aid and loan programs perpetrated by an industry that is little more than an educational front for a money laundering charade.
"A lot of people who are in Washington right now want to run around talking about fiscal responsibility. Well, making certain that $25 billion in federal education dollars doled out is being spend in a way that appropriately trains people and prepares them for job opportunities that are out there ... That, to me, is a fiscal responsibility issue." - Attorney General Conway to the Huffington Post