Home
Tags
Renewable energy
Tag: renewable energy
by Lowell Here are a few national and Virginia news headlines, political and otherwise, for Friday, September 6. Renewable Energy's Booming, But Still Falling Far...
by Ivy Main, cross posted from Power for the People VA More than one in six Virginia residents gets electricity from a rural electric cooperative...
by Kindler I expect Republicans to lie to me, but not Democrats. That's why I was taken aback by the recent mailer from my Senator,...
by Ivy Main, cross posted from Power for the People VA Three Senate Republicans and one Democrat met on Thursday to consider the fate of...
Previously published in DailyKos Although Dave Brat says he favors energy independence, he cosponsored HR 1901, the PTC Elimination Act. According to the Congressional Research... Del. Sam Rasoul (D-Roanoke City), who was elected to fill the vacated seat of former Del. Onzlee Ware, authored a bill, HB 1297, to give localities the option to lower local taxes on machinery and tools for businesses producing or generating renewable energy or making equipment that will produce energy from renewable sources. The bill has passed both the House of Delegates and the State Senate and is being sent to Gov. McAuliffe for his signature.
"Every single Virginian benefits from a better environment and more energy independence," Rasoul told the Roanoke Free Press. "We must look at the big picture and do what's right for the environment and for future generations. Continuing to invest primarily in fossil fuels is both untenable and harmful to the planet, so we've got to start shifting our focus to clean and renewable forms of energy."
The bill was supported by the League of Conservation Voters and the Virginia Sierra Club and gives municipalities the option to lower the machinery and tools tax rate for businesses such as solar, wind, and other renewable energy sources.
Voting against lowering business tax rates to attract companies of the future were: Senate: Black, Chafin, Garrett, Martin, McWaters, Obenshain, Reeves, Smith, Stanley, Stuart. House: Adams, Bell, Richard P., Bell, Robert B., Berg, Cline, Gilbert, Landes, Morris, Peace, Poindexter, Webert. And I thought all GOPers never missed a chance to lower a business tax!
Sam Rasoul is a new breed of representative in Richmond, and I hope he is joined by more like him after November. He stays in touch with his constituents, he is always approachable, and he looks to the future, not the past. A solar array that would have more than doubled Virginia's solar power will not be built after all, with the developer blaming Dominion Virginia Power and other utilities for their lack of interest in buying the output.
The Winchester Star reports that the 20-megawatt array-100,000 solar panels, capable of powering 20,000 homes-had been planned for 145 acres of agricultural land in Clarke County. A spokesman for the developer, OCI Solar Power, said the company allowed its land option to lapse "due to the lack of long-term solar procurement efforts by Dominion and other VA utilities."
This shouldn't surprise anyone. Virginia has done little to encourage our utilities to buy solar power, and so for the most part they haven't. The state's voluntary renewable energy goal is a sorry dishrag of a law. It can be-and is-met with old, out-of-state hydro plants, trash burning, and wood. And because our utilities have a state-sanctioned monopoly on power sales, customers who want solar power can't go buy it from someone else.
But if it isn't surprising for Virginia to lose a big solar opportunity due to utility intransigence, it is stupid. Virginia consumers would love to buy solar energy, local governments would love to have solar farms generating tax revenue, and local businesses would love to create solar jobs. A win-win-win opportunity is being wasted, at a time when lawmakers complain about how hard it is to reduce our carbon emissions.
Even Dominion says it wants utility-scale solar (eventually), but it wants to build its own so it can earn the fat return on equity guaranteed to it by Virginia law. (If the utility buys power from someone else, it can pass along the cost to customers, but it doesn't earn a profit.)
Last year the General Assembly overwhelmingly passed a bill to support solar development, and then failed to fund it. Governor McAuliffe's energy plan talks a good game on solar, but it's toothless. We will continue to miss out on opportunities like this one until we have a law that requires Virginia utilities to buy solar, or lets consumers contract for it directly from any willing seller.
Or better yet, both. Delays and cost overruns plague the utility's program to develop large rooftop solar projects. Its other solar programs aren't doing so hot either. Meanwhile, the private market for solar is stronger than ever.
At a stakeholder meeting in Chesterfield, Virginia, on Monday, Dominion Virginia Power revealed that it expects to have installed a total of 6 megawatts (MW) of distributed solar generation by year's end, out of the 30 MW approved by the General Assembly. But the program, which Dominion calls its Solar Partnership Program, may achieve only a total of "thirteen or fourteen megawatts" before it exhausts the $80 million that the State Corporation Commission authorized the company to spend on it.
Dominion had originally requested $110 million for the program, under which it develops large solar facilities on rooftops it leases from commercial, industrial or institutional customers in selected areas. But many solar industry members and advocates, including yours truly, argued that it should be possible to install 30 MW of solar for much less. It turns out that we were right that the private sector could do it for less, but wrong in thinking Dominion could.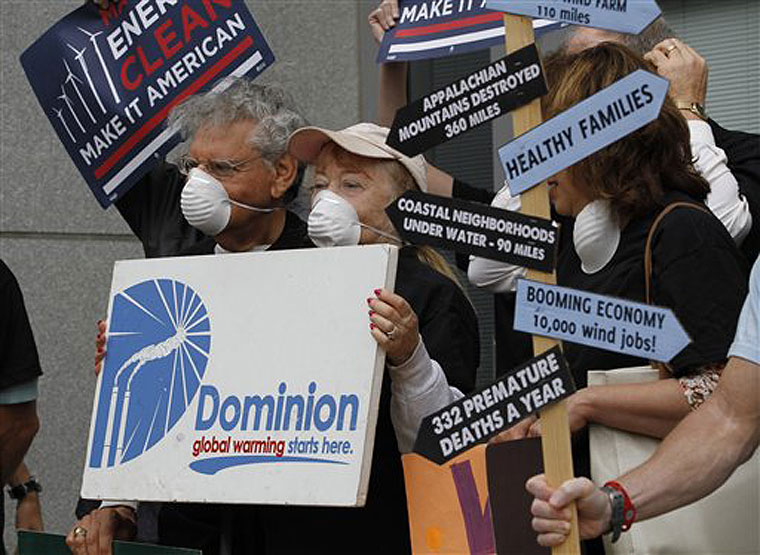 While wind power continues to grow across the country, the winds of hypocrisy have blanketed the Commonwealth of Virginia in the form of Dominion Virginia Power. While Virginia's energy Goliath leased close to 113,000 acres of the Atlantic Ocean off Virginia Beach to supposedly construct an offshore wind farm, "their statements and company documents showed they have no intention of building anything larger than a small, two-turbine offshore test project unless the costs come down." Did I also mention that Dominion Virginia Power's executives are liars?
On the one hand, it's impressive that Dominion Virginia Power would go to such great lengths to deceive the people of Virginia into believing that it was serious about Virginia's future. During a six-round auction held by the Department of the Interior, Dominion managed to outbid Apex Virginia Offshore Wind with a $1.6 million winning bid to build wind turbines 27 miles off of Virginia's coast. As it turns out, Dominion's investment in Virginia's energy future was nothing more than an investment in protecting Dominion's virtual monopoly on large-scale renewable energy efforts off Virginia's coast.
By staving off serious competitors from actually following through on building large scale wind farms, Dominion Virginia Power has fortified its comfortable place as Virginia's fossil fuel distribution king. That is, a push towards renewable forms of energy like wind power would disrupt Dominion's current business model and potentially reduce its profits in the short run. National Geographic News recently posed a somewhat puzzling question: Is Canadian crude oil (also known as tar sands oil) worse than other types of crude? The question was posed in the wake of the disastrous and all-too-predictable ExxonMobil oil spill "across an Arkansas suburb" a week ago. National Geographic's question is puzzling because it really misses the point of what many Americans truly wish for: a move away from fossil fuel energy.
As I hinted at above, Exxon's pipeline rupture and subsequent massive oil spill hardly comes as a surprise for those of us in the land of reason. For instance, it's reasonable to assume that if the flow rate of a pipeline, say the existing Keystone pipeline, is 410 barrels a minute across a series of pipes hundreds or thousands of miles long, an accident is bound to happen, and that "accident" will dump over 6,000 gallons of crude IF TransCanada is accurate in their 15 minute-flow cut off time (a big IF!). If this flow cut off time is higher, say by 5 minutes, an extra 2,000 barrels of oil will be spilled, adding an even bigger insult to an already preventable injury.