Home
Tags
Arlington County
Tag: Arlington County
Hi. I'm a Democrat. I vote for Democrats, and I work to elect and re-elect Democrats. Maybe that sounds tribal, but it's not. I...
See below for tonight's Arlington County Democratic Committee (ACDC) County Board forum with the two Democratic primary candidates, Matt de Ferranti and Chanda Choun. ...
James Lander Opening Statement Maura McMahon Opening Statement Question on Arlington Schools and Trump Immigration Policy Question on Arlington Schools Achievement Gap Question on Arlington Schools Budget Question on...
A lot of us have been wondering and speculating about whether or not Arlington County Board Chair might run for reelection this year- or...
The following unhinged tirade, by former/longtime Loudoun County Board of Supervisors member Eugene Delgaudio (far-far-right "R"), follows Arlington School Board member Barbara Kanninen's appearance... U.S. Immigration and Customs Enforcement (ICE) is an unreliable partner that crafted an unauthorized and unfunded detention mandate woven from the whole cloth of anti-immigrant bias to the detriment of local communities. It is time to focus on what local communities do well and wash local hands of this mess.
Joseph Montano attempted to clear up the confusion about responsibilities of state and local jurisdictions and the liabilities associated with ICE detainers yesterday, addressing the Central Virginia Regional Meeting of the Virginia Coalition for Immigrant Rights in Charlottesville. Cooperation with ICE has the unintended consequence of eroding public safety while redirecting funding from other public functions.
ICE detainers are requests to local law enforcement to hold the person in the request for up to 48 hours. Discretion to enforce those requests rests with local law enforcement. There is no legal requirement to comply with them. But there has been a complete disconnect between federal and local officials.
This morning I was looking up local websites and on the Arlington County website I was looking at their frequently asked questions with detainers. ... on their website there's a question "Can Arlington elect not to honor and immigration detainer issued by ICE?" And the answer to that said "No. All state and local officials are required by federal law to honor ICE detainers." - Joe Montano; Virginia ACLU
ICE detention requests do not provide a basis for retention on their own. They are often issued by a lone ICE officer without due process, without review, and without a judicial warrant. Their sole purpose is to investigate whether a person has committed a civil immigration offense. Detaining a person after they're eligible for release without probable cause is a violation of the 4th Amendment. Further, responding to these requests is fairly expansive. By responding to these requests, local law enforcement is acting as a proxy for federal enforcement without reimbursement for the period until ICE assumes actual custody. Not only does the local jurisdiction assume the burden of that cost, it also assumes liability for potential damages from lawsuits over wrongful imprisonment.
Arlington is gearing up for a special election to replace Senator-elect Barbara Favola on the County Board, with the caucus dates now set for 2/2 and 2/4 (at the NRECA Building and Kenmore Middle School, respectively), and with numerous candidates announcing at this past Wednesday's ACDC meeting (see videos of their speeches here). I recently sent out questionnaires to all the announced Democratic candidates, with a deadline of this morning. The first interview, with Arlington NAACP President Elmer Lowe, is available here. The second interview, which you can read below, is with community activist Melissa Bondi. The rest will follow in coming days as soon as possible. Thanks to Mr. Lowe and Ms. Bondi for returning their Blue Virginia surveys (on time is an added bonus! :)), and to the other candidates in advance for their responses as well.
1) Why are you running for Arlington County Board and what makes you the most qualified candidate at this time?
I want to serve on the County Board to engage our community in resolving major questions about Arlington's future.
I love Arlington. As a County Board Member, I would bring my experience as a neighborhood leader, my professional policy expertise, my collaborative style and a ten-year track record of resolving challenges in my own neighborhood and across Arlington. I believe I am the only candidate who would bring all these assets to the County Board.
Arlington's prime location next to our nation's capital and its visionary planning around Metro in the 1960s and 1970s has led to enormous success. However, these factors alone will not carry us through the next 50 years. We need a community conversation to update our vision. I want our community to consider life beyond the Metro corridors, and to consider the next generation of our economic, social and environmental sustainability. I've seen repeatedly that some of our best ideas come from the public -- I will work to ensure they have adequate resources to broaden community conversations and to forge tailored solutions that fit our neighborhoods and shared goals.
As a County Board Member, I would also lead new efforts to preserve and pursue additional committed affordable housing, and to ensure our outstanding schools, parks and other capital investments, our triple-AAA bond rating and excellent transportation choices and systems. I would stand up for equality and further pursue equitable, social justice no matter one's age, income, race, ethnicity, physical ability or orientation. I would work with all of the Arlington community to continue to achieve success while maintaining our values and welcoming new ideas.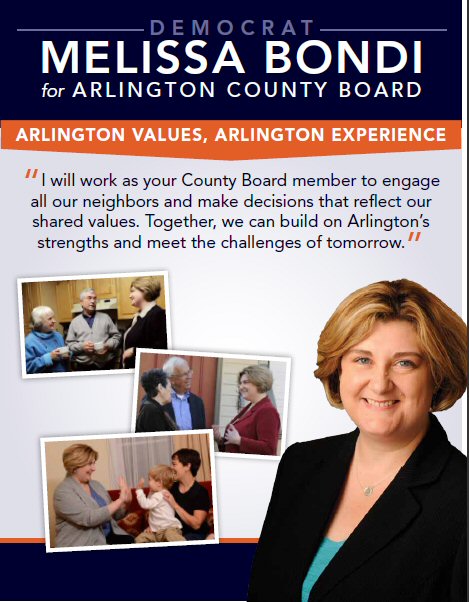 It looks like the Arlington County Board race for Senator-elect Barbara Favola's seat is off and running. This coming Wednesday, the 5? 6? announced Democratic candidates will be speaking at the Arlington County Democratic Committee meeting, and today I received my first mailer of the campaign -- from
Melissa Bondi
-- which you can see here and on the "flip." Other candidates include
Terron Sims
,
Kim Klingler
,
Libby Garvey
,
Peter Fallon
, and possibly
Elmer Lowe
(not sure if he's running as a Democrat, or at all for that matter) and
H.K. Park
.
The first step in choosing a replacement for Barbara Favola is for Democrats to choose their nominee, in a two-day "firehouse primary" process in early February 2012 (I'm hearing that one of the locations will be in Ballston -- NRECA Building, the other in South Arlington -- Kenmore Middle School). Presumably, Republicans, Greens, etc. will select nominees as well. Then, there will be a special election, probably in mid-April 2012, to fill Favola's seat. Clearly, Democrats are a huge majority in Arlington, and thus the Democratic nominee will be the overwhelming favorite to win in April. What really strikes me is that the expected turnout for the Democratic nomination contest is in the 5,000 range, with the "win number" somewhere around 1,500-2,000. In other words, out of a population of 200,000, just 2.5% will select the nominee, and only 1% or so will probably have voted for that person in the nominating process. I don't know about you, but somehow that doesn't seem acceptable to me. The question is, how do we get the other 97.5% of Arlingtonians interested in this race? It's kind of baffling to me that they wouldn't be, but there it is. Any ideas?
P.S. I'm glad to see that Melissa Bondi's campaign mailer is printed on recycled paper, with soy ink, using wind power and union labor. I certainly would hope the other candidates would do the same!
Yet another candidate, self-described "health care advocate, first responder, community volunteer, and political activist"
Kim Klingler
, throws her hat in the ring for the Arlington County Board seat being vacated by Barbara Favola, who is moving on to the State Senate in January 2012. The field's certainly getting crowded, with
Libby Garvey's announcement yesterday
, and with
last week's announcements
by
Melissa Bondi
and
Terron Sims
.
In addition, Arlington Planning Commission member Peter Fallon; NAACP Arlington Chapter President Elmer Lowe; and who knows who else -- appear to be running as well. The caucus is scheduled for the first week of February, with candidates announcing at the next Arlington County Democratic Committee meeting in early December. This should certainly be interesting to watch; I'll be looking at the criteria listed here in making my own, personal decision of who to support. How about you? What qualities are you looking for in your next Arlington County Board member?
UPDATE: I've now had a chance to thoroughly review her website, and to watch her video all the way through. My findings? The website's basically a disaster, filled with grammatical errors, really bad prose, broken links, bizarre stock photos that have nothing to do with the subject matter, no substance whatsoever, simply not ready for prime time. What's weird is that the candidates here all had many months to prepare, as it was generally assumed that Barbara Favola would win her election and that there would be a vacancy on the Arlington County Board. Why put up a website that looks like it's been (barely) slapped together in a few hours? As for the video, I just can't get past the weird hand gestures, totally disconnected from the content of what is being said. Finally, no endorsements whatsoever, grassroots or otherwise? Hmmm. All in all, this just isn't a serious campaign launch. Cross one candidate off my list.
For once, I've got to agree with
Scott McCaffrey of the Arlington Sun-Gazette
:
I need to do a little more digging on Friday's bombshell announcement that Arlington County Manager Michael Brown was out, and Barbara Donnellan was in as his successor.

[...]

...the County Board is going to have to explain why it (a) publicly said this was a completely voluntary departure by their so-new-he-was-still-learning-where-the-men's-room-is manager and (b) why, in the midst of a budget crisis, they tossed $110,000 his way for a "voluntary" departure. Those two facts do not jibe.
I've been trying to find out more information on this since Friday, and have basically gotten nowhere. It seems, for whatever reason, that the Arlington County Board doesn't want to discuss what happened here. Instead, they've appeared defensive and unwilling to share information. That, of course, is only going to make people
more
curious and
more
suspicious.
With that, here are a few thoughts and questions I've gathered from talking to (a few) people over the weekend.