 Meet "Independent" (err Republican) Brandon Bell of Roanoke (photo adjacent). He's running against another Republican, Ralph Smith. By 2011 "standards," Bell is now called a "moderate." It wasn't so long ago he wasn't. He really is a pragmatic conservative, who once in a great while votes with Dems.
While we have bonafide Democrats running for office in other districts right now, this week Sen. Dick Saslaw (D) gave Brandon Bell $202,500. With all the resulting hell Ralph Smith is raising (calling Bell a "liberal"), and using Saslaw's donation as "proof," Saslaw probably assured a Smith win. However, even if Bell wins, he has publicly stated he will not caucus with Dems. What's up with Saslaw then? While State Senate Democrats smugly accepted the outcome of Virginia redistricting as victory, they may have set the stage for Obama's defeat by leaving defense of their majority to Dick Saslaw and the DPVA. Republicans are focused on this vulnerability. Two seats and the door to voter suppression opens wide.
The new Texas law, advanced and signed by Gov. Rick Perry, provides a clear giveaway on intent. A voter doesn't even have to show his driver's license or passport -- he can qualify just by producing his license to carry a concealed handgun. Yet note what's not eligible now in Texas: any form of student identification (heaven forbid ballot-casting by young people with all their inexperience!). - Neal Peirce
In a piece published yesterday in the
Richmond Times Dispatch
but in reality a product of the Washington Post Writers Group,
Neal Peirce
discusses what is the clear implication of a Republican majority in the coming Virginia Senate. You see, those of us raised in the old South recognize the tricks. A fresh coat of paint doesn't fool us (not even the one on the rock at that Texas hunting club). However, voter suppression is a newly honed craft.
I've gotta agree with Virginia State Senate Democratic Majority Leader Dick Saslaw on
this point
.
Democrats, behind in recruiting and fundraising, think the conservative crop of Republican candidates selected last month to run in November gives them the edge they need to hold on to their thin majority in the Senate.

"A lot of them are nut jobs,'' Senate Majority Leader Richard L. Saslaw (D-Fairfax) said. "They've nominated a group that makes the governor of Texas look sane."
A few examples cited in the article demonstrate why Dick Saslaw is 100% correct in his comments.
1. "Adam Light, a Republican running for state Senate in southwest Virginia, has advocated ending Social Security and Medicare." (What percentage of Americans agree with Light that we should ditch Social Security and Medicare? Let's just say, this guy's on the fringes...)
2. "Former Del. Jeffrey M. Frederick, a GOP candidate in Northern Virginia, said Darwin's theory of evolution 'was used by atheists to explain away the belief in God.'" (Don't believe in evolution; yeah, you're a nut job.)
3. "Dick Black, running in Loudoun and Prince William counties, was criticized by leaders of his own party in 2003, when as a delegate he sent fellow lawmakers pink plastic models of fetuses as they prepared to vote on an abortion bill." ('Nuff said on that one - Black's completely bonkers in just about every way, obsessed with sex in general and homosexuality in particular, he should be in a shrink's office getting therapy, not running for public office). SB 1367
, a bill introduced by Dick Saslaw (D-Fairfax), passed the Senate by an overwhelming vote and now has also passed the House of Delegates, where the vote was very close because a bipartisan group of delegates opposed it. This bill, on its way to Bob McDonnell and sure to become law, allows car title companies operating in Virginia to lend to non-residents, effectively overturning laws in Maryland and Washington DC that limit rates that can be charged by the companies which give people loans with exorbitant interest rates if they put the title to their car up as collateral. Neighboring states have effectively driven these leeches out of their jurisdictions by limiting the interest they can gouge from people down on their luck. Dick Saslaw's bill welcomes them to set up shop in the Old Dominion on our borders and take advantage of people from other jurisdictions.
So, how did car title companies - hardly able to hold themselves up as model lending agencies deserving of legislative support - hit this legal home run in Virginia? Well, they spread around more than $1 million in campaign contributions since 2004. Just last year, Dick Saslaw got $36,750 from check lending and car title companies, according to the Virginia Public Access Project.
On the other hand, Mamie Locke, who introduced a bill to limit the interest car loan purveyors could charge, saw her proposal die in committee, not even given the dignity of a vote on the Senate floor. Locke, by the way, got nary a penny from the car loan pimps.
This is a perfect example of what I consider to be the single biggest threat to representative government in the United States. It's not the angry Tea Party screamers or mindless little Sarah "I'm So Pretty" Palin. No, it's the combination of the recent Citizens United Supreme Court decision, coupled with our campaign contribution "system" that almost guarantees a politician will have to prostitute himself or herself in order to raise the money needed for a political run. Let me say up front that I believe that Peter Rousselot would be the best choice the DPVA could make for chair. Hands down. My opinion isn't based on a dislike of any other candidate for the job, however. It's simply because I think Rousselot would bring to Richmond a badly needed new political perspective and a determination to build the party.
Below are a few comments reacting to his press release on the future of the DPVA, based on feedback he has received from Central Committee members and local party chairs.
"DPVA has got to help local committees recruit and field candidates in elections that are not targeted by the Senate and House caucus leadership." - Amen! I'll use the open seat created by Morgan Griffith's victory in the 9th District congressional race against Rick Boucher as an example. The retiring chair of the DPVA, Dick Cranwell, is from Vinton, a town in Roanoke County. That county happens to comprise over half of Griffith's House of Delegates district. To date, I have not seen any DPVA assistance being given to the local chairs in Roanoke County or Salem to assist in candidate recruitment. Why not?
As if that's not bad enough, we had the majority leader of the State Senate, Dick Saslaw (D-Fairfax), telling the press that the party wouldn't "waste our money" in fielding a candidate for Robert Hurt's senate seat, left vacant by Hurt's defeat of Tom Perriello. Not only do we have a candidate, but a strong one, no thanks to Saslaw. He's Henry Davis, chair of the Pittsylvania County Board of Supervisors. If Peter Rousselot becomes chair of the DPVA, we might actually get some state party assistance for Davis.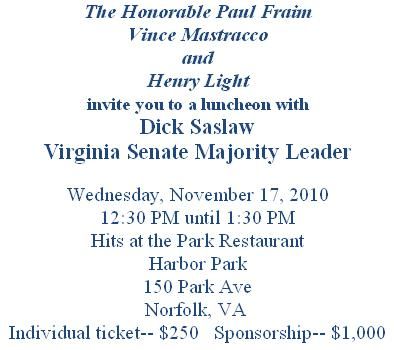 Two weeks ago, invitations to a luncheon with Senator Saslaw arrived in the mail. The Moran chairmanship balloon had been floated and because the return addressee on the envelope was a Mark Warner provocateur, the invitation was placed on the not likely pile. Today's E-mail reminder secured a "no way:"
In last week's elections, a Republican wave swept the country, hitting Virginia particularly hard. With state Senate elections approaching next year, we must ensure that wave stops now.

Senate Majority Leader Dick Saslaw will be in your area next week for a luncheon in support of our efforts and we hope you will attend. It will be held Wednesday, November 17th, 12:30 PM at Hits at the Park Restaurant.

The money we raise at this event will help us fund campaigns and recruit mainstream candidates who will focus on solving problems that Virginians face every day.

PS- If you cannot attend, you can help us by contributing online. Every contribution helps us in our fight to keep Virginia from becoming a one-party Republican-dominated state. Thank you.
The original mailer came from Henry Light, a fellow Senator Warner put up to primarying a safe Democratic seat because Warner held a grudge against Delegate Johnny S. Joannou (D-79th). Joannou had the temerity to oppose a Warner position. That's how we "fight to keep Virginia from becoming a one-party Republican-dominated state." Maybe Joannou isn't "mainstream" enough; whatever that means.
Over on Twitter,
NotAndySere
is having a field day - and for good reason - skewering State Senate Majority Leader Dick Saslaw (D-35th) for not wanting to
"waste our money"
by putting up a candidate for Sen. Robert Hurt's Senate seat, soon to be vacant as Hurt heads to Washington (unfortunately). I'll let NotAndySere take it from there.
#VADemocrats meltdown continues! http://bit.ly/bYgHs4 Dems won't contest @RobertHurt's State Senate Seat . . . continued
Saslaw compares Dem running in special in Southside to GOP running in Alexandria. Did he miss this special election? http://bit.ly/dybNyn
("this special election" refers to Democrat Charniele Herring winning in deep-blue Alexandria in January 2009 by just 16 votes out of 2,672 cast)
@NotLarrySabato You've got to love Saslaw's quote saying you wouldn't see GOP running in special in Alexandria after 2009 debacle.
@notlarrysabato http://bit.ly/bYgHs4 "If this were a vacant seat in Alexandria, you wouldn't see a Republican." 2009: http://bit.ly/dybNyn
Bottom line: you can't win if you don't play, and Dick Saslaw says we ain't playin'. Greaaaaat.
As
Ryan Nobles reports
, Tim Kaine is getting "blow-back...in his direction" following "the release of a scathing audit on the Virginia Department of Transportation," which found that "[m]ore than $1 billion in state transportation funds were left on the table, while traffic remained bottled up, rest stops were closed and pot holes not filled." According to Bob McDonnell, not specifically mentioning his predecessor in the governor's mansion, Tim Kaine, "There was a bad set of management decisions made to be able to keep money in the bank that should've been spent."
Tim Kaine's response is as follows (bolding added by me for emphasis):

"Typically when an audit is released with such anticipation, it's because of a discovery that taxpayer dollars are missing. In the case of today's audit - thanks to tight-fisted project management and sharp reduction in overhead during the toughest economic downturn in a generation - what's clear is VDOT has cash in the bank to pay for the projects in the Six Year Plan as they are built. That's good news.

"VDOT reforms enacted by the General Assembly were meant to yield exactly these results - and as intended the available cash has been budgeted to a maintenance or construction project. In 2002, there were $687 million in project deficits and about 10,500 VDOT employees. Today, there is a substantial cash balance and fewer than 7,000 VDOT employees.

"When the McDonnell Administration went to market this past May to sell transportation bonds, they bragged about the smart fiscal management at VDOT. The nation's top bonding agencies studied the agency's performance and agreed, rating the VDOT bonds a strong AA credit. The McDonnell Administration's own Six Year Plan includes sizable cash reserves as a smart strategy for reserving funds for future projects.

"Ultimately the fact that there is money to spend on transportation needs is welcome news for Virginians and for the Commonwealth."
Senate Majority Leader Dick Saslaw (D) also weighed in, defending Kaine and also explaining the situation. I think Saslaw's statement makes a lot of sense.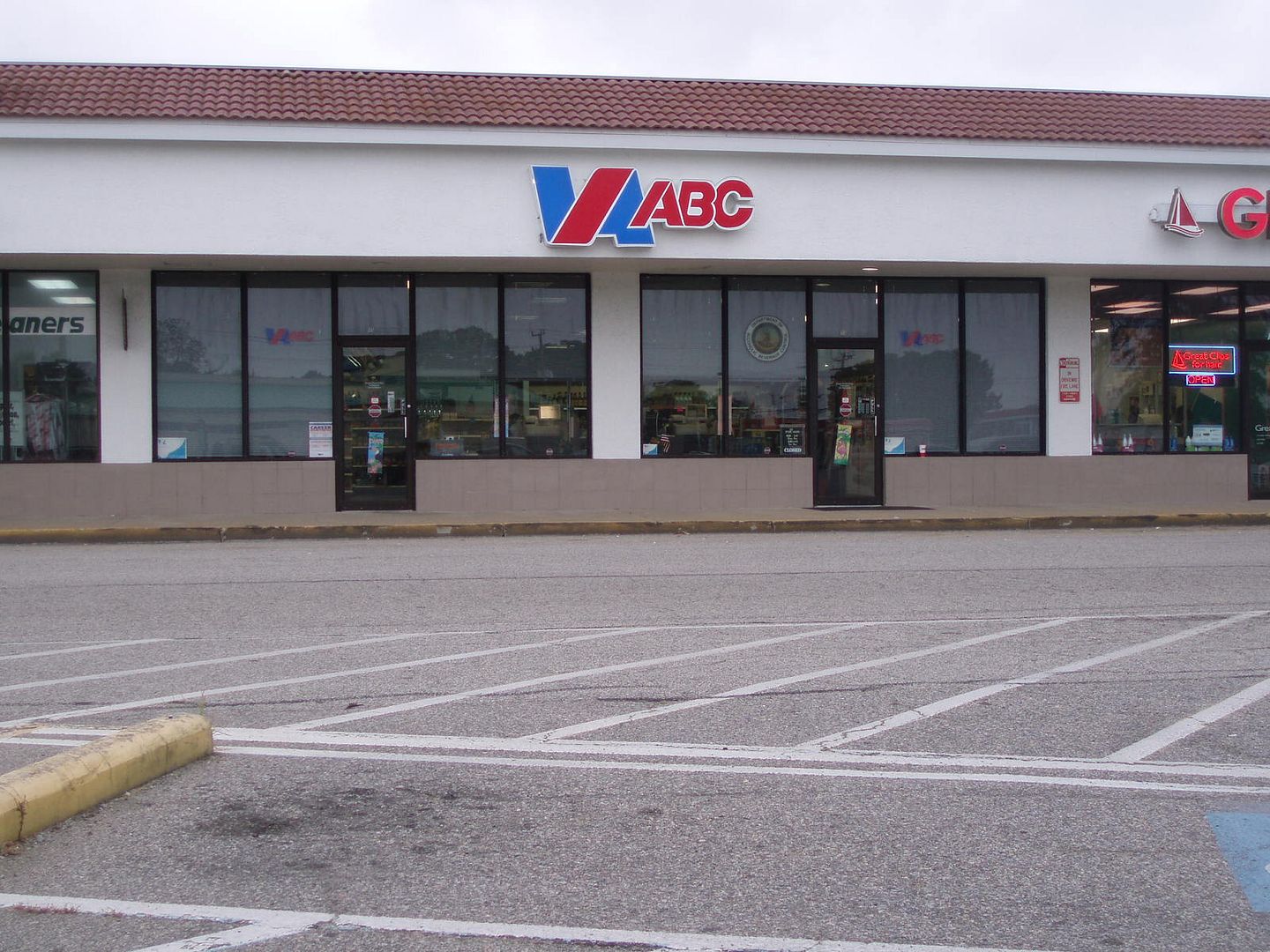 Bob McDonnell proves daily he's hornswoggled by the "free market." Let me help. What the
ABC Privitization Coalition
wants is abolishment of the liquor distribution restrictions, not the stores. That diminishes the value of the state stores to the storefronts themselves. If everyone sells liquor, the stores are virtually worthless.
"Right now, it's totally dead in the Senate. We're not going to give up $100 to $200 million a year for a one time shot at $150 million. We'd have to be some kind of idiots to do that." - Senator Dick Saslaw (D-35th)
Saslaw's estimated value is $350 million less than the Governor's sale advocates' and must now be further discounted with the creation of the coalition. This effort looks like support for the Governor's idea and on the face it is. But it also is a veiled attempt to change the retail liquor landscape in a way that diminishes the value of the monopoly to almost nothing. Look at the reported members of the coalition: Wal-Mart, Costco, Kroger, Safeway and Food Lion. Think they are looking to help someone else grab the monopoly? Or that they need those storefronts at an average of $1 million each?
"For 70 years, we've distributed beer and wine in every 7-Eleven, every Food Lion. But we've controlled the distribution of spirits. From a free market stand point, it doesn't make sense to continue to control only one part of the distribution." - Governor McDonnell
Moving beyond the fact there were neither 7-Elevens nor Food Lions 70 years ago, is the Governor suggesting, then, that controlling all of the distribution makes sense? And if we are going to license everyone, who needs to buy the stores? Babbling Bob Purkey, meet babbling Bob McDonnell. This state has a surplus, but it's not a budget surplus. It's a free market hoax surplus. And either it has the Governor bamboozled or he's playing us.
The quote of the day goes to Senate Majority Leader Dick Saslaw (D-Fairfax).
Check this out.
"We've had four snowstorms and $4 billion in budget cuts," McDonnell told a small group of legislators who had been dispatched to his ceremonial quarters on the third floor of the state Capitol to inform him that the assembly was ready to adjourn. Senate Majority Leader Richard L. Saslaw, D-Fairfax, replied, "You didn't have pestilence and fire."
Maybe not, but with
this horrible budget
, we may
feel
like we've been through "pestilence and fire" here in Virginia before long. Ugh.