What Shapes Our World: II. The Reign of Power (Second in a three part series on "What Shapes Our World." The first was on...
Check out the following, thought-provoking public Facebook post by Sean Perryman (Fairfax County Democratic Committee Recording Secretary; Fairfax NAACP First Vice President), which I...
Understanding Evil The effort to understand evil has a long history in our civilization. At a minimum, people have felt a need to be able to... The purpose of the series titled "A Better Human Story," of which five installments have already been posted here, is to provide an "integrative...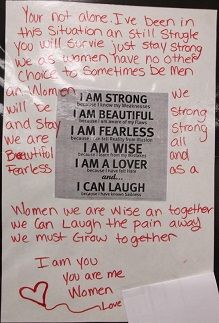 The cloak of silence surrounding
intimate partner fatalities
is nearly impenetrable. Details are buried with the victims. Family members deny evidence of abuse before their very eyes. But partners who have survived and healed provide a window on the methods and complexity of power wielded by their abusers.
What follows are stories told by women who could be your sister, mother, neighbor, or boss. These women came together in October at Charlottesville's Shelter for Help in Emergency to share their lives; to try to explain and describe how they were bound to their abusers, how they left, and how they continue to suffer though the healing process. Looking at them you would never know what is inside or be able to distinguish them from the staff at the Shelter. These are striking women who you know but who live secret parallel existences; hidden even from themselves.
The stories that follow are at once different and the same. One striking aspect of these is that the methods the abusers employ are from the same kit familiar to anyone who has studied child or elder abuse or, for that matter, financial exploitation of the wealthy in Ponzi schemes. They are just applied in different variations depending upon the situation and prey. If we recognize the tools in the toolkit, then maybe observing them being applied is the red flag to defend ourselves and others. This, as suggested in A Journey Into Intimate Power and Abuse, provides a perspective that hints a "healthy cynicism" is the necessary defense against any form of nefarious advantage.
All of these women were and are like any of us, reaching to achieve their hopes, dreams, and aspirations. What makes us vulnerable is how and when we assign trust. That vulnerability is an aspect of human commerce as is trust. Sociopaths leverage an intuition crafted from their own experiences to recognize prey and know how to "close the sale."
Note: The posters featured here line the walls of the conference room at the Charlottesville Shelter office. Like the stories that follow, there are no names displayed out of respect for the privacy and security of these survivors. (click to embiggen)
These past three years, the anti-Obama contingent has cheered at every shred of bad economic news and bureaucratic misstep. The wild-eyed charges of an ideological war carried on by an administration bent on Marxist objectives are all aimed at obscuring the sad results of three decades of "supply-side" economic mischief.
"Larry Summers and I were both on the side of 'we need a more definitive clean-up of the financial system.' And the question was if somebody, you know, really wasn't solvent, do you need the government to put in capital, realize the losses, clean it up, and then put it back into private hands?" - Christina Romer, White House Economic Advisor 2009 - 2010
Any serious study of this administration's policies reveals a most pragmatic response by Obama at almost every turn. From the selection of Treasury Secretary Tim Geithner and many other establishment appointees, to the decision not to seize or take the banks to the woodshed, Obama has erred on the side of caution and market reassurance rather than a confrontation with forces that would flirt with a stalemate leading to economic stagnation or catastrophe. It is essential that the story be told clearly and that we rely on the accomplishments. That looks to be the approach the Obama campaign will employ based upon the message from the campaign thus far. The facts are more than embarrassing for the right's apologists.