In today's Washington Post sports section, there's this brutal (but very fair and accurate) article on the R**skins which discusses among other things, how Dan...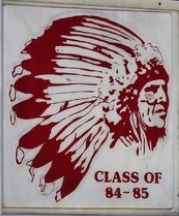 Among the dumbest arguments against changing the Washington team's mascot has been that that would mean Oklahoma would have to change its name. Idiots. But a simple epiphany revealed on a Harrisonburg radio talk show captures the kind of lightbulb moments that will lead to the inevitable outcome.
One morning a fellow on WSVA 550 who had been on the fence about the controversy announced he had changed his opinion about the team name. The conversion came while watching a rerun of an old Daniel Boone television series episode. The story centered on a Native American child that was being enrolled in the frontier school. The telling scene was when the youth approached and was peppered by his classmates with clearly derogatorily intended pejoratives including the "R" word. In context and told by a series that originally aired in an era when we were much more embarrassed by our prejudices, the true message and meanness of the term rang out.
"...it has ties to a time when bounties were paid for the scalps of American Indians...it is a racial slur like any other racial slur that we wouldn't print in the pages of a family newspaper." - The Oklahoman Online
At about the same time, those "insensitive" Oklahomans in one school district were deciding to remove that nickname from the teams at Capitol Hill High School in Oklahoma City despite "tradition." You see Oklahomans, in a state named for the red people, can distinguish the difference.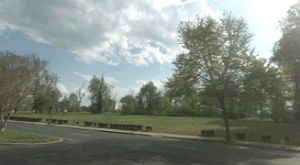 Virginia owns 11.2 undeveloped acres of prime industrial property adjacent to railroad turnout and intermodal freight transport access. Offer it to
an innovative auto company
for development and year round employment for hundreds? Or, give it away and commit to an investment of millions for an annual three week carnival.
Instead of industrial development financed by the private sector, our Governor, prospective author of the Republican platform fiscal chapter, has backed the city of Richmond into a corner that will result in the commitment of millions of state and city dollars to fulfill the deal he cut that already cost a $4 million state "incentive." Maybe Bruce Allen learned something at the University of Richmond after all and is a shrewder negotiator than imagined. Not. Our Governor is more of a tool than ever imagined. And, Dwight Jones's silent acquiescence in this matter is his own indictment.
"The property is attractive to the team because it is undeveloped and large enough to accommodate two side-by-side football fields and a fieldhouse..." - Richmond Times Dispatch
The size of the required investment becomes clearer as Richmond arrives at the point where it is time to fish or cut bait. A year from now, Bob's deal may spawn a fieldhouse and two football fields in central Richmond. A fieldhouse. Imagine the conversation where Bob explains to Dwight that the state's investment, the transfer of 11.2 acres of state owned land, now never to generate a potential dollar of property tax revenue ever, far exceeds the value of the city's obligation to build a multi-million dollar facility that has a guaranteed, no rent tenant three weeks a year. Odds are, Dwight takes the fall in this contest.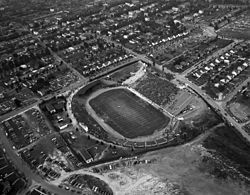 The financial fiasco that is the
'Redskins training camp goes to Richmond'
is laid at Mayor Jones's doorstep. Bob McDonnell has turned economic incentive on its head. He handed out $4 million to the private sector while doubling down with Richmond's unfunded mandate. Bob has a future in banking.
Mayor Jones has to wonder exactly how this political derivative pays off. He has appointed a panel to discover the obvious: Richmond cannot get there from here. It will take more prayers than even McDonnell's pal Pat Robertson can muster to deliver this miracle; better phone the Pope.

Although moving the camp to a spot within the city limits has been taken for a given, Redskins general manager Bruce Allen, interviewed Thursday at the team's headquarters in Ashburn, would only say a site in the city is "preferable." - Richmond Times Dispatch
It really doesn't matter where in Richmond the panel settles upon. There is no existing facility in the city limits. The best nearby is already spoken for. So, wherever in Richmond this burden lands, Dwight Jones knows it will cost dearly. That is even before the annual payment to the team of $500,000. Imagine that! Richmond will pay the Redskins for the honor of having spent millions in infrastructure that might have gone to schools or some other urban luxury. It's a new kind of fiscal chokehold that allows passing a state deficit of $9.6 million to the city of Richmond.