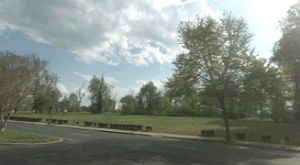 Virginia owns 11.2 undeveloped acres of prime industrial property adjacent to railroad turnout and intermodal freight transport access. Offer it to an innovative auto company for development and year round employment for hundreds? Or, give it away and commit to an investment of millions for an annual three week carnival.
Instead of industrial development financed by the private sector, our Governor, prospective author of the Republican platform fiscal chapter, has backed the city of Richmond into a corner that will result in the commitment of millions of state and city dollars to fulfill the deal he cut that already cost a $4 million state "incentive." Maybe Bruce Allen learned something at the University of Richmond after all and is a shrewder negotiator than imagined. Not. Our Governor is more of a tool than ever imagined. And, Dwight Jones's silent acquiescence in this matter is his own indictment.
"The property is attractive to the team because it is undeveloped and large enough to accommodate two side-by-side football fields and a fieldhouse…" – Richmond Times Dispatch
The size of the required investment becomes clearer as Richmond arrives at the point where it is time to fish or cut bait. A year from now, Bob's deal may spawn a fieldhouse and two football fields in central Richmond. A fieldhouse. Imagine the conversation where Bob explains to Dwight that the state's investment, the transfer of 11.2 acres of state owned land, now never to generate a potential dollar of property tax revenue ever, far exceeds the value of the city's obligation to build a multi-million dollar facility that has a guaranteed, no rent tenant three weeks a year. Odds are, Dwight takes the fall in this contest.
But there is this bright spot:
" The team also likes the potential opportunities for an educational partnership with the museum, which is housed in the former Broad Street train station." – Richmond Times Dispatch
See the potential tie-ins? Redskins…Pocahontas…Bill Bolling… This must mean a souvenir sales cut of the profits from a newly dedicated Redskins/Native American kiosk in the museum. Players with Native American ancestry can be featured and Bill Bolling can man the booth. After all, by that time he'll be looking for a job.